Source: www.justice4iran.org
Translation by Iran Press Watch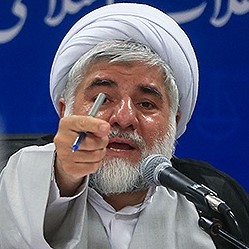 First & Last Name: Mohammad Moghiseh (Aliases: Haj Nasser and Naserian)[i]
Biography: Mohammad Moghiseh was born in Sabzevar in Razavi Khorasan Province in Northeastern Iran. He has a seminary education.[ii]
Responsibilities:
Early 2000's until present: Head of Branch 28 of the Tehran Islamic Revolution Court
Early 1990's: Head of Veil and Satellite Court in Tehran
1988 to 1990: Assistant Prosecutor of Evin prison[iii]
1986 to 1988: Supervising Assistant Prosecutor and Head of Gohardasht Prison[iv]
1985 until 1986: Supervisor of Ghezelhesar Prison
1982 to 1985: Assistant Prosecutor of Branch 3 of Evin Prison[v]
Human Rights Violations:
Judge Moghiseh's consistent practice of violating fair trial standards in the judgment of political and civil activists, mistreatment of detainees and their lawyers during trial, as well as issuing excessive prison sentences, constitute clear human rights violations.[vi] He also is accused of contribution to the torture and execution of many political prisoners in the Ghezelhesar, Gohardasht and Evin prisons due to his legal positions in the 80's.[vii]
Over the past two decades, Judge Moghiseh has been responsible for several trials of Baha'i citizens, who were arrested for activities related to their Faith. Each case has resulted in conviction and excessive prison sentence. His consistent harsh treatment of Baha'is clearly violates Article 18 of the Universal Declaration of Human Rights and Articles 18, 19 and 27 of the International Covenant on Civil and Political, which states that punishment due to religious beliefs is a clear example of human rights violations. Excessive sentencing of Baha'is issued by Judge Moghiseh include:
The trial of seven Baha'i community leaders, 20-year prison sentence each
Excessive sentencing for seven Baha'is from Golestan province in an eight-minute court session.
Sentenced Adel Naimi to 11 years in prison.
Prosecution of seven Baha'i citizens associated with the Baha'i Institute of Higher Education (BIHE) and combined sentence of 30 years
Issuing prison sentences between 3 to 7 years for dozens of Baha'is
Sentencing of Seven Baha'i Community Leaders to Combined 140 Years in Prison
Judge Moghiseh tried the seven Leaders of the Iranian Baha'is and sentenced each to 20 years in prison, in August 2010. Jamaloddin Khanjani, Fariba Kamal Abadi, Saeid Rezaie, Afif Naimi, Behrouz Tavakkoli and Vahid Tizfahm were arrested when security forces raided their homes on May 14, 2008. Mahvash Sabet, the other accused in this trial, was arrested on March 5, 2008. [viii] Their extensive charges included:
Start-up and expansion of an illegal organization
Espionage
Tarnishing the image of the Islamic Republic of Iran
Propaganda against the system
Cooperation with the Zionist regime
Gathering classified documents and providing them to foreigners with the aim of disrupting national security
Corruption on earth
Conspiring with the intent to disrupt national security
Conspiracy and assembly for the purpose of action against the internal and external security of Iran
Judge Moghiseh's Eight-Minute Trial and Excessive Prison Sentences for Eight Baha'is in Golestan Province
Judge Moghiseh, in an eight-minute trial[ix], sentenced the seven Baha'is detained in Golestan province on April 24, 2013 to prison, on charges of "propaganda against the system," "forming an illegal Baha'i organization and administration." and "membership in an illegal Baha'i group."
Farhad Fahandezh: 10-year sentence
Payam Markazi, Fouad Fahandejh, Siamak Sadri, Kourosh Ziari, Kamal Kashani, and Farahmand Sanaee: 5-year sentences
Adel Naimi, although not part of the case of the above seven, was convicted at the same time with Judge Moghiseh issuing him an 11-year sentence.
Combined 30-Years Prison for Associates of Baha'i Institute of Higher Education (BIHE)
Judge Moghiseh sentenced seven Baha'i professors and administrators of the virtual Baha'i university[x] to combined 30 years in prison on charges of "association with the Baha'i Institute of Higher Education":
BIHE professors Vahid Mahmoudi and Kamran Mortezaie received 5-year prison sentences.
BIHE professors Mahmoud Badavam, Ramin Zibaie, and Farhad Sedghi received 4-year prison sentences.
Dozens of Baha'is Sentenced to 3 to 5 Years Prison by Judge Moghiseh
Judge Moghiseh has sentenced dozens of Baha'is, on charges related to practicing their Faith, to 3 to 5 years prison sentences, in the past two decades, including:
Azizullah Samandari[xii], Nima Haghar[xiii], Ighan Shahidi[xiv], Vahed Kholousi[xv] and Sarang Ettehadi[xvi] : 5-year sentences
Elham Farahani[xvii], Foad Khanjani[xviii], Nasim Bagheri[xix], Shahab Dehghani and Shahrokh Taef[xx]: 4-year sentences
The Trial of Ethnic Minorities, the 2009 Election Results Protesters, Political Activists, Intellectuals and journalists
In the past two decades, Judge Moghiseh has had a significant role in the prosecution of journalists, ethnic minorities, political activists, social activists, and users of cyberspace. He has sentenced many of them to death or lengthy prison terms. Judge Moghiseh has also sentenced many of 2009 post-election protesters to excessive prison terms, including the following:
Death sentences for 30 Sunni Kurdish activists[xxv]
Death sentences for Jafar Kazemi, Mohammad Haj Aghaei[xxvi], Saeid Malekpour[xxvii] Shahram Ahmadi[xxviii], Hamid Rouhinejad[xxix]
Combined sentence of 127 years in prison for 8 active Facebook users[xxx]
18-years for Vahid Asgharil[xxxi]
11 years and six months in prison for Fatemeh Ekhtesari
9 years and six months in jail for Mehdi Mousavi[xxxii]
10 years in prison for Omid Alishenas[xxxiii]
9 years and six months in jail for Bahareh Hedayat
7 years in prison for Milad Asadi[xxxiv]
8 years in jail for Majid Tavakoli[xxxv]
seven years and three months in prison for Naghmeh Shahsavandi[xxxvi]
In April 2011, Judge Moghiseh was sanctioned by the European Union for violating human rights by violating fair trial practice during prosecution of protesters of the 2009 elections.
Insulting the Defendants in Court
Most of the defendants who have been tried in the court headed by Judge Moghiseh have told of his irascibility, irritability, insults, and abuses. Responding to objections of his treatment by lawyers, Judge Moghiseh has threatened expulsion from court or even imprisonment.[xxxvii]
Role in Torture and Execution of Political Prisoners in the 1980's
According to the testimony of political 1980's prisoners, Judge Moghiseh (AKA Haj Nasser and Naserian) played a significant role in the torture and persecution of political prisoners in Gohardasht, Evin, and Ghezelhesar prisons.[xxxviii]
At the time of mass execution of political prisoners in 1988, Judge Moghiseh was the Assistant Prosecutor of Evin Prison. He participated in the executions through his active role in the Committee for Enforcement of Sentences.[xxxix] [xl] According to the testimony of the 1988 political prisoners, who had escaped executions, Judge Moghiseh was present at the 3-member Death Committee meetings for the execution of political prisoners and played the role of "accomplice and propagandist."[xli]
_____
[i] http://www.kaleme.com/1389/10/10/klm-42448/?theme=fast
[ii] http://www.farsnews.com/newstext.php?nn=13930505000461
[v] https://persian.iranhumanrights.org/1389/03/iraj_mesdaghi/
[vi] https://persian.iranhumanrights.org/1389/01/mostafaie/
[vii] http://www.kaleme.com/1389/10/10/klm-42448/?theme=fast
[viii] http://www.bbc.com/persian/iran/2015/05/150513_u04_bahais_prison
[xiii] http://www.peykeiran.com/Content.aspx?ID=28194
[xv] https://www.hra-news.org/2012/hranews/1-11275/
[xvi] https://persian.iranhumanrights.org/1393/04/sarang-ettehadi/
[xvii] https://www.radiozamaneh.com/205372
[xviii] http://www.rahesabz.net/story/30246/
[xix] http://melliun.org/iran/29636
[xx] http://news.persian-bahai.org/2012021112
[xxi] https://www.radiozamaneh.com/205372
[xxii] http://khabarnavard.blogspot.com/2011/02/blog-post_26.html
[xxiii] http://khabarnavard.blogspot.com/2011/03/blog-post_2943.html
[xxv] http://www.roozonline.com/persian/news/newsitem/article/-2d3e94d4bb.html
[xxvi] https://iranhr.net/fa/articles/1612/
[xxvii] http://www.rahesabz.net/story/47799/
[xxviii] https://www.hra-news.org/2015/hranews/a-2702/
[xxix] http://www.kaleme.com/1388/10/25/klm-8370/
[xxx] https://persian.iranhumanrights.org/1394/02/facebook-case-sentence/
[xxxi] http://justice4iran.org/persian/reports/vahid-asghari/
[xxxiii] https://persian.iranhumanrights.org/1394/09/omid-alishenas/
[xxxiv] http://www.kaleme.com/1389/02/29/klm-19876/
[xxxv] http://www.kaleme.com/1389/11/13/klm-46006/?theme=fast
[xxxvi] https://iranwire.com/fa/features/1333
[xxxvii] http://www.kaleme.com/1389/10/10/klm-42448/?theme=fast
[xxxviii] https://goo.gl/x41h11
[xxxix] http://www.kaleme.com/1389/10/10/klm-42448/?theme=fast
[xli] http://www.bbc.com/persian/iran/2015/10/150728_l44_iranian_revolutionary_injustice_witness