Source: www.theguardian.com
Hossein Amanat was forced to flee country after being put on a death list and says his children have never seen the monument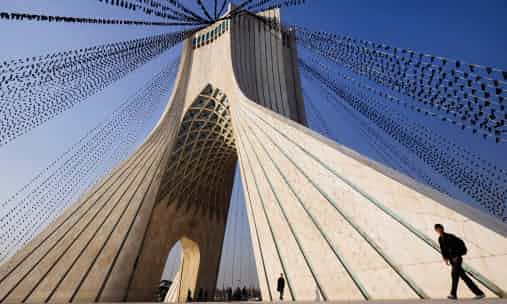 In 1966, a 24-year-old architect who had just graduated from Tehran University hesitantly entered a competition to design a monument to mark the 2,500-year celebration of the founding of the Persian empire.
In hindsight, it was a competition of a lifetime, organised by the shah of Iran, who envisioned that the monument would act as his memorial tower, or Shahyad.
The architect, Hossein Amanat, had no idea that his hastily prepared design, which went on to win the competition, would one day become a focal point of the Iranian capital's skyline, serving as a backdrop to some of the country's most turbulent political events.
The 50-metre (164ft) tall structure, now known as the Azadi (Freedom) tower, rode out the 1979 Islamic revolution, an eight-year war with Iraq and the Mahmoud Ahmadinejad-era anti-government demonstrations.
But as his tower prospered, Amanat's life unravelled.
The monarchy was overthrown in the 1979 revolution, which ushered in an Islamic Republic with Ayatollah Khomeini as supreme leader. The shah, along with many of those believed to be associated with him, left the country and there was a crackdown on the Bahá'í faith, which Amanat practises.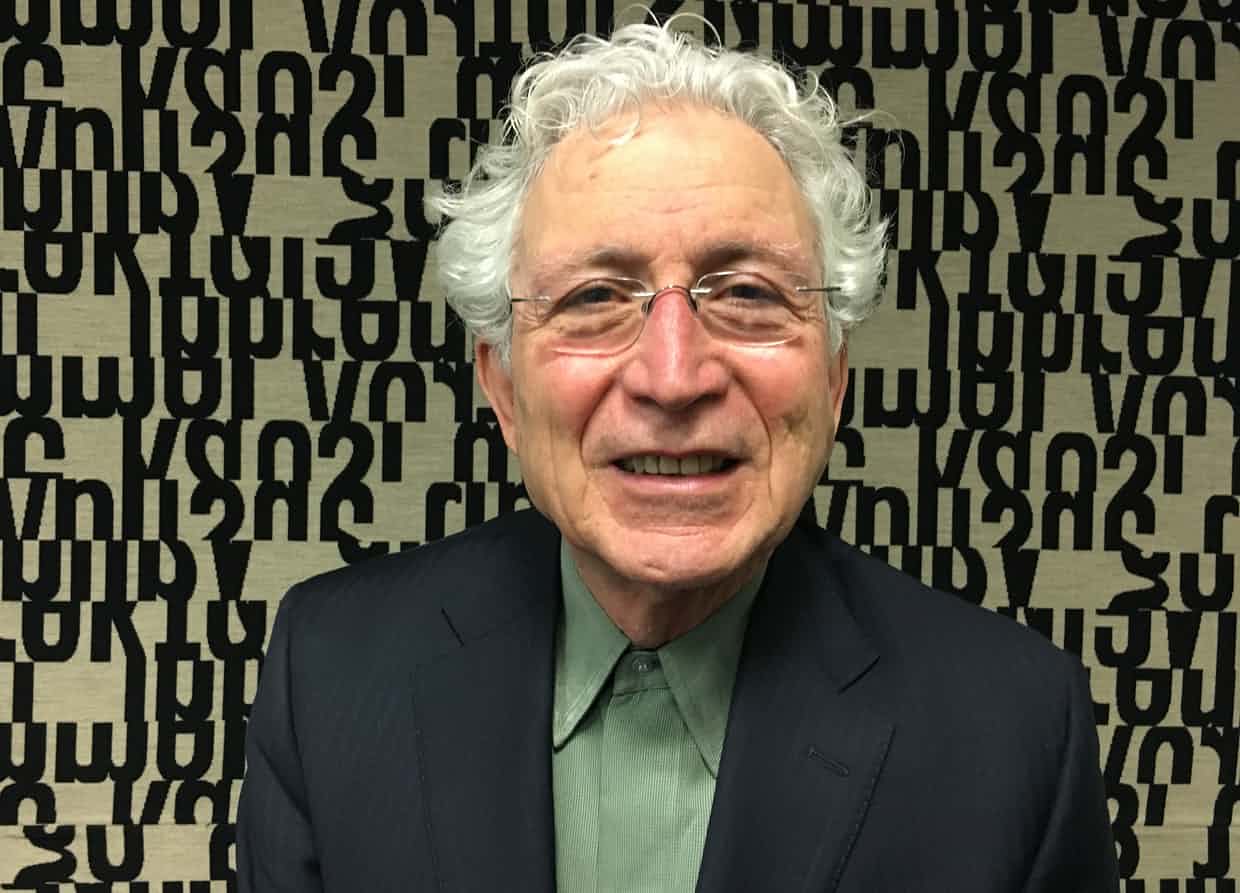 His name was put on a death list, and his belongings were confiscated. He fled Iran and has not returned since.
The Bahá'ís are Iran's most persecuted religious minority. After the revolution, more than 200 Bahá'ís were executed in Iran because of their religious allegiance. In 1981, the religion was banned.
Since then, its followers have been deprived of many of their fundamental rights, including access to higher education and the right to work freely. In July, at least six Bahá'ís were arrested in the cities of Gorgan, Kashan and Shiraz.
The Iranian authorities link Bahá'ís to Israel, mainly because its governing body is based in the Israeli city of Haifa, and have accused adherents of spying or conspiring to topple the Islamic establishment.
In a rare interview discussing his religion, Amanat, who also designed three Bahá'í administrative buildings in Haifa, called on Iran to rethink its approach.
"They should put aside the suspicion," Amanat, 75, said. "Bahá'ís don't have any aims to harm the Islamic establishment. They [the authorities] have repeatedly claimed that Bahá'ís are spies, but have they found even a single document of proof? They've found nothing. They should let Baha'is live like other Iranians."
The Bahá'í faith, which is monotheistic, accepts all religions as having valid origins. It was founded in Iran in the 19th century by its prophet, Bahá'u'lláh, who defined the purpose of religion "to establish unity and concord among the peoples of the world; make it not the cause of dissension and strife". Nearly 300,000 Bahá'ís are believed to live in Iran, and about 6 million worldwide.
According to Asma Jahangir, the UN special rapporteur on human rights in Iran, discrimination against Baha'is is legally sanctioned by a lack of constitutional recognition.
A follower was murdered outside his home in Yazd last year by two young men because of his faith, a March report by Jahangir said, and at least 90 Baha'is are behind bars.
Amanat was hopeful when Iran's moderate president, Hassan Rouhani, was elected in 2013, but said nothing had changed and the situation had even got worse in some situations.
"Iran has a special place in the hearts of the Baha'i community," he said. "I'm saddened that my fellow Baha'is are under pressure. If they're given the opportunity they can do good for their country."
Amanat expressed regret for not being able to live in Iran and contribute more to its architecture.
The Azadi tower, he said, was an opportunity to "design modern architecture using old language, to preserve the good things about a culture, leave aside the meaningless parts and create something new and meaningful". A tribute to "an old human civilisation", the monument was such "that if this was erected somewhere else it would have no meaning – you can't put Shahyad in Cairo".
It took five years for the Azadi tower to be finished. In 1971 the Shah unveiled the tower, having flown to Tehran from the ruins of Persepolis in Shiraz, where he had held an enormous, lavish event to celebrate the Persian empire's 2,500th birthday.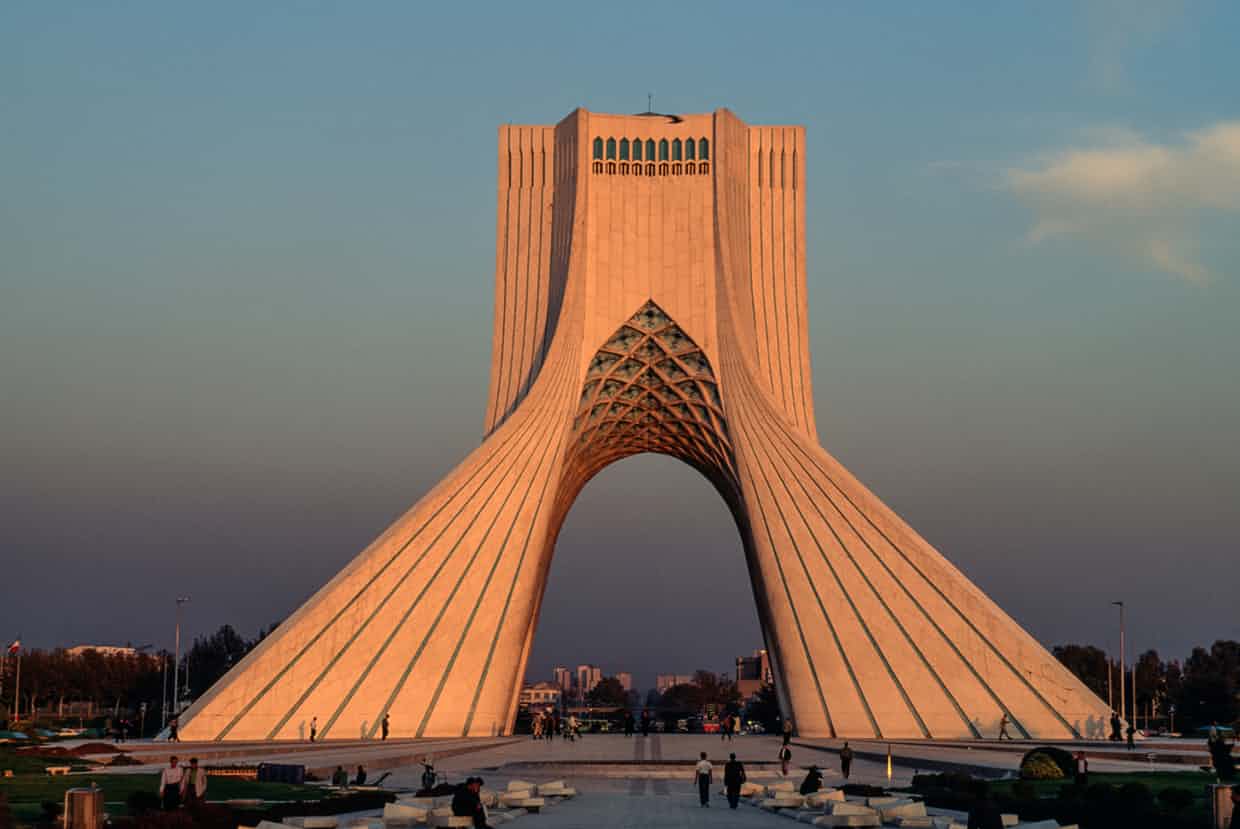 Of all the tower's defining moments in modern Iranian history, one incident struck a chord with Amanat.
"I was touched deeply once when millions of people went to Shahyad in 2009 [during unrest under Ahmadinejad], and then they were beaten up and many were killed," he said.
"I was so saddened by it. As a Baha'i, I forgive others, I don't dwell on the injustices done to me, I go forward, but when that happened it was difficult for me because people had taken refuge there."
Reflecting on the country of his birth, Amanat said: "I miss Iran a lot, partly because of the sun and the architecture. I am away from everything I had and from my neighbourhood. I have three kids, they've tried to learn Farsi but can't read a Farsi newspaper fluently and this makes me sad – none of them have ever seen the Azadi tower in their life."