Source: en.radiofarda.com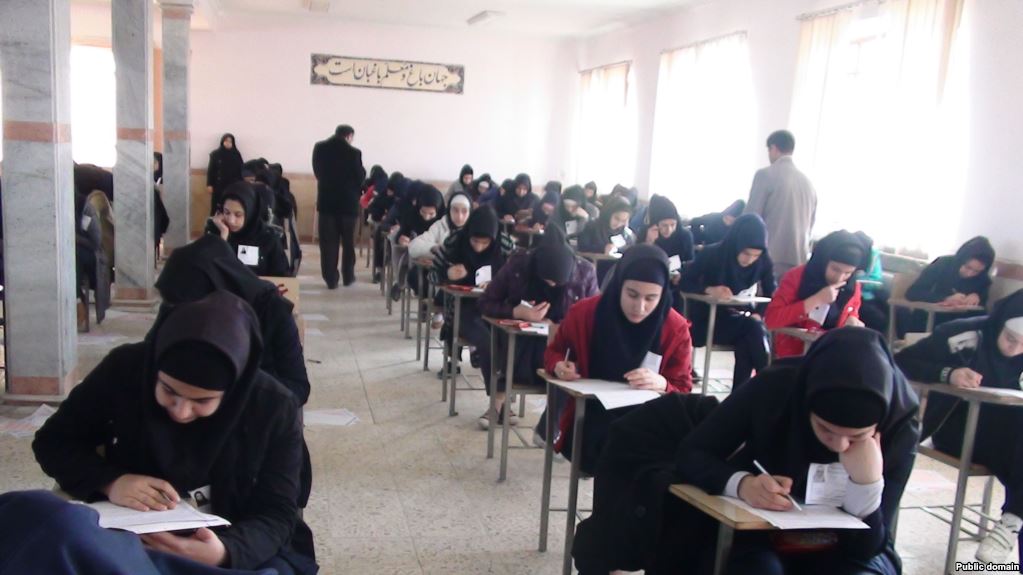 More than 70 Baha'i students have reportedly been denied entry to universities in Iran despite successfully passing the national admissions tests.
According to some sources, the number of Baha'is who have been deprived of entering universities in the current year is more than 100. They were all denied entry solely for believing in their faith, Baha'ism.
Iran officials have not yet reacted to the news.
All of the Baha'i applicants who checked their test results online received a short message saying, "Dear applicant, there's a flaw in your dossier. Please contact the Response Unit of the Appraisal Agency."
This was the second year that Foad, a Baha'i applicant, received the message. "I have not yet visited the Response Unit of the Appraisal Agency this year. However, last year I had a long discussion with one of the agency's officials, who told me I was denied entry on the orders of security agents of the Intelligence [Ministry]," he told Radio Farda.
Foad quoted the official as saying, "Therefore, we cannot let you enter a university," and added, "When I asked the reason behind it, the official said, 'They have disqualified you because of your faith.' "
The answer was not good enough for Foad. "I asked the official to respond to my enquiry in writing. He wrote down my address and telephone number, saying, 'We'll send your request to the Intelligence [Ministry] and will let you know if we receive an answer.' "
"I never received any answer," Foad added.
The Baha'is insist their faith is not a secret matter and is usually reflected in their high-school applications, where students are required to specify their religion.
Another Iranian Baha'i citizen, Omid, who successfully participated in this year's national university admission contest but was denied entering a university, told Radio Farda, "Yesterday, I went to the Response Unit of the Appraisal Agency. They introduced me to an expert who was there exclusively for Baha'i student cases. They didn't respond to my enquiry in writing but told me I do not have the right to enter a university because of my belief in the Baha'i faith."
Denying Baha'is entry to universities in Iran is not an unprecedented matter. Even dozens of Baha'is who have successfully passed the national examinations and other hurdles to continue their education at the university level have been forced to drop out, even after several years.
Farzad Safaei was one semester away from a bachelor's degree in industrial metallurgy at the Islamic Azad University in Ahvaz, Khuzestan Province, when he was expelled this past May by the security office for being a member of the Baha'i faith, reported the Center for Human Rights in Iran (CHRI).
A Baha'i citizen nicknamed Maryam, who used to study at Tehran's Beheshti University, told Radio Farda, "They did not deliver me anything in writing. They simply closed down my site and, after two semesters, tried me in absentia and expelled me from the university. I called them to find out why I was deprived of continuing my studies. They did not tell me why."
Maryam had no choice other than to visit the Response Unit of the Appraisal Agency. "There, I discussed my case with the members of the Central Appraisal Board. They said, 'You know that you are a Baha'i and Baha'is do not have the right to education.' I was deprived of further education solely because my school of thought is different. They insisted the only way for me to return to the university was to write a letter saying I had converted to Islam and rejected Baha'ism."
Farzad Safaei, an Open University student in the southwest city of Ahvaz; Vafa Hovaidaei, an Amir Kabir University student in Tehran; and Vessal Laqaeifar, an Amir Kabir University student in Tafresh are three Baha'is deprived of their rights for education in recent months.
Geneva-based International Community of Baha'is spokeswoman Simin Fahandej told Radio Farda, "From the beginning of the [Islamic] revolution [nearly four decades ago] up to now, Iranian Baha'i citizens have been deprived of their right to enter universities. A document was revealed by one of the UN Special Rapporteurs in 1991 that specified, 'Baha'is should be treated in a way to deny them the right for education and progress and whenever somebody's faith proved to be Baha'ism, they should be blocked from entering a university or immediately expelled from it, regardless of the semesters completed by them."
Fahandej regretfully added, "Sadly, the situation has not been changed, and talented youth who can serve their homeland are deprived of their right to education solely because of their faith."
Meanwhile, the UN's Special Rapporteur for Human Rights in Iran, Asma Jahangir, has criticized "widespread violation of Baha'is rights and persecuting them in Iran."
Denying Baha'is the right for education, according to Jahangir, is an obvious example of violating their human rights.
According to Article 1 of Iran's Supreme Cultural Revolution Council's Student Qualification Regulations, approved by Supreme Leader Ali Khamenei in 1991, students who take the national enrollment exam must either be Muslim or followers of other constitutionally sanctioned religions. Article 3 states that if a student is discovered to be a Baha'i after enrolling in a university, he or she will be expelled, CHRI had earlier reported.