Source: www.iranhumanrights.org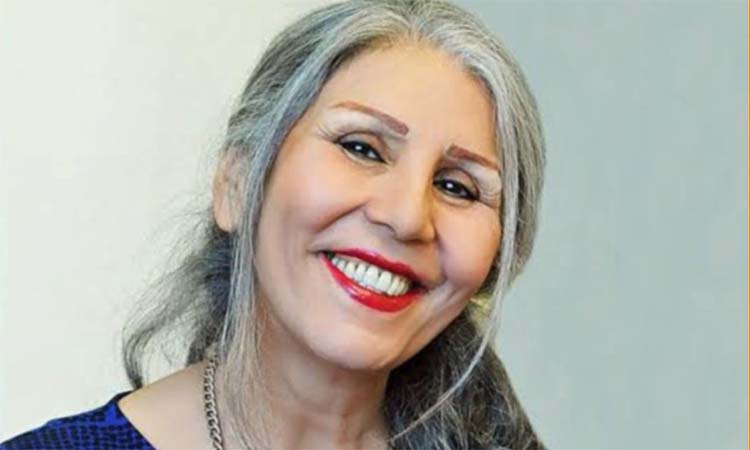 "We never betrayed our country and never will."
Mahvash Sabet, a leader of Iran's persecuted Baha'i faith who was released from Evin Prison on September 18, 2017 after completing a 10-year sentence, said she was convicted of espionage charges despite non-existent evidence.
"There were seven charges against us," she told the Center for Human Rights in Iran (CHRI) in an interview on September 24, 2017. "Branch 28 of the Revolutionary Court acquitted us of five of the charges, but found us guilty of 'collaborating with enemy states' and 'forming an illegal group' and sentenced us to 20 years in prison."
She continued: "The Appeals Court rejected the charge of 'collaborating with enemy states' and reduced the sentence to 10 years in prison for 'forming an illegal group.' But the prosecutor general objected to the Appeals Court's decision and the 20-year sentences were reinstated."
"We love our country," she said. "We never betrayed our country and never will. No one has shown us any evidence based on the charges against us. It is very important for me to address the people inside and outside the country about the espionage allegations."
"I speak for myself, but I am sure it also applies to my six colleagues, that at no stage during interrogations, or in court, did we accept these charges," said Sabet. "By accusing us of collaborating with enemy states, the authorities were saying we were spies, but they never presented any evidence."
Sabet, 64, was arrested on March 5, 2008 for peacefully practicing her religion. Six other Baha'i leaders— Jamaloddin Khanjani, Behrouz Tavakkoli, Saeid Rezaie, Fariba Kamalabadi, Vahid Tizfahm and Afif Naeimi—were arrested on May 14, 2008. They were all issued 20-year prison sentences in August 2010 for several charges, including "collaborating with enemy states," "insulting the sacred" and "propaganda against the state."
Their sentences were later reduced to 10 years in prison each based on Article 134 of Iran's Islamic Penal Code, which allows prisoners to serve only the longest sentence in cases involving convictions on multiple charges.
Sabet told CHRI: "In one of the court sessions, after a lot of wrangling, our lawyers were given a chance to present a defense. I remember Mr. Abdolfattah Soltani, the prominent lawyer who I greatly respect, standing up and rejecting the charges on three grounds."
"First, he thanked the Intelligence Ministry for a letter stating that its counter-intelligence branch had discovered no evidence linking the accused to spying. This was a very important letter," Sabet told CHRI.
"Second, he pointed out that there are no enemy states since the Islamic Republic is not [officially] at war with any country," she added. "And third, he asked why there were no examples of any [of our alleged] meetings or communications with these states [presented in court]."
Soltani, who spent his legal career taking on civil and human rights cases, is currently serving a 13-year prison sentence in Evin Prison for peacefully engaging in his profession.
Iranian officials deny prosecuting Baha'is for their religious beliefs, but the community is one of the most severely persecuted religious minorities in Iran. The faith is not recognized in the Islamic Republic's Constitution and its members face harsh discrimination in all walks of life as well as prosecution for the public display of their faith.
Interrogations and Gratitude for Human Rights Lawyers
The Baha'i leader told CHRI that when she was first summoned from Tehran to Mashhad, in northeastern Iran, for questioning in the winter of 2008, she never expected to be detained and incarcerated for the next several years in seven different jails, including the Intelligence Ministry's detention center in Mashhad, Rajaee Shahr Prison in Karaj and finally Evin Prison in Tehran.
"The questions during interrogations were mostly about the administration of the Baha'i community," Sabet told CHRI. "They wanted detailed information, and I answered them more or less, but I never allowed them to engage me in discussions about my religious beliefs. The Constitution [Article 23] forbids investigating one's beliefs."
Sabet expressed gratitude for a member of the Baha'i leaders' legal defense team, attorney Hadi Esmailzadeh, who died in 2016 of a heart attack a year after being sentenced to four years in prison by the Revolutionary Court for taking on human rights cases.
"I will never forget that this great man continued to defend us no matter how much the court tried to humiliate him," she told CHRI. "He agreed to defend us even though he was a university professor. I always prayed for him in prison. Despite their firm belief in Islam, he and Mr. Soltani defended us regardless of our beliefs."
"What mattered to them was that their clients were human beings and citizens of this country, just like them," she added.
Waning Health
Sabet also told CHRI that she is seeking treatment for decreasing bone density and joint pains, both of which developed during her imprisonment.
"I spent two and a half years in solitary confinement, which by itself wears you down a lot," she said. "I had severe loss of bone density, which was diagnosed when they transferred me to medical centers. I have pain in my joints and bones, which bothered me the most these years. At one point the doctors thought I might be suffering from fractured joints and I was hospitalized for 15 days under guard."
Sabet told CHRI she avoided the prison's clinic because it was poorly equipped.
"I did not go to the prison clinic a lot, not because it was not available to us. I don't want to exaggerate negative things or deny the truth. I believe you have to be fair," she said. "Even the clinic's director once asked me and Ms. [Fariba] Kamalabadi about why we had not visited the clinic in years. We told him the clinic could not help with our problems because it was not well-equipped."
A leader of Iran's persecuted Baha'i community, Fariba Kamalbadi is currently serving a 10-year prison sentence for her religious beliefs.
"Now I think I have to visit a psychiatrist, too," said Sabet, who was released earlier than her Baha'i colleagues because she was arrested earlier. "No matter how high your morale, 10 years of imprisonment will damage you."
"Walls of Misunderstanding"
Reflecting upon her prison experience, Sabet told CHRI: "The most important things was that the walls of misunderstanding [between Baha'i and non-Baha'i inmates] crumbled."
"I couldn't believe that a very orthodox Muslim female cellmate, who recited the Quran in religious gatherings, had conversations with us and shared the same blanket as we slept next to each other," she said. "When I told her I didn't want her to be uncomfortable, she would say she was in fact glad to be around us. There were many others like her who I initially thought didn't like me, but later I was able to live with them, hug them and share problems."
"I thought prison was a test of resistance, to stand up for our way of life and keep our spirits high," said Sabet. "Our wish was to live as we wished, to engage with people and bring down the walls put up between us and our compatriots. An important part of these psychological walls existed in our own minds as well."
"I never felt alone," she added. "That's what prison meant to me as a Baha'i; I had to prove it to myself that I could have a good life there."
Sabet was fired from her job as a schoolteacher and headmaster after the establishment of the Islamic Republic in 1979. "I was purged during the 1980 Cultural Revolution," she told CHRI. "The ruling against me said I was fired because of my membership in 'the false cult of Baha'ism.'"
She expects her six co-defendants to be freed one by one between late October of this year and March 2018 after the completion of their prison sentences.