Source: fa.rfi.fr
Editor's note: Bahiyyih Nakhjavani and Shahram Yazdani translated the poems and Iran Press Watch translated the rest.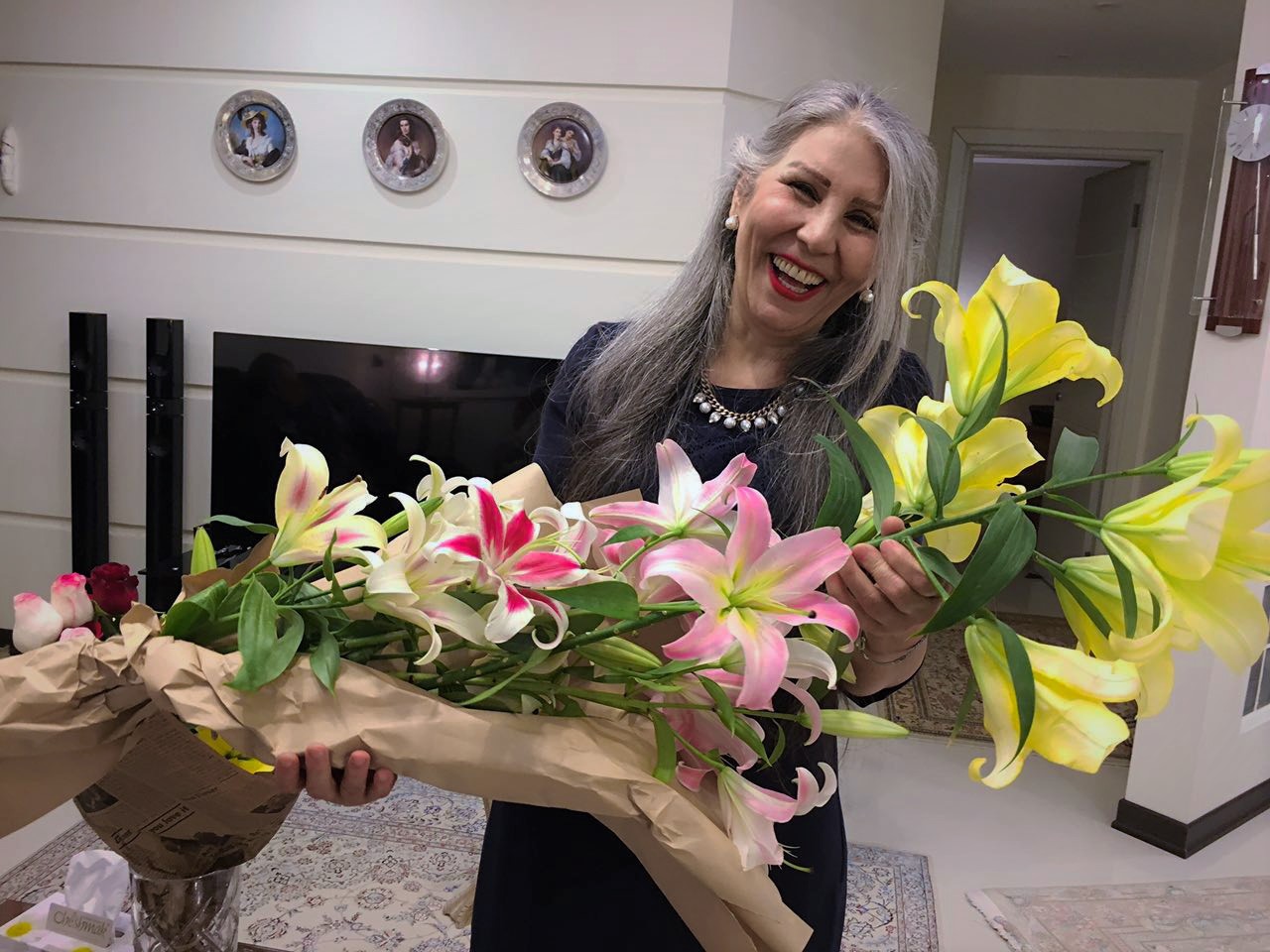 Mahvash Sabet, a member of the Baha'i Community of Iran, who has been in prison due to her religious beliefs, was released from Evin Prison on 18 September 2017, at the completion of her 10-year prison sentence.
Mrs. Sabet is one of seven individuals, known as the "Yaran", who were arrested in early 2008. The Yaran aided the administration of the affairs of the Iranian Baha'i Community after their formal institution, The National Spiritual Assembly of the Baha'is of Iran, was forcibly disbanded by the Regime. The Yaran were tried and sentenced to 20 years each, for their work serving their Faith. The sentences were later reduced to ten years. Despite repeated demands by international human rights organizations for the immediate release of these prisoners of conscience, the remaining six members of the Yaran remain in prison.
Mahvash Sabet was born in 1952 in the City of Ardestan in the Fars Province. Upon completion of her university education she started work as a teacher. However, along with many Baha'is, following the 1979 Revolution Mrs. Sabet was fired from her teaching position and barred from any public and governmental employment.
One day after her release, in an interview with the Farsi section of France's Medias Monde, Mrs. Sabet related:
"My name is Mahvash Sabet, my married name is Sabet and my maiden name is Shahriari. Prior to the Islamic Republic Revolution, I was an educator. I studied Education in college, I was a teacher, and in 1979, at the time of the Cultural Revolution, I was fired. When I was fired both from the university and from my job at school, I was faced with an unprecedented opportunity to get involved with working on the educational aspects of the Baha'i Community. We used to call these classes moral education, and then I worked for a while on establishing educational institutions within the Baha'i Community, in response to the ban of university education for Baha'is."
Mrs. Sabet is not known solely for her imprisonment as one of the members of Baha'i Community Leaders. She is also a talented poet, and in recent years her name has become known in international literary circles. An anthology of her work written during her incarceration, Prison Poems, was translated by into English in 2013. At the 2016 Montreal's Book Exhibition she was recognized in a commemorative ceremony as an imprisoned poet. Over the years her poems have been translated to other languages, including French.
In her interview with France Medias Monde, Mrs. Sabet shared why she turned to poetry:
"I was always very interested in literature and especially some of the traditional Iranian poets like Hafez, Maulana (Rumi), and sometimes Sanai, but I did not have much experience in poetry. In the prison when I was in the solitary, I felt like I wanted to write. I really didn't exactly know what I was writing, whether it was poetry, just words or numbers, but just liked to write, and since there was no pen or paper, I wrote somethings in my mind and memorized them. Shortly after I realized that I could use the margins of the newspapers as paper and I wrote things for my father, for my husband, for my daughter, for my sister; those who were suffering for me on the outside, and I knew how much they are in pain and I can't do anything here to help them. I expressed my feelings by writing poetry, and I tried to keep this up. Eventually, I felt that this is part of my life, prison became easier to endure for me, especially the two and a half years of solitary confinement, without enough books and of course naturally with all the limitations. I became closer to poetry and I started to write more poetry, I continued to write, poetry was always with me, as a friend, a companion, a consoler".
Mrs. Sabet also emphasizes that through her poetry she tried to keep her feelings alive, especially her love of life while in prison. She says:
"Soon I felt that I want to transition from poems about family and my emotions regarding my family to the mood of the prison, my feelings in the prison, myself as a prisoner, especially my feelings of love and peacefulness, because I really tried hard to keep love and peacefulness alive in myself. I tried hard to not let prison affect my feelings, so I be able to keep this feelings of love and peacefulness about my prison guards, my cell, people on the opposite side of me who had many misunderstandings about my principles, beliefs and religion. So, poetry became life for me, keeping alive the feelings of love, and all the principles that I was in prison for. I decided that I should write about those, when I thought about those topics, they were strengthened in me, I think if one carefully considers the entire collection of my poetry, it becomes clear that words such as hate, grudge, enemy are probably really rare. I never read all my poetry all in one place, I have no idea which ones are out there, where they are and who holds which parts, I don't know much, but I'm sure my poetry will remain and I'm sure my poetry will be read because they were written in prison and are filled with love."
Regarding the difficulty of transferring the poetry from prison to the outside Mrs. Sabet told France Medias Monde:
"It was really interesting, when I was in the Ward 209 of the Evin prison, I had written a poem for my father, and I had memorized it. We were allowed a phone conversation every 15 days. When on the phone I would read my poetry. Then one day, one of the female guards was a bit more strict and did now allow me to recite it on the phone, so I went and told the head of the ward that I have written some poetry for my father and your co-worker is not allowing me to recite it. He said I will give you the permission, so he came over and stood by me while I recited that poem to my father. Thereafter, all the poems, everything I wrote went through the prison security, sometimes I would recite them over the phone for my family or friends, but for the most part the poetry had been checked and reviewed by the prison security before leaving the prison. This is because to the extent that I understand there is no political nuance, the subject is basically poetry by a female prisoner who loves the world, therefore I don't think it bothered anyone, or maybe it was the will of God for them to get out of the prison."
Also regarding access to books,
"Over the last six years that I was in Evin, I concentrated all my studies on literature, especially poetry. They had very limited selection, there were no comprehensive literature program, but I read all there was about literature, and every morning, no matter what other people were doing, or what was going on, I would tell everyone, don't get me involved, I'm going to the library to earn my living today (she laughs), I would go and sit there in the hopes of writing something."
What are they doing to us in this perilous place, this prison of loss? But what can they do to a handful of dust in the middle of chaos?

If they cut open our veins, red tulips will blush like blood in the fields.

If they padlock our lips, the mouths of a thousand spring buds are unsealed.

If they daub us with mud, the dead will arise to judge their crime.

If they shatter the water jug, spill the cup, the world floods with our wine.

If they kick in our heads, they crown our brows with an azure dome.

If they press thorns on our temples, the breath of Jesus resuscitates the tomb.

If they dig pits at our feet or throw us in wells Joseph's beauty becomes renowned.

There is nothing to fear in their tempests or storms while the seas are Noah's own.

Why would we care for cracked earthenware with precious gems at hand?

As soon as they chain down our feet, they free the albatross of the mind!

Bar the road to the old and a thousand youths clamor at the gates; if this perilous place is so filled with wonders they'll long to join the feast.1
As mentioned above, the poetry of Mrs. Sabet has been translated to a number of other languages. Bahiyyih Nakhjavani, the English-speaking Iranian writer who worked on the English anthology of Mrs. Sabet's poem, shared with France Medias Monde:
"I myself did not translate these poems. My Farsi is not advanced enough and my parents helped me in reading an understanding these poems. But once we read them, they influenced our hearts so much that we felt these poems of Mrs. Sabet should somehow make it to the world. She was behind the wall, but her poetry speaks with such freedom. It is very natural for those who are behind the bars to concentrate their thoughts on their own hardships, but the more we read these poems, it was as if she is discussing the people around her, the suffering of those around her and wanted to give a voice to their suffering. This is why we felt that it was important that her voice, from inside of the prison, make it out to the rest of the world, especially the West, so people can hear what a great person with a big heart she is, who has been able to embrace the people around her in Evin."
Bahiyyih Nakhjavani also shared the following about the meaning of peace in the writings of the Baha'i poets:
"Nowadays, the more we listen around us, we notice that most conversations are about war. Baha'is try to talk more about peace instead of war, about love instead of hate, so our collective language can change, so we don't talk so much about darkness. Most Baha'is try to transform the language and thoughts of the world."
Mrs. Sabet in her interview with France Medias Monde emphasized that our current world is more than ever in need of peace:
"I had many hardships, had absolutely no expectation of leaving the prison. I was completely cut out my life from the outside world, and I had exclusively limited my world to my life in prison, however few days that may be, but in those very hard days, I was certain that my poetry is being recited by others. I was positive that the feelings of a woman prisoner who has been imprisoned many years for the sake of love and who lives with love in prison, will influence the heart of people. This was truly a strong hope for me, and dear to me, and it continues to be. When friends from PEN International would contact me and I would see that people from different countries in various languages are reciting the poems, I always thought that it is sufficient for me, and my thoughts and beliefs would become more certain, every time, and my faith in poetry and love would be reinforced. Our world needs love, needs peace. Look at what's going on in every corner of world, we should spread love, even if from prison, even if you are target of misperceptions, even if you are exposed to violence. I believe with love we can take positive steps for the world, even if it is just one step towards the betterment of the world."
"I really like this poem myself, it is old, but in my opinion, it talks to a process that those who have endured imprisonment can better understand. It is a process that you usually go through."
A bloom blossoms amid your bosom

You offer your salutations to life

In the name of peace, amity, and love

You arise

And become a droplet in the chancel of the river

A speck at the feet of mountains

You step upon the proud path

Smiling at the dawn, the ardor, and the imminent encounter

You become a river and flow

Someone envies your strides, your mornings, and your eventides

Someone takes you to the feast of tears

Someone vainly imagines to dam your path

Schemes to lay a trap for you

And ensnares you

With nary a qualifying word

They impel you through frightful passes

And terrifying moments

Through dark passages, narrow, like strands of hair

They flay your skin from your bones

And you walk upon clouds of doubt

Auditing your past, event by event

You wallow in swells of sorrow

At every moment, a fresh blow is dealt to your faith

You stare at fancy's empty picture-frame

And complain of boredom

You fear oblivion

You caress the manifold drapes of patience

And tear at the sultry, sultry sinews of love

You color the halos that go 'round and 'round the soul

And you kiss the earth

You rise to sanctified heights

Far away from the pull of the earth Inebriated by the cup of certitude

The god of love brands your brow

Amore, amore, amore

Emanates from your mind

Your paddock becomes boundless

And poems, passions, hues and lights

Beside you Arrive at faith and certainty. 2
RFI – International Radio
_____
Translation by Bahiyyih Nakhjavani
Translation by Shahram Yazdani