Source: daneshjoo.bashariyat.org
Translation by Iran Press Watch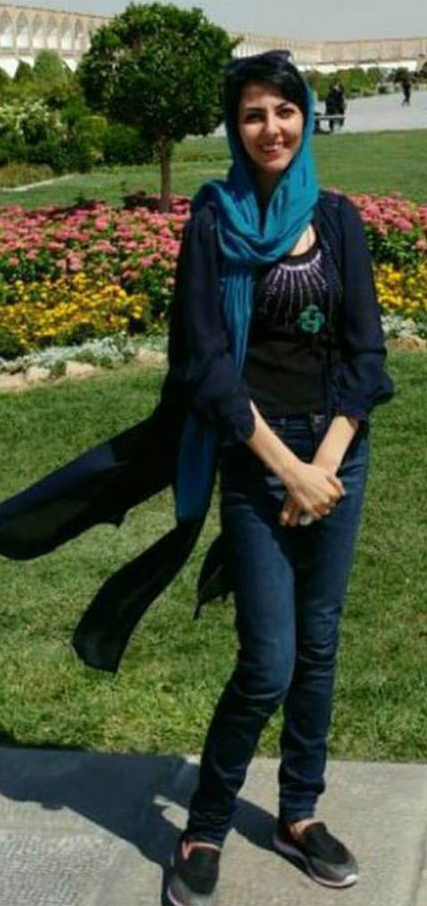 According to Human Rights Watch in Iran, Hana Kouchakbaghi, a Baha'i living in Gonbad-Kavoos, was summoned to the Ministry and told to report to jail to serve her sentence. She answered the summons on Wednesday, October 11, 2017, and was transferred to Amir Abad prison in Gorgan to begin serving her one-year-and-nine-month sentence.
Hana Kouchakbaghi is one of more than eleven Baha'is, all part of the same case, who have been arrested or transferred to prison since June 19, 2017.
A number of Baha'i citizens, including Hana Kouchakbaghi, were concurrently arrested during sweep of various cities. The detained Baha'is were sentenced to a combined total of 193 years in prison in the first court. In the court of appeals their sentences were reduced by one year and six months to one year and nine months. A full list of their names follows:
City of Gorgan: Farahnaz Tebyanian, Pune Sanai, Mona Ameri-Hesari, Behnam Hassani, Parisa Shahidi, Mojdeh Zohouri, Parivash Shojai, Hana Aghighian, Roofia Pakzadan, Sudabeh Mehdinejad, Mitra Nuri, Shiva Rohani, Hushmand Dehghan, Maryam Dehghan, and Nazi Tahghighi.
Minoodasht: Shohreh Samimi. Camilla Bideliyan and Navid Moallem (each have been sentenced to one year and 6 months in prison).
Gonbad-Kavoos: Bita Hedayati, Vesagh Sanai and Hana Kouchakbaghi in sentenced to one year and 9 months in prison.
Tina Moḥebati was sentenced to one year and nine months in prison but her sentenced was nullified and she instead was sentenced to pay three-million punitive fine.
The verdict of the Appeals Court for Shahnam Jazbani a Baha'i from Minoodasht and Shayda Ghoddusi a Baha'i from Gorgan, each of whom were sentenced to 11 years in prison, have not yet been issued.
On October 07, 2017, four individuals, Nazi Tahghighi, Houshmand Dehghan, Maryam Dehghan and Sudabeh Mehdinejad, were freed from the Amir Abad Prison upon completing more than a third of their sentences.