Source: bahaicamp.com
Translation by Iran Press Watch
December 7, 2017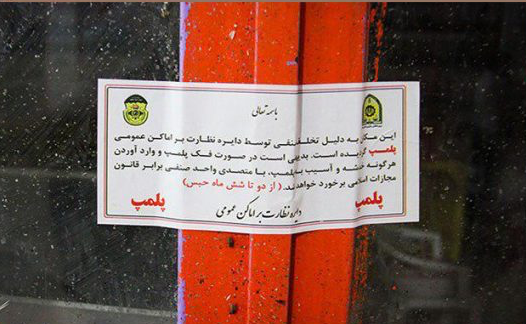 According to reports from the Baha'i Campaign, and as described by HRANA (Human Right Activists News Agency Iran), another Baha'i-owned has been forcibly closed and sealed. On December 6, 2017, officials of the Office of Properties shut down and sealed the business of Touraj Misaghi in Tabriz. Mr. Misaghi's is the fifth Baha'i business that has been shut down by authorities in recent days.
According to a source close to Mr. Misaghi, "Over the past few days, Mr. Touraj Misaghi has been interrogated by the security forces and the law enforcement forces, and finally after being summoned and interrogated again, they shut down his business yesterday."
Although details of the interrogations and the reason for the closure of Mr. Misaghi's place of business have not been made available, it fits the systematic pattern of law enforcement and security agencies pressuring the Baha'i community by interfering with their ability to engage in economic activity.
Bahá'ís, based on their religious beliefs, close their places of business on their religious holidays. Article B, paragraph 28, of the Trade Union Law, states that businesses owners can close their units for up to 15 days a year without prior notice to the trade union.  However, Baha'is exercising their civil right to close their businesses for Baha'i Holidays are frequently subjected to forced closure and seal by law enforcement and security agents.
It is worth noting that prior to the closure of Touraj Misaghi's business, the businesses of four other Baha'is in Tabriz by the names of Shahriar Khodapanah, Anis Hokmran (co-owners with his father), Kheirollah Bakhshi and Payam Zafaryab's had also been closed by the office of properties.
On December 3rd, Shahindokht Molavardi, a special assistant to the president on civil rights issues made a statement to the media insisting that she "has made some inquiries, from the President's Legal Assistant, about the closure and the blocking the Baha'i commercial activities, and an attempt is being made to move this conversation forward through legislation until a solution to this issue is found."
Since that time, nothing has changed.