Source: www.hra-news.org
Translation by Iran Press Watch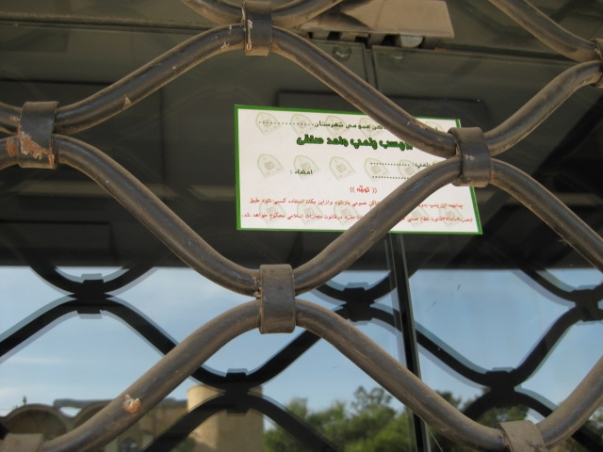 The HRANA News Agency – The number of Baha'i-owned business under forced closure and seal by authorities in Kerman, Sistan, and Baluchistan and East Azerbaijan has reached 90.  This includes the recent closure of 16 Baha'i shops in Tabriz, as well as the remained seal of previously-closed units.
According to the HRANA news agency, the human rights activist news agency in Iran, during the past two weeks 16 Baha'i commercial units were sealed in Tabriz, East Azerbaijan province:
Shahriar Khodapanah (eyeglasses distribution)
Touraj Misaghi (eyeglasses)
Kambiz Misaghi (eyeglasses)
Parham Saberi (clothing store)
Shiva Isa Khani (hair salon)
Payam Zafaryab (eyeglasses)
Behnam Aghabalai (appliance vendor)
Mohammad Hokmran (appliance vendor)
Anees Hokmran (eyeglasses repair)
Farhad Nabati (eyeglasses)
Behrouz Nourdel (eyeglasses)
Enayat Molaei (photography)
Behnam Shafiei (cosmetics store)
Alireza Agha Balayi (coil winding)
Navid Ighani  (eyeglasses)
Behrouz Isa Khani (household appliance vendor)
The interruption of business of Baha'i citizens of Kerman province occurred in retaliation for their shop closure in observance of a religious holiday.
Baha'i-owned businesses in Sistan and Baluchistan Province which were closed and sealed by security forces on October 30, 2017, also remain sealed.
Additionally, 18 stores in Zahedan, four shops in Iranshahr, three shops in Saravan and eight shops in Chabahar have been closed and sealed.
Previous reports from HRANA regarding closure of the Baha'i-owned businesses of Sistan and Baluchestan list the following:
Habib Tawhidi (Tohid Eyeglasses),
Ahmad Ali Shokati (Eshragh Eyeglasses),
Bright Light (Roshan Residential Glass),
Behrooz Gholam Razaei (Building Sanitation Supply),
Bijan Gholam Razaei (Parto Electric),
Bahador Kamjou (Jupiter Eyeglasses),
Andalib Todei (Dehkadeh Jahani Computer Service), and
Azarakhash barghi (Nikan stationary)
While this report focuses on three provinces, forced closure of Baha'i-owned business has been occurring throughout the country.
In many cases, the details of the interrogations and the reasons for the forced business closure are not provided by authorities. However, based on the pattern, particularly in recent years, suppression of the Baha'i Community's ability to engage economic activity and the resultant economic insecurity has been a leverage used by security and Intelligence agencies to apply pressure the followers of this religious minority.
According to Article 28, paragraph Beh (ب) of the trade union law, business owners may close their shops for up to 15 days a year, without notice to the union.  Despite this, law enforcement and security agencies continue to routinely forcibly close and seal the shops of Baha'is during closure for observance of Baha'i holidays.
Shahindokht Molaverdi, the Special Assistant to the President on Civil Rights Issues, said in a statement to the media on December 3, 2017, " As regards to the closure of commercial premises and the denial of Baha'i activities, there have been queries from the President's Legal Assistant, and we are discussing this through legislation in order to find a solution to the issue."  In the meantime, forced closure of the Baha'is' businesses continues in Iran.