Source: iranwire.com
Translation by Iran Press Watch
By Ida Qajar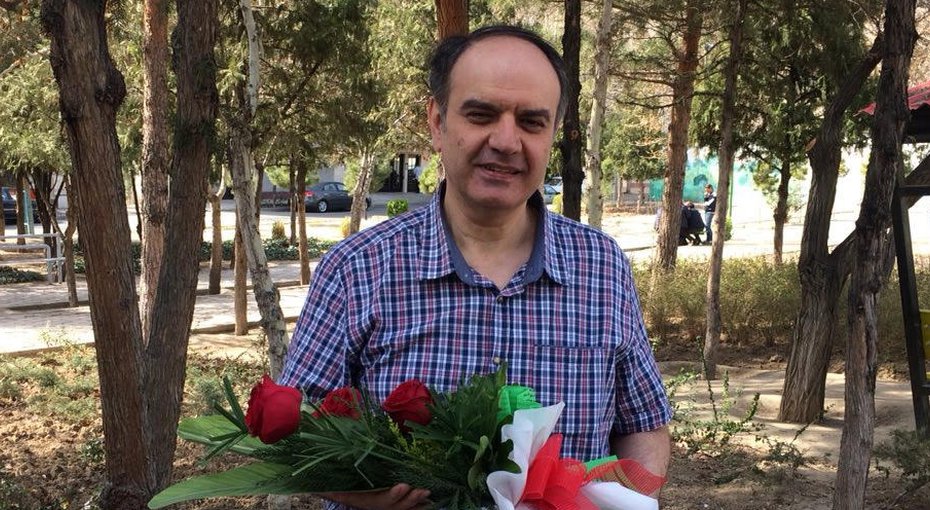 One day before the start of the new year 1397, Vahid Tizfahm, of the imprisoned Yaran-e-Iran, was released from prison to spend Naw-Rúz alongside his family. He is the sixth member of the Yaran to be released from prison.
Tizfahm, together with Mahvash Sabet, Behrooz Tavakkoli, Fariba Kamalabadi, Saeid Rezaie, Jamaloddin Khanjani, and Afif Naeimi, were members of the group called "Yaran-e-Iran," which administered the affairs of the Baha'i minority community. On March 5, 2008, Mahvash Sabet was arrested while on a trip to Mashad. The remaining six members were detained by security agents on May 14, 2008, at 7 a.m., and transferred to Evin prison. They were held incommunicado for weeks and were not allowed access to legal counsel for more than a year
Following his arrest and before trial, Vahid Tizfahm was confined in Evin Prison for 24 months. 112 days of that time were spent in solitary confinement, the most difficult four months for him. The rest of his time was spent in a room with five other Baha'is. His trial was held on August 7, 2010, presided over by Judge Moghiseh in Branch 28 of the Revolutionary Court, who sentenced him to 20 years in prison. Tizfahm was tried on the charges of "promoting the Baha'i Faith", "spying for Israel", "insulting the sacred" and "propaganda against the regime." These are the typical charges used against many Baha'is.
In November 2015, in accordance with the New Islamic Penal Code, Tizfahm's 20-year sentence was reduced to ten years. According to this article, when the accused is facing multiple charges, the maximum sentence is applied.
Following the reduction of his sentence, Tizfahm was transferred to Rajai-Shahr prison, where he remained until his release. Rajai-Shahr is located in the Alborz Province and was at the time a maximum-security prison, a place for the "dangerous" individuals. According to Iran's Department of Prisons, Security and Corrections' Regulations, and based on the principle of Segregation of Crimes, Tizfahm's transfer to Rajai-Shahr was not legal.
According to Tizfahm, Evin prison is known as the black pit of the Iranian prisons. During his first two months at Evin, he was subjected to daily interrogations. Another two months of interrogation every few days by the Intelligence Ministry's agents followed.
During these interrogations, which were accompanied by insults, humiliation and the occasional physical abuse, Tizfahm was pressured to answer the agents' questions with the responses they wanted. "We would try to resist and be independent in our responses," relates Tizfahm. "We were facing restrictions, such as limited family visitation, and lack of access to books and reading material. All this, while we had not committed any crime. A different view or misunderstanding, a political approach to the issue of the Baha'is, and a security viewpoint toward this community was the reason for our arrest. But, I will always remember the restrictions on the outdoor breaks allowed during this period."
While in solitary confinement, and later while sharing a cell with the other Baha'i leaders, Tizfahm was denied time outdoors, which made his confinement much more difficult. The outdoors area itself only consisted of a roofed area of 20 square meters where, when allowed, they would spend only three hours, two or three times a week. This experience was common with all seven leaders of the Yaran while in prison. "Those who have experienced the 209 Area at Evin, have more or less had their share of these restrictions and the insulting treatment of the agents and analysts. Of course, there were also those who were carrying out their duty. Insults, humiliation, physical abuse and restrictions are all an integral part of the process of detention and interrogation."
Of his encounters with the interrogators, the behavior of one of them stands out in Tizfahm's memory, so much so that it also caused him psychological distress, "I was under pressure and interrogation, and at the time could not come up with an appropriate response. He would always call me 'the son of the executed one'". (In 1982, Tizfahm was only nine years old when his father, Agahollah Tizfahm, was executed by the Regime for his Baha'i Faith.) "This was a terrible feeling, which would stress me out. To me my father is not "executed", he is a martyr who sacrificed his life for his Faith, for Iran and for all of us."
At the time when Vahid Tizfahm was arrested, his own son was eight years old, "Once again, history repeated itself for me, with my arrest. But my father's martyrdom and execution never caused me to hold any grudge against those responsible. I made a vow to myself to substitute this grudge and hatred, which seemed only logical, with love and devotion to my country. In my view, those responsible for my father's martyrdom were ignorant towards the Baha'is. The reason was ignorance. I tried to instead increase the society's awareness of the Baha'is. I left those responsible for that martyrdom to God and chose a path of constructive resilience. I will stay and live in Iran and with the help of my fellow-countrymen, I will increase their knowledge and awareness of their own rights as well as the rights of other minorities."
Despite the negative experience of his 10 years in prison, Tizfahm has some positive takeaways. One of the days he spent in the General Ward at Rajai-Shahr, a man who was charged with kidnapping, came to Tizfahm and told him that the Baha'is should not have been brought to this prison: "This is the society's garbage can, and even in a garbage can if you search, you may find some treasures. You are all jewels that have been tossed in here," he said. "I know he was not an educated person, but he had this perception of our situation," Tizfahm said.
But the best and the most enduring takeaway for Tizfahm was his time in the section of Rajai-Shahr established for political prisoners and prisoners of conscience. Tiizfahm and the other Baha'i community leaders were transferred there and coexisted with a segment of the Iranian civil society, "This was an opportunity for us, especially after the events of 2009, to share our imprisonment with journalists, political activists, conscientious objectors such as religious converts and partisan activists; highly intelligent, well-educated and deepened individuals. This coexistence enabled them to become acquainted with the Baha'i community and our beliefs. Our association with these friends was a blessing. Even though we are fellow-countrymen and live in the same society, they did not have a true knowledge of the Baha'i community. At least, we were able to familiarize them with it and we got to know them too. This was the best outcome of the years of imprisonment."
Tizfahm relates how, throughout its history, the Baha'i community has suffered various injustices at the hand of Iran's successive governments, but following the 1979 Islamic Revolution, the pressures became systematic. Arrests, imprisonment and execution of Baha'is were common under the nascent regime. Over the years, "Admission to universities, lack of access to employment in government agencies and confiscation of their properties, economic restrictions and enormous difficulties for children in schools got to the point that a portion of the Baha'i community was forced to migrate. It was a very difficult period. Those who have remained in Iran endure. Every Baha'i family has experienced pressure and loss of rights in various aspects."
It is Tizfahm's belief that if the authorities in the Islamic Republic would view the rights of Iran's ethnic and religious minorities with generosity, a little patience and in a more logical way, a better future can come about for Iran and Iranians: "My issue is the joining of the religious minorities with the civil society and the rights of citizenship. If one day we get to a point in Iran, where the Baha'i community enjoys civil and citizenship rights, other Iranians at various levels will also achieve their citizenship rights. This is not impossible. The society needs change. A major change needs to happen in the government's view of all minorities. We must also strive to achieve these civil and citizenship rights."
Vahid Tizfahm shared his Naw-Rúz message to his fellow-countrymen to me:
"My greetings and congratulations to all Iranian citizens and dear Iranians for Naw-Rúz 1397. I am happy this year, after 10 years in prison, to be alongside my family, fellow-countrymen and coreligionists. As a Baha'i, I wish for progress and prosperity for Iran. In my dreams and wishes, I have always wanted good health and happiness for Iranians. God willing, in the future, we can hand in hand, with the help of Baha'is and non-Baha'is, as only human beings and Iranians, bring about a prosperous, developed, democratic and dynamic country. This is my heart's desire. I wish all Iranians a happy Naw-Rúz, with plenteous and colorful spreads."