Source: taraneh.org
By Nasser Sedghi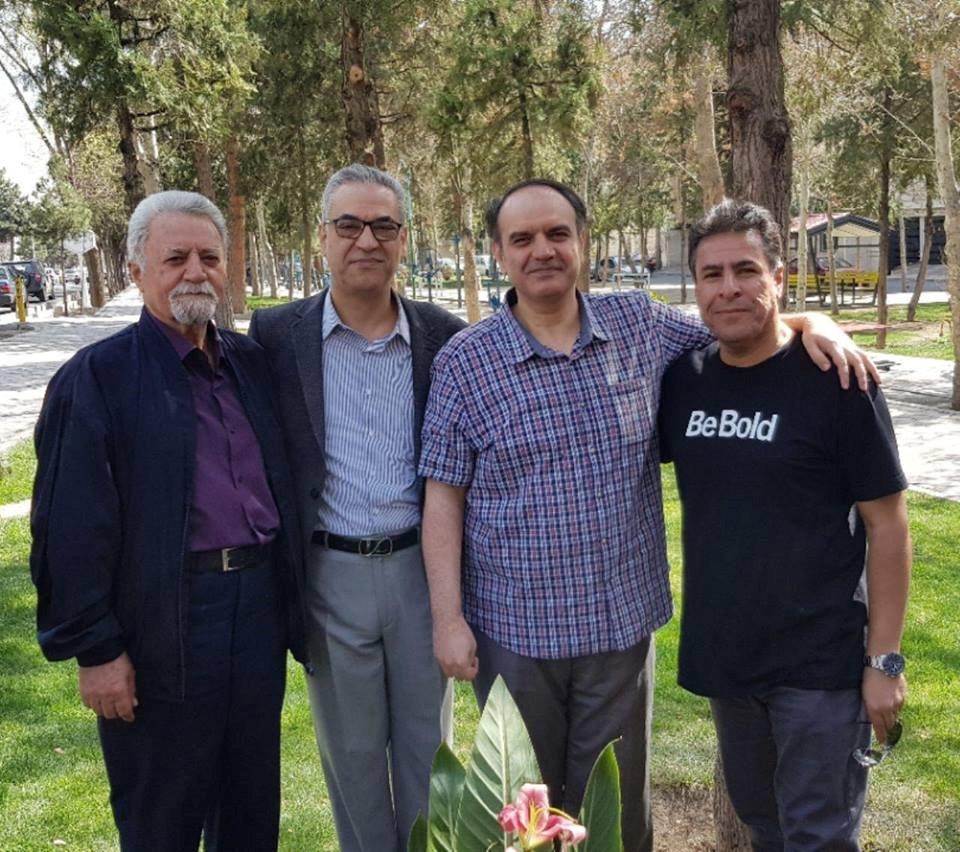 "The Story of Four Prisoners" – this is NOT a Hollywood Blockbuster movie!
This is a story of real life and unspeakable cruelty
This photo is taken a few days ago – just before the Persian new year (Naw-Ruz) – in front of the Rajaee Shahr Prinson in Karaj when one of the Baha'i prisoners, Mr Vahid Tizfahm, released after serving his unjust 10 Year prison sentence. Let us now introduce the prisoners: who they are, what they do, what was their crime, was there any legal ground for their imprisonment, how long was their prison term…?
From the photo Left to Right:
Mr Farhad Sedghi – 4 Year unjust prison term, from 2011 to 2015; Mr Afif Naeimi1 – 10 Year unjust prison term, from 2008 to 2018; Mr Vahid Tizfahm – 10 Year unjust prison term, from 2008 to 2018; Mr Ramin Zibaie – 4 Year unjust prison term; from 2011 to 2015.
Who they are and what they do / or did?
Mr Farhad Sedghi is a highly qualified accountant with over 35 years of experience in industrial accounting and finance, Farhad has a strong dedication to helping with youth education. Mr Afif Naeimi is an industrialist and business operator who was unable to pursue his dream of becoming a doctor because as a Baha'i he was denied access to a university education in Iran; he is passionate with voluntary work and helping others. Mr Vahid Tizfahm is an optometrist and business owner, as a Baha'i he was denied to enter university education, but later he studied sociology at the Advanced Baha'i Studies Institute; Vahid has a great dedication to youth empowerment and activities. Mr Ramin Zibaie is from the South of Iran; like all other young Baha'is he was denied to do his university studies, but he enrolled at the Baha'i Institute for Higher Education (BIHE) and managed to finish his master in psychology; Ramin is very enthusiastic with helping other Baha'i youth with their higher education.
What was their crime and why such a lengthy prison term?
As there is no clergy in the Baha'i Faith, instead there is a "Baha'i Administration" to comprise annually elected governing councils that operate at the national, regional and local levels as well as individuals and groups who are formally appointed to assist with various aspects of the community's work and needs. This system of Baha'i administration was dissolved by the order of Iranian Islamic government in 1983 as part of ongoing persecution against Baha'is in that country.
In absence of a formal Baha'i administration, a seven members formed a group 'Yaran' to oversee the affairs of 300,000. Baha'i population in Iran. Mr Affif Naeimi and Mr Vahid Tizfahm were part of the seven Yaran group that coordinated education of children, the advancement of women, upholding high personal moral standards, Baha'i funeral and marriages and other community related duties on a voluntary basis of service to the community. In 2008 all the seven members, including two female members, were arrested, and later sentenced to 10 Year unjust prison term for each of the seven members.
The arrest of Mr Farhad Sedghi and Mr Ramin Zibaie in 2011 was in relation to their involvement with the higher education of Baha'i youth in Iran.
Immediately after the Islamic Revolution in Iran, in 1979, Baha'i students were expelled from the Iranian universities and Baha'i professors, lecturers and faculty members dismissed from their positions.
In 1987, after failed attempts to persuade the government to admit qualified Baha'i students to Iranian universities and the fact that Denying people the right to education is a denial of their right to exist as free and productive human beings, the Baha'i community of Iran rallied its forces and expertise and established the Baha'i Institute for Higher Education (BIHE). Founded on the spirit of sacrifice and volunteerism, BIHE quickly grew to meet the pressing needs of its inherent community, and was soon able to provide its youth with a new means for access to higher education. Professors and researchers in Iran who had been discharged from their universities and colleges for no reason other than their membership of the Baha'i Faith dedicated themselves to the BIHE project that has evolved from a compensatory institution to a university with academic standards not only on par with the Iranian public university system, but also equalling the standards adopted by universities in the West.
Mr Farhad Sedghi and Mr Ramin Zibaie both, along with some 17 Baha'is from several cities across Iran that were part of the faculty members and administrators of the BIHE at the time of their arrest in 2011.
Charges that made against the prisoners and the crime that never committed.
Let us make one important thing quite clear that since establishment of the Islamic government in Iran in the past 39 years, there has been numerous baseless allegations and acquisitions against the Baha'is in Iran by the government and the ruling clerics, but they have been unable to produce a single evidence to support the Iranian authorities' claim. Therefore, the ill-intention of the Iranian government to mobilise a Quiet Genocide of the Baha'is in Iran, based on religious intolerance, is a well-known fact. The Iranian state sponsored propaganda machine are nevertheless failing to convince the wider Iranian society or the international community to agree with their discriminatory and barbaric actions against the Baha'is. The Baha'i International Community highlights the following point:
"The Iranian Officials lacking any convincing explanation for their irrational conduct and unconcerned at the damage done by their narrow policies to the name and credibility of the country, find themselves unable even to give a plausible answer to why they are so apprehensive about the existence of a dynamic Baha'i Community in that land."
The most common charges levelled against the Baha'is are pre-determined by the Iranian Intelligence Ministry officers and are lacking commonly acceptable evidences that to be legally binding. It also reflect the depth of animosity and prejudice directed towards the followers of the Baha'i Faith in that country: 'managing a group that aims to disturbing national security', 'spreading propaganda against the Iranian regime', 'engaging in espionage', 'gathering classified information', 'conspiring war against Islam'… , are a few charges to name it.
Baha'is have freely chosen this path of service – constructive resilience, none-violence action, proactive in extending warm fellowship to all citizens and much more – and have grown beyond having a "victim mentality". They have demonstrated an exemplary constructive resilience in Iran under all kinds of cruelty and persecution which they have endured for the last 175 years. It is quite obvious that Baha'is in Iran do not voluntarily seek persecution in order to gain sympathy, though the Iranian government and clerics shamelessly, viciously and continually air this nonsensical accusations against them.
The arrest, detention and imprisonment of Baha'is in Iran are part of an overall state-sponsored persecution in which the government and clerics desire to maintain an atmosphere of fear and uncertainty among the Baha'is. They keep changing their tactics and accusations when they fail to see negative impacts on the strength of the Baha'is of Iran
How the Iranian Judiciary system Works in Relation to Baha'is.
Irrespective of the political and governing establishments in different countries around the world, the judiciary system is where people hope to find justice and fairness, and seek shelter against injustice. Unfortunately for Baha'is in Iran, that is far from the reality. To be persecuted and discriminated against by the government and clerics is hard enough, but to be treated unjustly by the judiciary system that should supposedly be an independent body for reinforcing the rule of law is even more heart-breaking and disappointing.
This is how the justice system works for Baha'is: In a systematic and orchestrated pattern, agents of the Ministry of Intelligence target individual Baha'is or a group of them _ say a business group, educators or young students _ and obtain a warrant under false accusations.
Commonly, Baha'is are accused of endangering national security, spying for foreign countries, acting against the government or against Islam, etc. They will then make a sweeping arrest along with confiscating their computers, books and other personal items such as photo albums _ in most cases to identify other people for further arrest. Initially, the accused individuals are kept in detention centres, at least for a few days, without any proper legal procedures being followed, and family members are not informed as to their whereabouts.
Such an arrest has already created turmoil for family members, who are unaware of the whereabouts of their loved ones or the reason for their arrest. The system is designed to create frustration and a worrying environment for Baha'is. The next stage is the questioning, interrogation and filtering of the arrested people, in which some are released after payment of a heavy bail, which is another burden on a family's financial situation: and some will be incarcerated.
When it comes to dealing with Baha'is in the legal system, there are many violations of legal procedures. Iranian law requires that detainees be quickly and formally charged with a crime. For Baha'is there is evidence that it can take weeks or months for this procedure to be followed. In the case of the seven Baha'i leaders who are currently serving 10-year prison sentences (recently four of the seven Baha'i leaders were released after serving their 10 years of prison sentences), it took nine months before any word of charges against them was made.
Denial of legal counsel is another violation of legal procedure. Under the Iranian legal system, the accused have the right for a lawyer to be present during the investigation. This right is denied to Baha'is. The legal statues governing the operation of Iranian prisons restrict the holding of inmates in solitary confinement to not more than 20 days after their arrest. In the case of the seven Baha'i leaders, one was held for 175 days in solitary confinement, and the other six for 105 days.
The trials of Baha'is take place behind closed doors in the Revolutionary Court. Many of the legal teams who have taken it upon themselves to defend Baha'is in the Iranian court system in the past have been accused of orchestrating activities against national security, and had to flee the country or face prison sentences themselves. Therefore, it is extremely difficult for Baha'is to find a legal team to defend their legal rights. A typical closed-door trial and court procedures for accused Baha'is involves the presence of a judge, a court clerk, a representative of the Public Prosecutor, the accused person and _ if it is permitted _ a lawyer. The whole show is influenced and controlled by intelligence agents. The impartiality of the judge is questionable, as he will interfere with the public prosecutor's role, and will threaten the defence lawyer and the accused. The charges are fabricated, so the Baha'is will deny all the accusations and try to provide a reasonable response in defending themselves. If the lawyer who is seated next to the accused tries to highlight actual legalities according to Iranian law in defending the case, they will face harsh and threatening words from the judge. The bravery of the accused Baha'i in defending themselves and rejecting the false charges will frustrate the judge: finally _ in a disrespectful manner _ the judge will question the accused. Are you a Baha'i? If the answer is yes, the judge with anger and hatred will say
"That makes you guilty of all the charges!" In most of the cases prison terms are predetermined and dictated by Intelligence agents as between one, five to ten years. The whole trial procedure normally takes between 10 and 20 minutes.
_____
Mr Afif Naeimi's 10 Year prison term is short of two months, and due to his serious illness his family providing medical treatment outside the prison, but he has to go back to prison for another two months when doctors permit him.