Source: www.en-hrana.org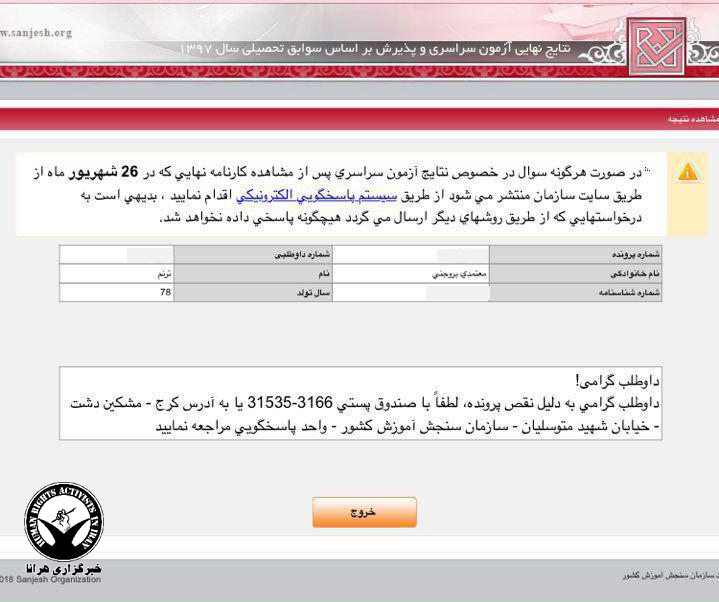 Update: Authorities Continue to Hold Back Aspiring Baha'i Students
Human Rights Activists News Agency (HRANA) Additional Baha'i college applicants have had their university entrance exam results invalidated on the National Organization for Educational Testing website, effectively barring them from continuing their studies.
As part of a larger anti-Baha'i discrimination policy administered by the Supreme Council of the Cultural Revolution, the e-dossiers of Parham Mokhtari from Saravan (ranked #397), Basir Zeinali Baghini of Bandar Abbas (ranked #1506), Yahya Mousavi Tangrizi from Karaj, and Anita Rastegar have all been flagged "deficiency on file."
The flagging of results on this nation-wide competitive test, known as "Konkur," is a well-known technique for repressing Baha'i college hopefuls. HRANA previously reported on a number of Baha'i student test results that were blocked from further processing using the same method. As of the date of this report, sixteen students have been prevented from pursuing higher education because of their Baha'i faith.
Iranian Baha'i citizens are systematically deprived of religious freedoms, while according to Article 18 of the Universal Declaration of Human Rights and Article 18 of the International Covenant on Civil and Political Rights, everyone is entitled to freedom of religion and belief, and the right to adopt and manifest the religion of their choice, be it individually, in groups, in public, or in private.
Based on unofficial sources, more than 300,000 Baha'is live in Iran. However, Iran's Constitution only recognizes Islam, Christianity, Judaism, and Zoroastrianism, and does not acknowledge the Baha'i faith as an official religion. Consequently, the rights of Baha'is are systematically violated in Iran.
Update: Systematic Religious Discrimination Curbs Twenty-three Baha'i College Hopefuls
Seven more would-be college students have been plucked from the pool of candidates by a government-sanctioned process designed to thwart the educational pathways of Baha'i citizens.
Nabil Bashi Ardestani, Tara Bahamin, Bita Charkh Zarrin, Nona Ghadiri, Sayeh Aghaei from Tabriz, Pegah Siroosian, and Sadaf Misaghi Seysan of Tehran have joined the growing number of Baha'i youth whose results on the competitive National University Exam, known as "Konkur," have been flagged "deficiency on file" on the National Organization for Educational Testing website, rendering them ineligible to apply to college.
Over the past few days, HRANA reported on 16 prospective Baha'i college applicants who are now at the same impasse: Parham Mokhtari from Saravan ranked #397, studying mathematics; Basir Zeinali Baghini from Bandar Abbas ranked # 1506; Yahya Mousavi Tangrizi from Karaj, Anita Rastegar, Tarannum Mu'tamedi Broujerdi from Shahin Shahr of Isfahan, Faran Abbaspouli Mamaghani from Tehran, Sahand Ghaemi from Shahin Shahr of Isfahan, Vahid Sadeghi Seysan, Shaghayegh Ghassemi, Shamim Idelkhani, of Ardebil, ranked #139; Farnia Iliyazadeh of Tehran, studying Mathematics; Parmida Hosseinpooli Mamaqani, ranked #4500, studying Mathematics; Sarvin Azarshab of Tehran, studying business, ranked #19000; Parand Misaghi; Shahrzad Tirgar; and Melina Ghavaminik, from Tehran, studying mathematics, ranked #10545.
The Supreme Council of the Cultural Revolution flags the e-dossiers of Baha'i students as part of an organized effort — in the words of one HRANA source — "to keep them from moving forward."
The most recent seven targets of this campaign bring the current total to 23 Baha'i students being deprived of the opportunity to pursue higher education because of their faith.