Source: www.en-hrana.org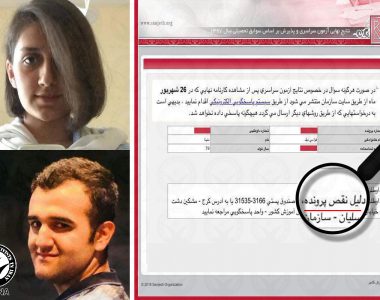 Human Rights Activists News Agency (HRANA) – A large number of Baha'i students who participated in the 2018 National University Entrance Exam, known as "Konkur," have had their applications flagged "deficiency on file" on the National Organization for Educational Testing website, a known harbinger of educational aspirations dead in the water.
As an informed source told HRANA, "The 'deficiency in file' flag is used on Baha'i citizens to keep them from moving forward in their studies, a practice that's been prevalent since 2006."
The barred Baha'i students are Shamim Idelkhani, of Ardebil, ranked #139; Farnia Iliyazadeh of Tehran, studying Mathematics; Parmida Husaynpuli Mamaqani, ranked #4500, studying Mathematics; Sarvin Azarshab of Tehran, studying business, ranked #19000; Parand Mithaqi; Shahrzad Tirgar; and Melina Qavaminik, from Tehran, studying mathematics, ranked #10545.
Yesterday, HRANA reported on a number of Baha'is at the same impasse: Tarannum Mu'tamedi Broujerdi from Shahin Shahr of Isfahan, Faran Abbaspouli Mamaghani from Tehran, Sahand Ghaemi from Shahin Shahr of Isfahan, Vahid Sadeghi Sisan, and Shaghayegh Ghassemi.
In direct violation of the law, Baha'is are prevented from pursuing degrees or employment in government offices, per under-the-table directives from the Supreme Council of the Cultural Revolution. Every year, a new cohort of Baha'is is barred in this way from the university enrollment process.
Since the 1979 revolution, the office of the United Nations Special Rapporteur on Iran has repeatedly protested the Iranian government's animosity towards its Baha'i population, particular in preventing these citizens from furthering their studies. According to the Rapporteur, such directives demonstrate a blatant disregard of multiple international treaties.
Iranian Baha'i citizens are systematically deprived of religious freedoms, while according to Article 18 of the Universal Declaration of Human Rights and Article 18 of the International Covenant on Civil and Political Rights, everyone is entitled to freedom of religion and belief, and the right to adopt and manifest the religion of their choice, be it individually, in groups, in public, or in private.
Based on unofficial sources, more than 300,000 Baha'is live in Iran. However, Iran's Constitution only recognizes Islam, Christianity, Judaism, and Zoroastrianism, and does not acknowledge the Baha'i faith as an official religion. Consequently, the rights of Baha'is are systematically violated in Iran.