Source: www.hra-news.org
Translation by Iran Press Watch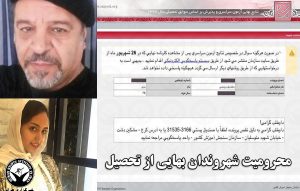 HRANA News Agency – Several Baha'i students found themselves denied from continuing their education, when checking their results from Nationwide University Entrance Exam for the current year.
According to the HRANA, the news arm of the Human Rights Activists in Iran, a number of Baha'i students received a message stating their applications were incomplete when inquiring about the outcome of their Nationwide University Entrance Examination for the current year and were barred from continuing education.
An informed source, confirming the report, told the HRANA correspondent that "incomplete application" is the routine excuse utilized to prevent Baha'i students from entering institutes of higher education. "They use the choice of incomplete application, for the Baha'i students that they want to deprive of continuing their education, and this has become commonplace since 2006, and in the results of this year's examinations as well, a number of these fellow citizens faced this excuse."
The Baha'i students have been identified by HRANA as Ternam Motamedi Borujeni, a resident of Shahinshahr of Isfahan; Faran Abbaspouli Mamaghani, a resident of Tehran; Sahand Ghaemi, a resident of Shahinshahr of Isfahan; Vahid Sadeqi Seisan, and Shaghayegh Qasemi.
Despite the explicit right of the law to education, according to the secret decree of the Supreme Council of the Iranian Cultural Revolution Baha'is are to be deprived of higher education as well as banned from employment in public institutions.
Every year there sees many reports new reports of Baha'is deprived of continuing their education, including expulsion of Baha'is in the course of their studies at Iranian universities, even those on the verge of graduation.
Since the inception of the Islamic Republic, UN human rights reporters have repeatedly objected to antagonism towards Baha'is, in particular the deprivation of Baha'i students of their right to education, which is a sign and clear indication of Iran's neglect of human rights accords.
Baha'i citizens in Iran are systematically deprived of freedoms related to religious beliefs. This systematic deprivation is in direct contradiction to Article 18 of the Universal Declaration of Human Rights, and Article 18 of the International Covenant on Civil and Political Rights (ICCPR), both of which Iran is signatory, "all persons have the right to religious freedom, the right to change their religion or belief, and the freedom to express their belief individually or collectively in public or private."
Iran's Constitution only recognizes Islam, Christianity, Judaism and Zoroastrianism, and does not recognize the Baha'i Faith as a religion. The Regime has used this to justify systematic denial and violation of the civil rights of the Baha'is over the years.
As the Iranian Regime has forced the Baha'i community to disband its administrative bodies, it is difficult to accurately assess the number of Baha'is in Iran. However, based on unofficial sources, it is believed there are over 300,000 Baha'is currently living in Iran.