Source: www.hra-news.org
Translation by Iran Press Watch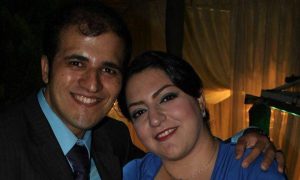 HRANA News Agency – Today, Moein Mohammadi, a Baha'i living in Yazd, was arrested by security forces and transferred to an unknown location. It is said that he was arrested on his way to work.
According to HRANA News Agency, Human Rights Activists News Agency in Iran, on Wednesday, December 22, 2018, Moein Mohammadi, a Baha'i living in Yazd, was detained by security forces and transferred to an unknown location.
A source close to the family told a HRANA reporter: "This morning, Moein Mohammadi, a Baha'i, was arrested while leaving his house by agents of the Ministry of Intelligence. His family, after realizing that he had not reached his workplace, inquired; after few hours they realized he had been arrested. "
He added: "Recently, security forces not only went to his house but also went to the house of his father, Mr. Mahommadi. They searched both houses and took mobile phones, laptops, some books and personal belongings, although the inspection order belonged to Mr. Moein Mohammadi's house and not his father's.
This Baha'i citizen is said to have been involved with environmental issues; however, at the time of this report, there is no information on the reasons for his arrest or his whereabouts.
In October 2018, HRANA published a detailed report on the increasing pressure on the Baha'i community and the arrest of members of this religion. According to this report, Baha'is in different cities of the country have faced a new wave of human rights violations from the start of 2018 through November 19 of that year. At least 58 Baha'i students who successfully passed the national university entrance exam were barred from enrolling in higher education in 2018. At least 11 Baha'i students at different levels of studies have been expelled from universities. Financial pressure has increased on the Baha'i community through the interruption of economic activity, forced business closures, and the expulsion of at least 6 Baha'is from their own workplace or private companies. 72 Baha'is have been summoned and arrested by security forces. The sentencing of 24 Baha'is has resulted in a combined total sentence of 46 years of imprisonment and 9 years of internal exile. An extensive media campaign against the Baha'i Faith and its adherents has been ongoing through production disguised as cultural/media programs. Baha'i cemeteries have been vandalized and graves destroyed, and Baha'is have been denied the right to bury their dead in Baha'i cemeteries in various cities. These are just a few of the many ways that the pressure on Baha'i citizens of Iran has increased since the beginning of 2018.
Baha'is in Iran are systematically deprived of freedoms related to religious belief. This systematic deprivation is in direct contradiction of Article 18 of the Universal Declaration of Human Rights and Article 18 of the International Covenant on Civil and Political Rights (ICCPR), to both of which Iran is a signatory, which state: "all persons have the right to religious freedom, the right to change their religion or belief, and the freedom to express their belief individually or collectively in public or private."
Based on unofficial sources, it is estimated that there are three hundred thousand Baha'is living in Iran, although Islam, Christianity, Judaism and Zoroastrianism are the only religions recognized by the Iranian Constitution. The Baha'i Faith is not officially recognized. For this reason, the rights of Baha'is have been ignored systematically for many years.