Source: www.hra-news.org
Translation by Iran Press Watch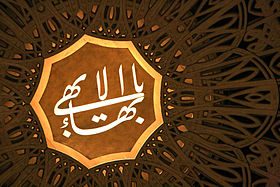 HRANA News – During last two weeks, at least 32 Baha'i citizens were summoned and interrogated under common documentation collectively by the Information Office in Karaj.
Previously, the same group of Baha'is attended Mehrdad Heyrani's lecture at which he was interrogated in class by security forces.
HRANA obtained the names of these people: Saied Vojdani, Tahereh Pashaie, Radm'an Forughi, Sheida Motlaq, Traneh Badie, Sepeher Furuhari, Masood Zakerian, Badiullah Tashakor, Farinaz Khoshfetrat, Tarannom Hashemi, Kambiz Safaie, Sarmad Sadeghian, Nahid Farhangi, Hasti Mandegari, Nasim Zabihi, Ruhhiyeh Anvari, Shoeleh Emamverdi, Shirin Khollas, Furutan Bayai, Armin Rowhani, Aydin Rowhani, Nazanin Sharifi, Nima Sharifi, Ramtin Monzavi, Parnian Badie, Mahsan Mokhtari, Arman Poormoradian, Mahmood Feshami, Samieh Ehsani, Pooya Eslami, Delkash Bebahani.
A close source to these Baha'is confirmed the above news and informed the HRANA reporter: " When the security forces came to arrest Mehrdad Heyrani, all these citizens were attending his class. In addition, they were subsequently interrogated, and their mobile phones were confiscated.
Since December 24th 2017, every week on Monday and Tuesday these individuals were summoned and interrogated in the Office of Information in Karaj."
The same source continued: "Security agents, after completing their interrogation, returned the mobile phones and informed them that the finalised report of their individual cases would be sent to the judiciary.
Mehrdad Heyrani now resides in Tehran; on 11 May 2018 he was arrested by security forces and imprisoned in Evin Prison. After spending three months of incarceration, on 11 August 2018, he was freed on bail of approximately US $15,000.00.
On 19 November 2018, HRANA published a detailed report about mounting pressure on the Baha'i community and the arrest of adherents of the faith. Based on this report, from the beginning of this year Baha'is in various cities in Iran are facing new pressure, and have been deprived of their rights. After successfully passing the University Entrance Examination, at least 58 students were not permitted to continue their education. Also, at least eleven students who were studying in various majors were expelled from universities. Baha'is have been prevented from conducting their own businesses; six of them have been barred from conducting trade.
Security forces agents summoned and arrested 72 Baha'is; 24 Baha'is were sentenced to a total of 46 years of imprisonment and 9 years of exile. Anti-Baha'i publications are rampant in the media. Many businesses belonging to Baha'is were sealed and continue to be sealed. Destruction of Baha'i cemeteries and the prevention of Baha'is from burying their dead until at least 19th November 2018 are a few examples of increasing pressure on Baha'is.
Baha'is in Iran have been prevented from practicing their religion tenets freely. Such systematic deprivation is enforced, even though Article 18 of the Human Rights Declaration and Article 18 of the International Treaty on Civil and Political Rights of Individuals, to which Iran is a signatory, stipulate that everybody has the right to choose their religion and are free to change it. In addition, everybody is entitled to freedom of speech in private or public, individually or collectively.
Unofficially, it is estimated that there are three hundred thousand Baha'is living in Iran, although Islam, Christianity, Judaism and Zoroastrianism are the only religions recognized by the Iranian Constitution. The Baha'i Faith is not officially recognized. For this reason, the rights of Baha'is have been ignored systematically for many years.