Source: www.hra-news.org
Translation by Iran Press Watcg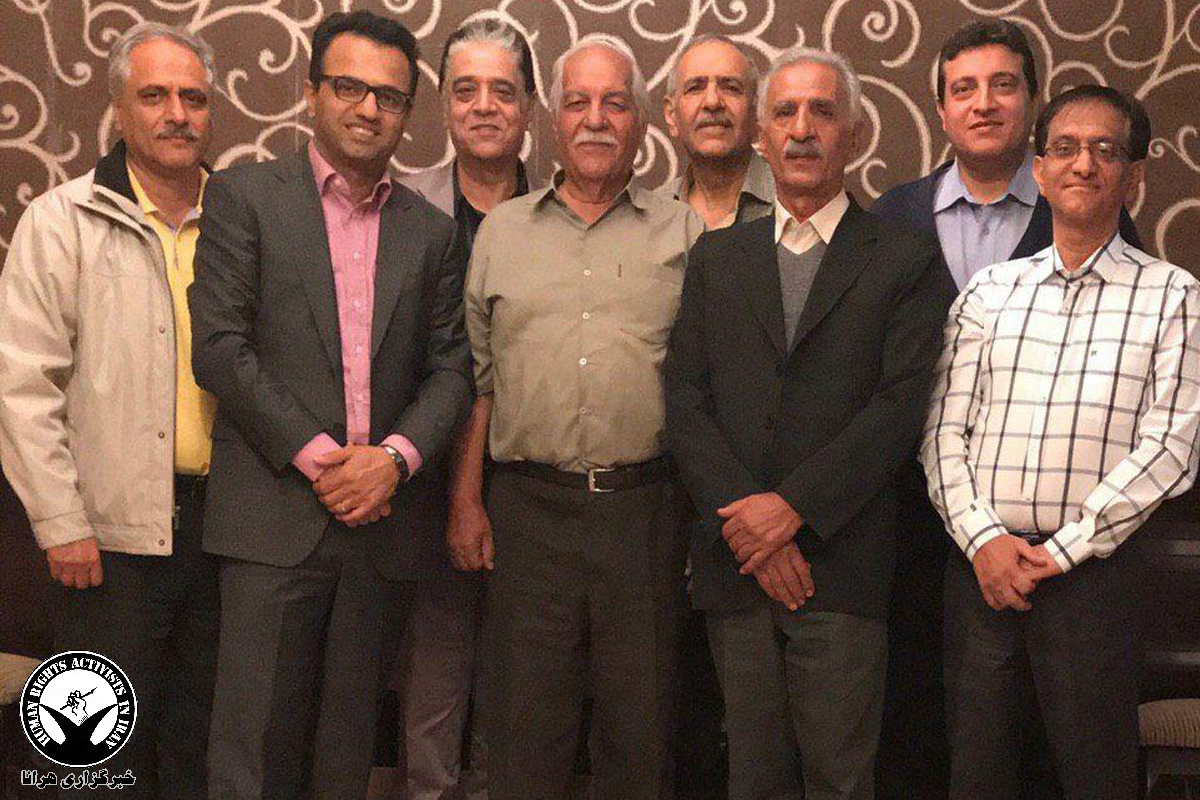 HRANA News Agency – 
Four Baha'i residents of 
Isfahan
 were 
sentenced
 in May this year by the appeals court of Isfahan province to 10 years imprisonment. These citizens were arrested on Saturday by security forces and transferred to 
Isfahan
 Prison to undergo imprisonment. Saeed Dehghan, the lawyer of these Baha'i citizens, has issued a memorandum on the charges raised against them and their prosecution in the court. Part of this note reads: "These are citizens and sons of Iran, and have their hearts pledged to this land. They are only Baha'is, and Baha'is born to Baha'i families ‒ that's all! If we are not to respect each other's beliefs, then we should at least respect Article 23 of the Constitution of Iran about the prohibition of inquiry into people's beliefs
1
."
According to HRANA News Agency, the news agency of Human Rights Activists in Iran, on Monday, January 7, 2019, Saeed Dehghan, attorney for seven Baha'i citizens of Isfahan, of whom four were recently arrested and transferred to prison, released a note on these citizens' rights. Four Baha'i citizens, Sohrab Naghipoor, Mohsen Mehregani, Manouchehr Rahmani and Farzad Homayouni, were arrested by security forces in private homes at 8:00 AM on Saturday and were transferred to prison to carry out their sentences. Branch 23 of the Court of Appeals of Isfahan Province, on May 14 of this year, confirmed the verdict from the initial court, and this sentence was communicated to the defendants two days later. During a sentence issued by the First Branch of the Revolutionary Court of Isfahan in November last year, Sohrab Naghipour was sentenced to 5 years of prison; Mohsen Mehregani, Manouchehr Rahmani and Farzad Homayouni were each sentenced to 20 months of prison.
The full transcript of the memo of Saeed Dehghan, the lawyer for these individuals, goes on to read:
"These are citizens and children of the land of Iran, and they have pledged their hearts to this soil. They are only Baha'is, and Baha'is born to Baha'i families ‒ that's all! If we are not supposed to respect each other's beliefs; then we should at least respect Article 23 of the Constitution of Iran about the prohibition of inquiry into people's beliefs1. If it is hard and we cannot, we should at least be honest, not that one of us who is at the head of the diplomatic apparatus and behind the show window declare that 'no such crime as being a Baha'i exists in Iran'2 while others in the judiciary, regardless of the facts and obvious principles of law, give sentences to Baha'is for imprisonment one after another.
"I started the week with news from members of the families of my clients in Isfahan, saying security forces have detained four of these seven Baha'i citizens (Manouchehr Rahmani, Farzad Homayouni, Sohrab Naghipoor, and Mohsen Mehregani) and are looking for the three other clients! It is not clear yet, first, that the sentencing issued more than seven months ago (in May) should, instead of being enforced through legal channels and in its time, be implemented after plenty of threats and freezing of the accounts, etc., in this way, and at this time! At a time when Mr. Afif Naeimi, the seventh and the last member of the group of seven Baha'i clients in Tehran, has just been released! Second, why were [authorities] all sabotaging the application of Article 477 of the Code of Criminal Procedure3 during this time?
"The details of the text and the outcome of such cases are not likely to be resolved. But I will pursue litigation via the restoration of the case through the Supreme Court, especially as I still believe that every word in this charge (membership in the illegal organization of Baha'ism for the intent of acting against national security) except for 'for' and 'to' are problematic!
Membership: 'membership' does not make sense to my clients, each of whom was born into the Baha'i Faith.
Organization: since 1983, when the 'organization' of the Baha'is in Iran was dissolved, there has been practically no organization in which membership can make sense; 'Actions speak louder than words.'
Illegal: In none of our country's laws has the Baha'i faith been declared 'illegal'; not only are Baha'is under protection in the Islamic Republic of Iran according to a Fatwa of the Founder of the Islamic Revolution, but also under the principles of Articles 23 and 14 of the Constitution it is illegal to prosecute them.
Baha'ism: Baha'ism is a religion or creed, and not an organization in which membership makes sense; this is covered by Articles 498 or 499 of the Islamic Penal Code.
Intent: What 'intention'?! There is no evidence or proof in the entire case filed against my clients that any of the seven defendants in this case even have a criminal intention to perform a simple criminal act, let alone acting against national security!
Action against national security: This phrase requires a series of organized and wide-spread acts and arrangements, whereas believing in a religion or faith is a personal, innate and innocent act, and cannot, in principle, be an action 'against national security', especially in a country which claims to be an island of stability in the region!"
______
1. Article 23 of the Constitution of Iran states in full: "The investigation of individuals' beliefs is forbidden, and no one may be molested or taken to task simply for holding a certain belief."
2. This is a reference to a statement of Iranian Foreign Minister Mohammad Javad Zarif on a visit to New York in April 2018, who spoke at a Council on Foreign Relations forum and said, "According to Iranian law, following a set of beliefs is not an offense." Asked about Iran's refusal to recognize the Baha'i religion, Zarif said: "Being a Baha'i is not a crime. We do not recognize somebody as a Baha'i as [having] a religion … that's a belief."
3. In addition to the normal avenues to file a request for retrial as listed under Article 474, there exists an exceptional route whereby the Head of the Judiciary can directly intervene in finalized cases and instruct the Supreme Court to overturn them and issue a new verdict. Under Article 477 of the new Code of Criminal Procedure, the Head of the Judiciary is authorized to exercise this power if they determine that the verdicts in question are "evidently in contravention with Shari'a".