Source: iranwire.com
By KIAN SABETI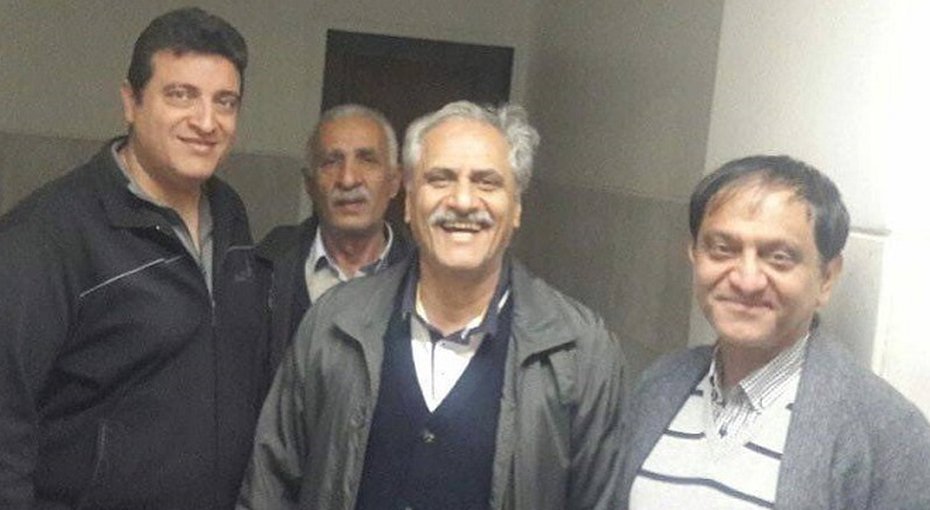 Over the last few weeks, more than 60 Baha'is have been arrested and interrogated in cities across Iran, and four more were detained so that they could start serving prison sentences handed down to them earlier.
This surge in the persecution of Baha'is has coincided with strong condemnations from two international bodies, which have highlighted the Islamic Republic's continued violations against human rights.
On December 13, 2018, the European Parliament passed a resolution demanding that Iran release the human rights lawyer Nasrin Sotoudeh and "stop discrimination against religious minorities as well as non-believers." The resolution also condemned "the systematic persecution of the Baha'i minority" and called "on the government of Iran to respect human rights and fundamental freedoms, including of opinion and expression."
On December 17, 2018, the United Nations General Assembly passed a resolution condemning "severe" human rights violations in Iran, calling on the Iranian authorities to end ongoing human rights violations, including those against the Baha'is in Iran. It further called upon the Iranian government to "release all religious practitioners imprisoned for their membership in or activities on behalf of a recognized or unrecognized minority religious group, including the remaining imprisoned member of the Baha'i leadership."
Falling on Deaf Ears
But it should come as no surprise that these calls have fallen on deaf ears. On the morning of Saturday, January 5, plainclothes agents went to the homes of seven Baha'is in the city of Isfahan and arrested four of them who were at home at the time. Those arrested were Farzad Homayooni, Mohsen Mehregani, Manouchehr Rahmani and Sohrab Naghipoor. The first three have been sentenced to 20 months in prison each and the fourth to five years. The three who did not face arrest because they were not at home are Ehsan Eshtiagh, Soroush Pezeshki and Anayatollah Naeimi.
The seven were first arrested in early 2017 and went on trial on November 20 of the same year at Branch 1 of Isfahan's Revolutionary Court. The judge sentenced each of them to five years in prison on the charge of "membership to illegal Baha'i organizations with the intention of acting against national security." Branch 23 of Isfahan's Court of Appeals reduced the sentences of Farhad Homayooni, Mohsen Mehregani and Manouchehr Rahmani to 20 months in prison. However, it confirmed the five-year prison sentences against the remaining three.
What Baha'i Prisoners?
"These are the citizens and children of Iran and their hearts belongs to this land," wrote Saeed Dehghan, the lawyer of the four who have been arrested. "Only they are Baha'is and the children of Baha'is. That is all! If we cannot respect each other's beliefs, we can at least respect Article 23of the constitution that bans inquisition. And if it is difficult even to do this, then at least we can be honest. One of us at the top of our diplomatic establishment should not announce from the podium that 'there is no crime in Iran called being a Baha'i' when others in the judiciary sentence one Baha'i after another to prison with no regard for undeniable legal principles and laws."
Here, Dehghan is referring to Foreign Minister Mohammad Javad Zarif who, on April 23, 2018 addressed the American Council on Foreign Relations, discussing a wide range of issues, from US-Iranian relations to Syria and the nuclear deal. Following the speech, he was asked about the continued persecution of Baha'is in Iran and violations of their human rights. He denied there were any such violations — as officials from the Islamic Republic have been doing for years. "No Baha'i individual is in prison for the crime of being a Baha'i," he said.
"For my seven clients who all have been born Baha'is, 'membership' holds no meaning," wrote Dehghan. "Since 1983, when the Baha'i organizations in Iran were dissolved, practically no organization has had members…No Iranian law declares the Baha'i faith illegal. Not only is there a fatwa by the founder of the Islamic Republic [Ayatollah Khomeini] that rules that the Islamic Republic must tolerate the Baha'is, Articles 14 and 23 of the constitution make prosecuting them illegal. Baha'ism is a religion, not an organization, with members that can be subject to Islamic Penal Codes articles 498 [criminalizing the establishment of any group that aims to "disrupt national security"] and 499 [that sets the punishment for such offenders]…The phrase 'activities against national security' requires extensive and organized actions and plans, whereas belief in a faith or religion is a personal and harmless affair that cannot be taken as an action, especially in a country that claims to be an island of stability in the region."
On the morning of Tuesday, December 25, 2018, the appeals court upheld the verdict against nine Baha'is from the city of Baharestan in Isfahan. The nine, who had been sentenced by the lower court to a total of 48 years in prison, were arrested at their homes on September 23, 2018. After two months of detention, they were tried at Branch 1 of Isfahan's Revolutionary Court, presided over by Judge Ali Diani, on charges of "membership to an illegal Baha'i organization with the intent to act against national security" and "propaganda against the regime." The lower court sentenced Afshin Bolbolan, Anoush Rayeneh, Milad Davardan, Farhang Sahba and Ali Sani to six years in prison each. Sepideh Rouhani, Bahareh Zaini, Saham Aramin, and Fouzhan Rashidi were each sentenced to three years in prison.
On December 29, 2018, Intelligence Ministry agents searched the home of another Baha'i in Baharestan, Jalil Behamin, presenting a warrant from Isfahan's prosecutor. It is not known if this search was related to the case of the other nine Baha'is from Baharestan.
The Painting Class that Harms National Security
On December 27, 2018, Branch 36 of Tehran's Revolutionary Court of Appeals reviewed the case against Shahriar Cyrus, a Baha'i painter. He had been arrested on June 30, 2015, at his home while he was teaching a painting class. He was released on bail on August 19 after spending 50 days at Evin Prison's Ward 209. One year later he was tried at Branch 28 of the Revolutionary Court in Tehran, presided over by Judge Mohammad Moghiseh, who has faced condemnation from the European Union for violating the human rights of defendants. He sentenced Cyrus to five years in prison based on Article 498. The article states: "Anyone with any ideology who establishes or directs a group, society or branch, inside or outside the country, with any name or title that constitutes more than two individuals and aims to perturb the security of the country…shall be sentenced to two to 10 years' imprisonment." Judge Moghiseh interpreted Cyrus' painting classes as meetings to organize acts against national security.
On December 31, 2018, the Revolutionary Court of Appeals in the province of Sistan and Baluchistan reduced the sentences of each of the six arrested Baha'is from three years to six months. The preliminary verdict against Fahimeh Eshagh Nouri, Bahador Kamjoo, Houshang Mokhtari, Ali Mohammad Anvari Aliabadi and Bijan Eslami Mehdi-Abadi, all from the province of Sistan and Baluchistan, was issued on November 16, 2017 by Judge Mohammad Reza Sardi in Branch 3 of the Revolutionary Court in Zahedan. He found them guilty of the routine charge brought against Baha'is —  "membership to an illegal Baha'i organization with the intent to act against national security."
On January 2, 13 Baha'is were summoned to the Revolutionary Court in Kermanshah to answer to charges against them but when they attended the court the judge delayed the session because he had not studied the case thoroughly. The 13 were arrested in late 2017 and had been released after a few days on bail.
In late December 2018 in Karaj, 32 Baha'is were summoned to the city's Intelligence Bureau and interrogated.
Also part of this string of persecution is the case of Mehrdad Heyrani, a religious teacher of the Baha'i faith. Earlier in 2018, on Friday, May 11, 2018, Intelligence Ministry agents raided Heyrani's home of and arrested him. He was released after settling a significantly high bail amount on August 11, 2018 after three months in detention. The 32 who were summoned to the court were his students.