Source: www.bic.org
GENEVA —19 March 2019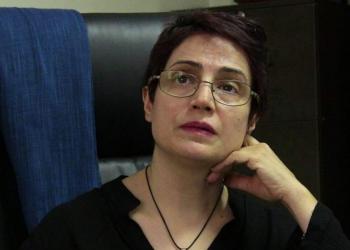 The Baha'i International Community joins the international community in expressing deep concern over the sentence leveled against Nasrin Sotoudeh, a prominent human rights lawyer imprisoned in Iran.
Ms. Sotoudeh was sentenced to a series of lengthy prison sentences and 148 lashes earlier this month.
"We are deeply concerned over the recent conviction of Ms. Sotoudeh by the Iranian authorities," said Diane Ala'i, Representative of the Baha'i International Community to the United Nations.
"The Bahá'í International Community joins the international community in calling upon the Iranian authorities to allow Ms. Sotoudeh to engage in her important work of defending the most vulnerable citizens in the country."
Ms. Sotoudeh's career has been defined by her exemplary and principled defense of some of the most persecuted communities in Iran. On a number of occasions this has included members of the Baha'i community, whom she has represented, working tirelessly against their persecution at the hands of the Iranian authorities.
Her sentence has led to widespread condemnation by UN experts and human rights organizations.
Amnesty International called for the immediate release of the human rights lawyer.
"Jailing a human rights defender for her peaceful activities is abhorrent but the fact that the judge in Nasrin Sotoudeh's case used his discretion to ensure that she stays locked up for more than is required under Iranian law compounds the outrageous injustice of her sentence,"  said Philip Luther, Amnesty International's Middle East and North Africa Research and Advocacy Director.
A group of UN experts known as special rapporteurs said they were shocked by the sentence and raised concerns over the lack of a fair trial.
"We are deeply concerned about Ms. Sotoudeh's conviction and the prison sentence imposed. Her detention and the charges against her appear to relate to her work as a human rights lawyer, especially representing Iranian women human rights defenders arrested for peacefully protesting against laws making the wearing of veils compulsory for women," the experts said.
"In view of the apparent lack of a fair trial and concerns about the arbitrary nature of the charges, we urge the Iranian authorities to immediately review Ms. Sotoudeh's conviction, release her pending the outcome of the review, and ensure that her human and legal rights are fully guaranteed."