Source: iranwire.com
Saleem Vaillancourt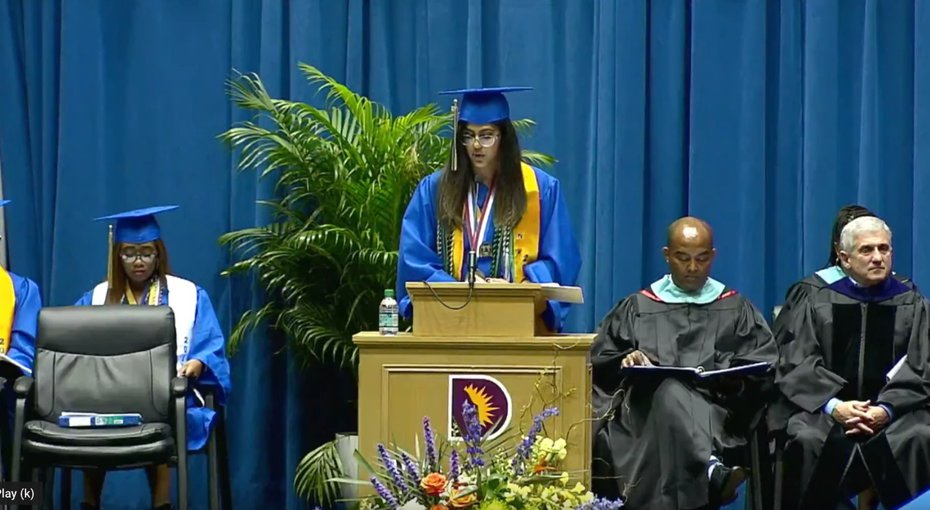 Rooha Haghar, aged 19, is a Baha'i originally from Shiraz, Iran, now living in Dallas, Texas. On Saturday, June 1, she gave the valedictory address at Emmett J. Conrad High School, during which she chose to remember victims of police brutality in the United States, prompting her school principal to cut her microphone.
"To Trayvon Martin, Tamir Rice and all the other children who became victims of injustice," she said, before the microphone stopped working, apparently after a signal from Emmett J. Conrad principal Temesghen Asmerom. Rooha then returned to her seat – to shouts of "Rooha!" from the audience and loud cheers.
Rooha's Twitter post of the video of her truncated speech, where she previously had just 91 followers, has since been seen 1.7 million times and has attracted 120,000 likes. A series of media outlets – from NPR, to NBC, to CNN, as well as the Washington Post – interviewed Rooha as her post went viral. And celebrities including Yara Shahidi have helped to fan the flames by liking or sharing the post.
But Rooha's activism started miles away and years before – in Iran.
"Being a Baha'i from Iran automatically makes you more socially conscious," Rooha told IranWire. "For me, I experienced or heard about religious persecution for eleven years. My family members remembered it."
Baha'is in Iran have been systematically persecuted by the government since the 1979 Islamic Revolution. Hundreds have been executed, thousands arbitrarily detained and jailed, and today Baha'is are routinely disrupted from earning a living and are almost universally blocked from higher education.
The climate for Baha'is in Iran pushed Rooha's family to leave the country and claim asylum in the United States. And this background compelled her to remember people such as Martin and Rice in her speech.
"In our culture, American culture, we're so numb to death and losing kids, with all the mass shootings, it's been normalised. And I wanted the graduating students to [think about] these students who didn't make it," Rooha said.
Rooha also told CNN that her teachers advised her not to mention "controversial" subjects such as police brutality – but in an interview with NPR she said that promoting justice sometimes means we have to speak "outside the guidelines".
"I realized that these names are making people uncomfortable," Rooha said. "And if it takes people being uncomfortable to grow, and to have these conversations, then I'd prefer my speech to have that and be meaningful."
But Rooha has also been careful not to blame her teachers or her school principal.
"From the replies and messages I've received, I know that the majority of people want my principal fired," she said. "I've tried to do my part to shift the narrative to seeing this as a learning opportunity. Everyone makes mistakes … I don't think my principal losing his job or me taking legal action is really the right direction."
"I think, growing up with Baha'i principles and Baha'i teachings, I've learnt to be really patient and to try to understand the other person," she added.