Source: www.hra-news.org
Translation by Iran Press Watch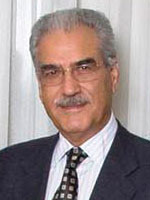 According to HRANA, the news agency for Human Rights Activists in Iran, on Friday, August 9th, the home of Jamaluddin Khanjani, one of the former leaders of the Baha'i community of Iran, was searched by seven agents of the Ministry of Intelligence.  After a five-hour search of Mr. Khanjani's home, they seized all his books, Baha'i pictures and some cash.  Jamaluddin Khanjani was released from Rajai Shahr prison in March 2018 at the end of his sentence after serving a decade in prison.
Jamaluddin Khanjani was born in 1933 in ; later he became a resident of Tehran.  He was arrested with six other Baha'i community leaders in May 2008 on charges of "community and collusion against national security", "propaganda against the system" and "espionage".  They were sentenced to 20 years in prison by Branch 28 of the Tehran Revolutionary Court, presided over by Judge Moghiseh.
Mr. Khanjani's sentence was reduced to a 10 years because he was suffering from many age-related illnesses.  Security and judicial officials did not allow Mr. Khanjani to attend his wife's funeral while serving his sentence.  Mr. Khanjani spent his imprisonment without the possibility of a furlough and mostly remained in Rajai Shahr Prison in Karaj as an exile; he was finally released from prison at the end of his sentence on March 16, 2018.
Jamaluddin Khanjani was a successful factory owner who, after the Islamic Revolution of 1978, lost his business because he is a Baha'i.  His brick factory, the first machine factory of its kind in Iran, employed hundreds of people before it was forced to close.  Mr. Khanjani was later able to establish a farm with machinery on land owned by his family, but government officials imposed many restrictions on him and made it difficult for him to manage the farm.  These restrictions were also extended to Mr. Khanjani's children and relatives, such as denying them loans, closing their businesses, restricting their trade, and preventing them from traveling outside of Iran.
Mr. Khanjani is a former member of the Baha'i National Assembly of Iran in 1984, of which four out of nine members were executed by the Iranian government.
Baha'i citizens of Iran are denied freedom of religion, a systematic exclusion, in contravention of Article 18 of the Universal Declaration of Human Rights and Article 18 of the International Covenant on Civil and Political Rights, to both of which Iran is a signatory, which state that everyone has a right to freedom of religion and to religious conversion based on personal belief, as well as the freedom to express it individually or collectively, in public or in private.
According to unofficial sources in Iran, there are more than three hundred thousand Baha'is in the country; however, the Iranian constitution recognizes only Islam, Christianity, Judaism and Zoroastrianism ‒ it does not recognize the Baha'i Faith. For this reason, Baha'i rights in Iran have been systematically violated over a number of years.