Source: www.kampain.info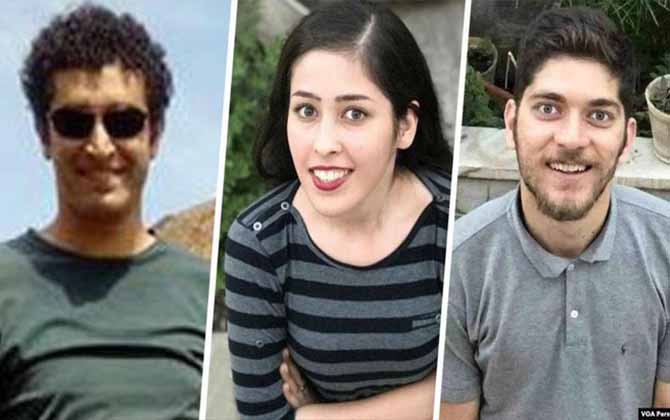 Ardeshir Fanaeian, Yalda Firouzian and Behnam Eskandarian, residences of Semnan were sentenced to prison by appeal court.
According to the Campaign to Defend Political and Civil Prisoners, the Semnan Court of Appeals issued sentences for three Baha'i prisons named Ardeshir Fanaeian, Yalda Firouzian and Behnam Eskandarian. According to the report, Ardeshir Fanaeian was sentenced to 6 years, Behnam Eskandarian to 3 years and 6 months, and Yalda Firouzian to 2 and half years in prison.
They were notified of the verdicts on Monday, December 16th, 2019.
Earlier, in the initial phase, a revolutionary court in Semnan sentenced Ardeshir Fanaeian to 10 years in prison, one-year denial from Semnan residency, and one-year exile in Khash city in Sistan and Baluchistan province, and Yalda Firouzian and Behnam Eskandarian each were sentenced to 5 years imprisonment and 5 years denial from Semnan residency.
The three Baha'i citizens were denied access to a lawyer during their detention.
The charges against these Baha'i citizens were listed in the lower court as "membership in illegal groups that acting against national security" and "acting against national security through propaganda and organizational activities."
Such allegations are found in most Baha'i citizens' cases, and the country's judicial authorities condemn the Baha'i citizens to prison sentences based on these charges.
Yalda Firouzian, Ardeshir Firouzian and Behnam Eskandarian were arrested at their house by security agents on Tuesday, April 30th, 2019 and have been in detention ever since.
Among them, Ardeshir Fanaeian had earlier served 8 months prison sentence "for the sake of being a Baha'i" in 2013.
Earlier, human rights activist and journalist Morteza Ismailpour told the Campaign: "These individuals were arrested at their own homes and security agents seized some of their personal belongings during the house search."
Earlier it was reported that the three Baha'i citizens in Semnan prison had been insulted by prison authorities and that Behnam Eskandarian had also been physically assaulted and beaten.
It should be explained that there was no information about their status until the first months of their detention.
UN human rights reporters have repeatedly protested to the Iranian government on their treatment of Baha'is and believed that it is a clear indication of Iran's neglect of human rights treaties.
The Islamic Republic's constitution does not recognize Baha'i as a religion or religion, and therefore the detention and imprisonment of Baha'is continued for four decades.
Mistreatment of Baha'is has intensified in recent years, including the destruction of their cemeteries, arbitrary arrests, home raids, confiscation of property, job dismissal, and deprivation of their basic civil rights. Iranian Baha'i youth are still deprived of their university education, and any university in which Baha'i students' study, are forced to expel them. Baha'i professionals are denied public office and are discriminated against by private companies for their beliefs. Even those who defend them are attacked.