Source: www.hra-news.org
Translation by Iran Press Watch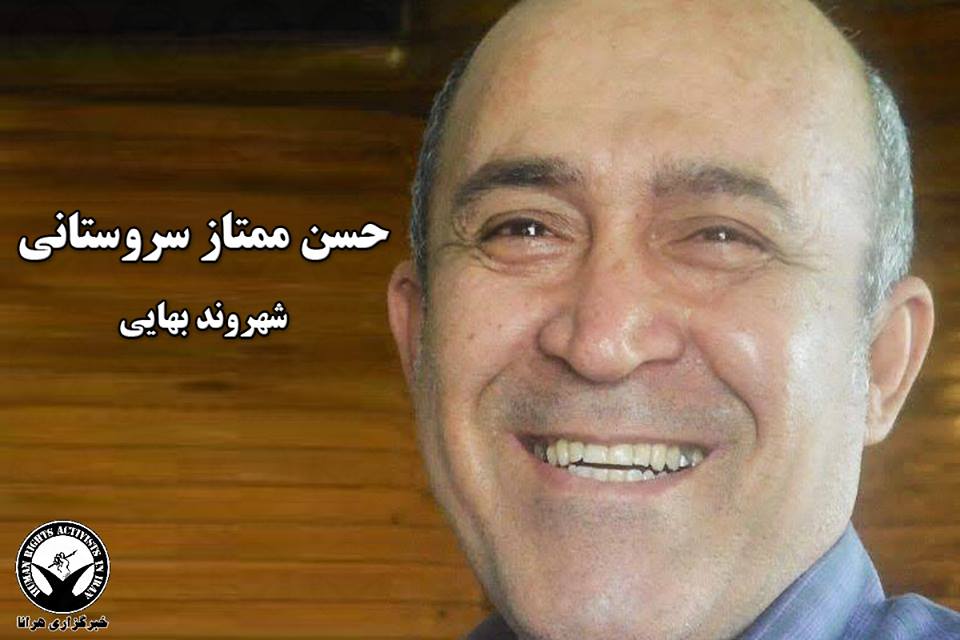 According to HRANA, the news agency of Human Rights Activists in Iran, on Tuesday December 3, 2019, Hassan Momtaz Sarvastani, a Baha'i citizen from Shiraz, was released from Evin Prison after completing his sentence.  He had been sentenced to five years in prison for teaching Persian literature to Baha'i students who had been prevented from attending university.
Mr. Momtaz was released after serving a reduced sentence. He was sent on furlough this past August following his transfer to a hospital outside the prison on May 14th because of poor physical health, after repeated requests from him and his family.  He then underwent an angiography, yet was returned to prison the next day in handcuffs and leg cuffs while still very sick and in need of medical treatment.
In November 2014, the Tehran Province Court of Appeals Branch 36 confirmed the 5-year sentence against this Baha'i citizen by the Revolutionary Court of Tehran presided over by Judge Moghiseh.
Hassan Momtaz Sarvastani was sent to Adelabad Prison in Shiraz to serve his sentence on December 28, 2017, and on February 26, 2019 was transferred to Evin Prison in Tehran for unknown reasons.
Mr. Momtaz Sarvastani, a professor at the Baha'i Institute of Higher Education (BIHE), has acute heart, kidney and eye disease, and was in urgent need of treatment.
This citizen has already been arrested several times in this case.
Baha'i citizens in Iran are systematically denied freedom of religious belief, although under Article 18 of the Universal Declaration of Human Rights and Article 18 of the International Covenant on Civil and Political Rights, everyone has the right to freedom of religion and religious conversion as a result of conviction, and the freedom to express it individually or collectively, in public or in private.
According to unofficial sources in Iran, there are more than three hundred thousand Baha'is in the country, but the Iranian constitution recognizes only the religions of Islam, Christianity, Judaism, and Zoroastrianism; it does not recognize the Baha'i Faith – therefore, over many years Baha'is rights have been systematically violated.