Source: iranwire.com
Behnam was a young Baha'i who, in the early 1980s, during the eight-year war between Iran and Iraq, decided to go to the front; this despite Baha'i teachings, forbidding the faithful from going to war and using arms. He was killed – though his family never received his remains or his dog-tag. Behnam's nephew, Shakib Nasrollah, shares Behnam's story.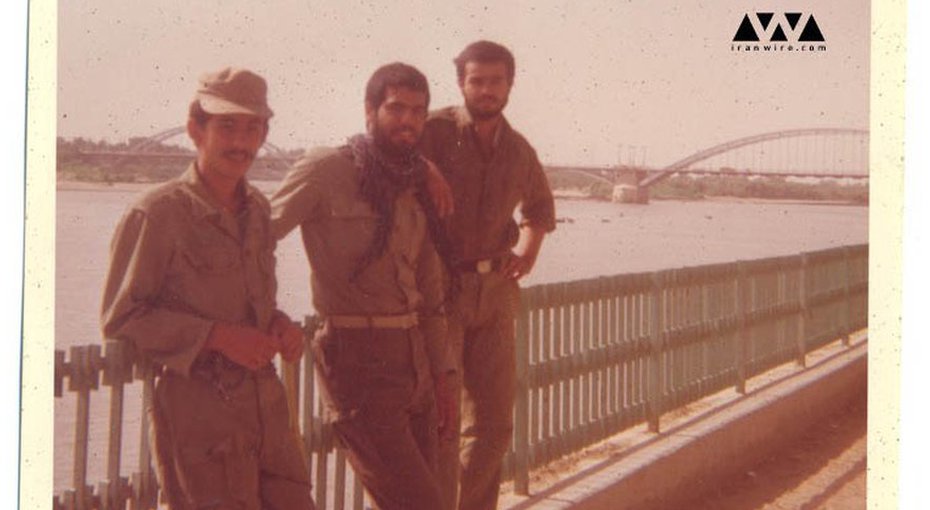 Iran's Noor Pathobiology and Genetic Laboratory – which has so far identified 700 unknown Iranian casualties of the Iran-Iraq war, or "martyrs" in official Iranian parlance, and which has returned these remains to families – now faces a major new challenge: the Foundation of Martyrs and Veterans Affairs has said it is unwilling to take genetic samples from the parents of those missing in action, saying that the families have reconciled themselves to never finding the remains of their children.
This development, reported recently on Twitter, reminded Shakib Nasrollah of the fate of his uncle, a young man who despite his Baha'i faith chose to go to war; he was later reported as missing in action, but the Martyrs Foundation refused to pay any compensation to the family because Behnam was a Baha'i.
Shakib Nasrollah is a psychologist. In 2011 he was arrested for teaching at the Baha'i Institute for Higher Education (BIHE), a "virtual" university founded in Iran in 1987 in response to the Islamic Republic's ban on Baha'is from entering higher education. After his release, Nasrollah left Iran and is now in Canada, defending his dissertation for a PhD in psychology. He remembers well how the loss of Behnam affected his mother and grandmother.
"My grandmother and my mother never came to terms with the sadness of [losing] Behnam," he tweeted. "Until she died, my grandmother did not remove the picture of Uncle Behnam hanging above her bed. According to official records he was martyred but the same Martyrs Foundation stopped paying the family [compensation] when they learned that he was a Baha'i."
During Iran's war with Iraq, young Baha'is were drafted like all other young Iranians, but since their religious teachings urge them to avoid taking up arms and harming others, Baha'is requested to serve behind the frontlines regardless of the difficulty and hardship of the tasks to which they were assigned. They could therefore contribute to the war effort in keeping with their principles.
But Nasrollah's uncle Behnam volunteered for the front, telling his family that he wanted to go into military service to defend his country.
Dog Tag No. 1419177
On August 29, 1982, after Operation Ramadan, a six-week offensive by Iran, Behnam's family received a letter from the 136th Battalion informing them that he had been killed in action.
"To the family of a self-sacrificing soldier who lost his life in the battle against Ba'athist infidels and whose body is missing," said the letter, referring to Iraq's Ba'ath party, "God willing, if sufficient information is obtained [about Behnam's remains] then this respected family, the devotees of the revolution, will be informed." But the family never received any further information about Behnam's remains or his dog tag, number 1419177.
Years later, Behnam's mother, whose grief never ended, left this world. His father, torn between the grief of losing a young son and blaming him for ignoring the principles of their religion, soon joined her. Now, close to four decades after those days, Shakib Nasrollah is writing about the missing body of his uncle and the reparation to which his grandmother's family was entitled but did not receive.
"My mother's and my father's families are both Baha'is," says Shakib Nasrollah. "My maternal family was made up of Muslims and Jews who had converted to the Baha'i faith and, perhaps, that is why although they were firm in their religious beliefs, they possessed multicultural characteristics as well."
Nasrollah points out that building world peace is one of the most important teachings of the Baha'i faith and that is why it forbids fighting in conflicts and deprecates any kind of violence. And it was shocking to the Baha'i community when a Baha'i decided to go to war.
"After the revolution it appeared that Uncle Behnam was gravitating towards leftist political groups, but our family never talked about it because politics was a kind of taboo," he says. "Baha'is do not engage in party politics and do not consider party politics an appropriate way to solve world problems, and since unity is one of the basic principles of their faith, Baha'is believe that party politics lead to divisions. In those days Uncle Behnam's choices created a serious distance between him and his father because Behnam actively participated in demonstrations."
Behnam, born in 1961, did not reject his Baha'i faith, and appeared to be a believer; but the contradiction between his faith and his activities displeased his family and this distance became more serious when he decided to volunteer for the front.
"At the time, my grandfather told him that 'I would not forgive you if you take up arms, go to war, or cause the death of anybody," says Nasrollah.
A Room to Safeguard Memories
Behnam had an attractive personality. He was interested in technology and made his own electronics kits. He was an intelligent and different young man; and for years, his room in the old family home remained untouched.
"I never knew him because I was born after his death," says Nasrollah. "But there was this room with closed doors that, as far as I remember, was guarded obsessively because it was a memento of a bygone life, and the rest of the family was trying to safeguard the memories remaining in its confines. My grandmother was especially meticulous in safeguarding these memories and never removed the picture of my uncle from the wall over her bed."
Behnam was very close to his sister, Nasrollah's mother. In that large family, Shakib's mother considered herself responsible for taking care of her youngest brother. But this also proved to be a painful experience. Behnam's sister was a devoted Baha'i and whenever Behnam returned from the front she tried to convince him to let go of war and politics.
At last, they were told that Behnam had been killed in battle and that his body was missing.
"My grandmother spent the rest of her life grieving for Behnam," says Nasrollah. "She always said that she was waiting for him to return, and since his body was missing this feeling seemed justified to her. But one of his comrades told the family that he had seen Behnam's backpack of rocket-propelled grenades and then Behnam himself go up in flames. What always pained the family was this question: Had Behnam killed anybody in the enemy's camp? At the time, my mother was pregnant with me and she went into depression when she heard the news of her brother's death. Any news from the war renewed the family's pain. Nevertheless, when prisoners of war started returning [to Iran] they were still hopeful that, perhaps, he was alive and would return."
Behnam's initial enrollment in the 136th Battalion deployed from Tehran's Lavizan neighborhood, then seeing his name on the list of soldiers missing in action, and then receiving (for a time) compensation from the Martyrs Foundations; all these experiences inflicted fresh pain on the family.
Case Closed because He Was a Baha'i
"The truth was that Uncle Behnam had chosen to go to the front with his eyes open and with full knowledge of what he was doing," says Nasrollah, "but the significant point is that, even before the family announced that they did not want [compensation], the Martyrs Foundation cut the stipend for the family. When my grandmother looked into the issue she was told that 'you are Baha'is and this stipend does not apply to you. We closed your son's case because he was a Baha'i.'"
The question that has always preoccupied Nasrollah is whether the authorities have identified Behnam's remains but did not delivered them to the family because he was a Baha'i. Iranian authorities have a long record of discarding the bodies of the Baha'is so, if they can deny the family of a fallen soldier the compensation they are due, they may well deny them the closure of burying his remains.
"On one occasion, they said that they had received a body with Behnam's characteristics. When my mother's family went to see the body, they first confirmed [it was him' but then denied it," says Nasrollah. "The contradictory information that we received, especially when you are members of a minority who has always been subject to poor treatment, raises this worrisome question: is it possible that they have intentionally failed to identify or deliver the remains of Uncle Behnam?"
Each time the authorities delivered the remains of those missing in action to people across Iran, Behnam's mother became restless. She wanted Behnam to return home, even if his remains were only a few bones.
"There was no news of his dog tag, either," Nasrollah adds. "Our enquiries got us nowhere. The Baha'i faith of my uncle was the Gordian knot of the whole affair, and this was why the Martyrs Foundation stopped paying the stipend. The talk of [using] genetic sampling from the families of the missing [to identify bodies] brought back this question for me: could it be that they have brought back Uncle Behnam's remains but they have not returned the remains because of this?"
Nasrollah says he believes in freedom of choice for all human beings, including his uncle Behnam: "Perhaps he wanted to remain a Baha'i but at the same time believed that fighting for his country was the only solution. Perhaps he believed that he was defending his homeland. But what I want to know is this: what happened to him? Why has the Martyrs Foundation stopped paying the stipend to his family, even if the family considered this stipend a kind of insult? What were his rights as a citizen? Why can a young Baha'i be drafted like other citizens but cannot enjoy basic civil rights like any ordinary citizen? Why can they close his case and refuse to be held accountable?"
Nasrollah does not know how strong his uncle's beliefs in the Baha'i faith were when he volunteered for the front. He only knows that Behnam did not disavow his faith when he went to war.
"These questions make it more interesting," he says, "because if he did not consider himself a Baha'i, then he was a Muslim and the Martyrs Foundation had no excuse in denying his post-mortem rights such as holding mourning ceremonies, or returning his remains to his kin, or paying a stipend to his family. But all this is what they did to my uncle."