By Majid Naficy

Editor's Note: Naficy is a well-known Iranian poet and writer.   Recently he was asked to sign the famous letter "We are Ashamed", but he refused.  However, he has written the following brilliant essay, which Iran Press Watch is very pleased to share in translation.  Because of its length, this essay will be posted in several parts.  Mr. Naficy is not a Baha'i, nor is he associated with the Baha'i community.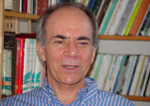 Baha'is Need Justice!
Recently, a letter was published over the signature of 42 Iranian intellectuals addressed to the Baha'i community and proclaiming "one and a half century of persecution and our silence is enough".  The title of the letter was "We are Ashamed" (see http://www.iranpresswatch.org/2009/02/we-are-ashamed/).
Over a month ago, Mr. Khosro Shemiranie sent this letter to me to sign.  Even though from the age of fourteen I have been saddened by what Baha'is have been going through and I have written about it, I responded that I could not sign it since it was instigated by a "feeling of shame" and "collective sin" and not "seeking justice and freedom of conscience".  I added, "If you reword this letter in which the phrase 'We are Ashamed' is repeated thirteen times and change it to 'We arise to defend the rights of Baha'is', you can be sure that I will sign it without any hesitation."
Now that this open letter has been published and broadly disseminated, and many others have joined as signatories, I find it necessary to write my reasons for not signing it.  I hope by launching this discussion, I can bring to light the tyranny and persecutions to which Baha'is have been subjected during the rule of the three regimes of Qajar, Pahlavi and Khomeini over the past 160 years.

1.  My First Encounter with Baha'is
The first time I got to know a Baha'i was in Sa'di High School in Isfahan, when I was in the seventh grade.  His name was Golestan Mossafaei, and he was in the eleventh grade.  I met him at our school's Literature Club.  The club was managed by Muhammad Hoquqi, our teacher and resident poet.  This club did not last long; it shut down under the pressure imposed by prejudiced school officials.
Golestan always had a sweet smile, and sometimes he composed poems.  A few times I went to his house, which was located close to a pond in Hasanabad.  It was a modest house with one room.  Even that room was barely furnished.  Golestan explained how their house had been set on fire a few times, by an anti-Baha'i group called Hojjatiyeh.  Flyers had also been thrown into their yard, pressuring them to leave their residence.  I felt deeply sad hearing about the tyranny inflicted on Golestan and his family.  I wrote a short essay about it, and read it to members of our Literature Club.
The vice principal of the school was furious about my friendship with Golestan, and told my father that Majid had been entrapped by Baha'is.  My father gave me a small booklet called "Memoires of Prince Dolgoruki", the Russian Ambassador in Iran from 1846-1854, who allegedly claimed that the Baha'i movement had been started by Russians in order to destroy Iran and the Shiah sect of Islam.  My mother forbade me from having a friendship with Golestan Mossafaei.  She made such a monster of Golestan that whenever my four year old sister was mad at me, she would say, "Get lost Mossafaei".
School teachers collaborated in pressuring me, and failed me in one subject when I was in grade 7!  I was a bright student who had passed grade six with an average above 90.  In the eighth grade, I was given failing grades in four of my subjects, and had to retake the exams for these subjects at the end of summer.  I was not given passing grades and had to repeat grade 8 the following year.  This was the first big failure of my life, and taught me a lesson in resilience.  I left day school, and enrolled in a night school so that I would be able to complete two grades in one year.
Sa'di High School was run by a religious mafia, composed of a few teachers and a fanatically religious vice principal.  At the top of the group, there was a physics teacher whose name was Nuri.  His shirts were buttoned up to the chin, and his face was always unshaven.  He was the one who shut down our literature club, with the excuse that the organizer of the club disseminated the views of Sadeq Hedayat [Iran's foremost modern writer of prose fiction and short stories — see http://en.wikipedia.org/wiki/Sadeq_Hedayat], and caused students to drift away from Islam. Two mullahs by the names of Rohani and Faqih-Imami were our Islamic studies teachers. Another Mullah named Fazaeli, with good penmanship, taught us calligraphy.  Even though he had a close relationship with the Shah's elected rulers in Isfahan, he also had close ties with our school mafia.1
After two years of studying at night school, I enrolled in another high school called Harati.  That school was not free of staunch religious, fanatical teachers either.  I remember on cold winter days, as we heard the school bell ring, we had to stand still on the spot and listen to Mr. Parvaresh.  After the revolution and after he was appointed a Minister, we found out that he had been a member of an anti-Baha'i group [Hojjatieh Society — see http://en.wikipedia.org/wiki/Hojjatieh].  He would sprinkle his religious speech with verses from Imam Ali in three languages, English, Arabic and Farsi, showing off his talent!
2.  Shaykhis and Mullahs
About the same time, impressed by the book Tat Neshinha-ye Boluk Zahra [The Tat People of the Zahra Tribe] written by Jalal Al-Ahmad, I became interested in the rural life of Iran and in traveling to a small village called Jandaq situated on the edge of the desert.  Inhabitants of this village told me that they were followers of a sect called Shaykhi Baqiri.  This enticed me to started reading Shaykhi books.  I realized that the teachings of Shaykh Ahmad Ahsa'i (1753-1826) and his successor, Siyyid Kazim Rashti (1793-1843) had been instrumental in preparing people for the appearance of Ali-Muhammad the Bab (1819-50) [Forerunner of Baha'u'llah — Prophet-Founder of the Baha'i Faith].
After the death of Siyyid Kazim Rashti, one of the Qajar Princes, Aqa Karim Khan Kermani (1810-1871) became the Shaykhi leader.  In order to stop his followers from accepting the Bab, he turned into the most active anti-Babi mullah of his time.  Shaykhis grew in number and influence under him and his heir's leadership.  Even Muzaffari'd-Din Shah considered himself a Shaykhi.
After Karim Khan Kermani, the Shaykhi school of thought was divided into two branches.  One branch that was in the majority considered Karim Khan's son as their leader and the Fourth Pillar (that is, the intermediary between the Hidden Imam and the masses, which is similar to Khomeini's idea of Velayet-e Faqih, "rule by jurists").  The other branch, under the leadership of Muhammad-Baqir Hamadani, rejected the heredity nature of the Fourth Pillar.  They became known as Shaykhi Baqiris.
After studying Shaykhi books, some of Shaykh Ahmad's views seemed more logical than the views of his Shiah counterparts.  For example, resurrection at the Day of Judgment (known as Hurqalya) was the resurrection in a softer and more refined form– not a physical reconstruction.  I found the Babi movement attractive due to some of its teachings, such as viewing all humans as equals, and the fact that a courageous poetess by the name of Zarrin-Taj [Tahirih — see http://en.wikipedia.org/wiki/Tahirih] was one of its prominent followers.  Other than that, from a young age, I was not interested in religious ideology.
My paternal grandfather, Abu-Turab, did not accept the heredity branch of the Shaykhis after the death of Karim Khan, and left the city of Kerman to settle in a small village near Isfahan.  Going through my father's library, I came across a few manuscripts, and once briefly read through one which explored the philosophical issue of free will versus predestination.
My father believed that there were no differences between Shaykhi and currently practiced Shiah schools, and that it was just a matter of whom each group considered to be their Source of Emulation.  However, I had the feeling that my parents were afraid of becoming known as Shaykhis and kept secret their meetings for the purpose of studying and discussing the books of Kermani and Hamadani.
Among the views of Shaykhi Baqiris, my father liked their distrust of traditional mullahs.  Among contemporary Islamic thinkers, my father liked Ali Shariati [an Iranian sociologist and revolutionary — see http://en.wikipedia.org/wiki/Ali_Shariati], who did not value religious priests and clergy.  I remember my father, while driving for picnics on Fridays, used to sing pop lyrics making fun of mullahs. [A popular anti-clerical song quoted here is not translated.]
In Iranian folktales, a mullah was often pictured as a "cunning fox", and as a creature obsessed with food, overeating and sexual excesses, while pretending to be pious and self righteous.  Khomeini was well aware of how mullahs were portrayed and their reputation.  After the revolution, imitating his teacher, Abdul-Karim Haeri-Yazdi, Khomeini changed the famous proverb "How easy to become a mullah, how hard to become a human!" to "How hard to become a mullah, impossible to become a human".  He was trying to influence the subconscious of the masses and to overcome their innate sense of mistrust and resentment towards the mullahs.
Author's Notes:
[1] In September 2000, I published my memoires of this period in a detailed article, "Avalin-hay man" [My Firsts].  This article is published in "Man Khud Iran Hastam va Shi-u Panj Maqalih Digar [I am Iran and Thirty-Five other Articles], published by Afra, Toronto, 2006.
[Published on Thursday, March 12, 2009, at http://fa.shahrvand.com/2008-07-14-20-49-09/2008-07-14-20-49-46/2284-2009-03-12-17-58-08. Translation by Iran Press Watch.]