Source: www.hra-news.org
Translation by Iran Press Watch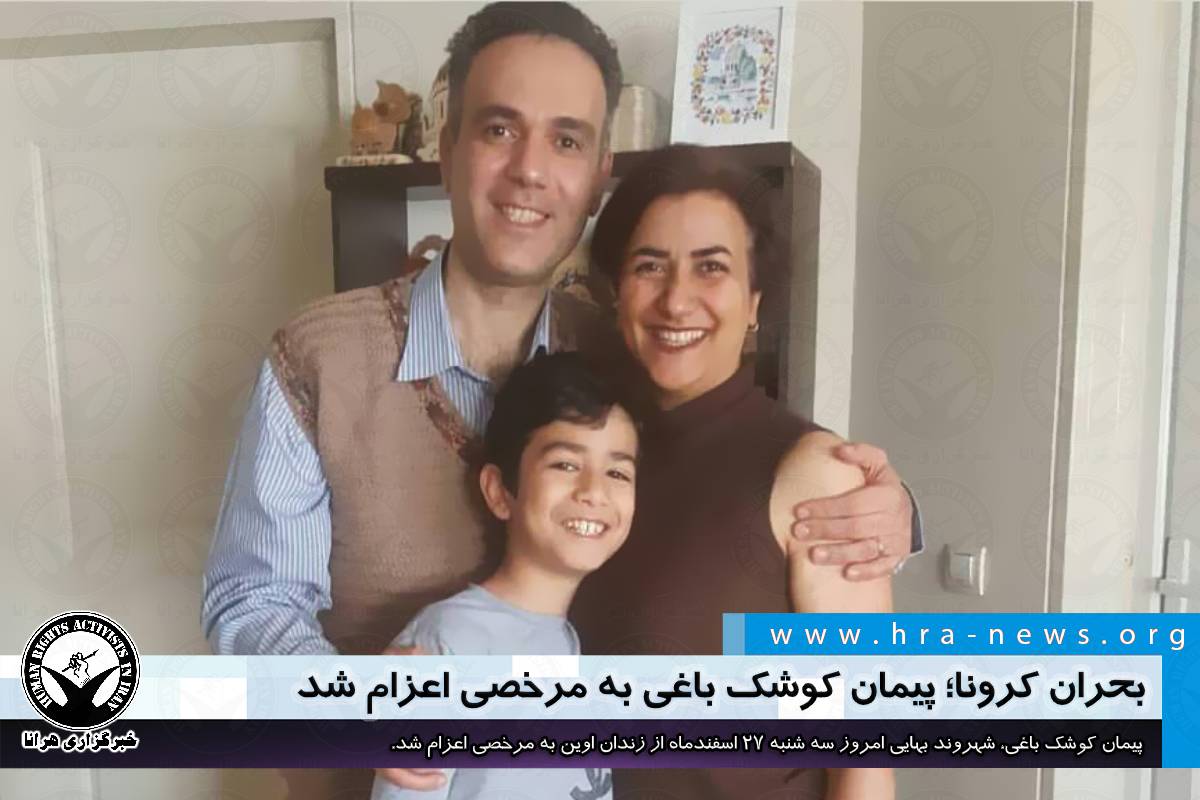 HRANA News Agency – Payman Koushk Baghi, a Baha'i citizen who had been sent on leave from Evin Prison on 18 March, 2020 was informed of an order issued regarding his early release. Mr. Koushk Baghi will not return to prison with consideration to the Judiciary's Naw-Ruz Circular, as well as having endured more than one-third of his sentence.
In 2014-2015, Mr. Koushk Baghi had been sentenced to five years imprisonment by branch 28 of the Revolutionary Court of Tehran presided over by Judge Mohammad Moghiseh, charged with "membership in the unlawful Bahaist Organization with the aim of acting against national security through illegal activities at the Baha'i Institute for Higher Education (BIHE)".
Azita Rafizadeh, Payman Koushk Baghi's wife who had, together with her husband and with the same charge,  been sentenced to four years imprisonment by branch 28 of the Revolutionary Court of Tehran presided over by Judge Mohammad Moghiseh, had been released in September of last year after completing his prison sentence.
Following a coordinated program by the Security officials for closure of the Baha'i Institute for Higher Education and as part of a new series of arrests by going to the homes of the directors and a number of instructors of this institute, the home of Mrs. Rafizadeh and Mr. Koushk Baghi was also searched and inspected, and their books, notes, electronic equipment, including laptop and his personal computer were confiscated.
From the beginning of her prison term, Mrs. Rafizadeh's request was "to have her husband prison term start with prior notification, as they had a 6-year old child who was living with his father in the absence of his mother, and this very fact had increased his dependence on his father, and the father's possible arrest without prior knowledge would harm their child tremendously." Despite this request, Mr. Koushk Baghi was arrested to serve his prison term in March 2018, when he and 6-year old child had gone to Evin Prison to visit his wife, Azita Rafizadeh. As a result, this family's child was given to another family to take care of, in the absence of his parents.
Baha'is in Iran are deprived of freedoms related to their religious beliefs.  This systematic deprivation occurs while according to Article 18 of the Universal Declaration of Human Rights and Article 18 of the International Covenant on Civil and Political Rights (ICCPR), "All persons have the right to religious freedom, the right to change their religion or beliefs, and the freesdom to express their beliefs individually or collectively, in public or private"
According to unofficial sources in Iran, there are more than 300,000 Baha'is living in Iran, but the Iranian Constitutionrecognizes only the religions of Islam, Christianit, Judaism and Zoroastrianizm, and does not recognizt the Baha'i religion. For this reason, over the past years Baha'is' rights have been systematically violated in Iran.