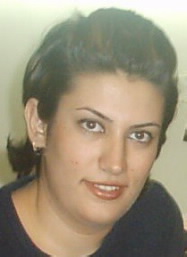 Iran Press Watch has learned that a young Baha'i has been seized, possibly either arrested or kidnapped, in Hamadan.  The source of this troubling news is Khabar Navard on Friday, April 10, 2009.  Following is a translation of this news:
On Saturday morning, April 4, 2009, while on her way to her sister's house in Hamadan, Sahba Khademi was seized by several plain-cloth persons.
When Miss Khademi was getting out of her car, she was stopped and questioned by several individuals and then taken to an unknown destination.  So far, no news of her has been received and her whereabouts remains unknown.
It should be noted that some time ago, agents of the Ministry of Intelligence called her and asked that she would present herself at the Ministry, but she refused to go.  And prior to that call, officers of the same Ministry had raided her home and confiscated some personal properties, including books, but since Sahba Khademi was not in Hamadan at that time, they were not able to arrest her.

Undoubtedly, the arrest of a 24-year old young lady and taking her to an unknown destination under suspicious circumstances is a source of deep worries for her family – and is yet another shameful act by those who instead of bringing security and tranquility to the nation, are causing stress and insecurity for the citizens of Iran.
[Source: http://khabarnavard.blogspot.com/2009/04/blog-post_10.html.  Translation by Iran Press Watch.]