Source: www.radiofarda.com
Fereshteh Ghazi
Translation by Iran Press Watch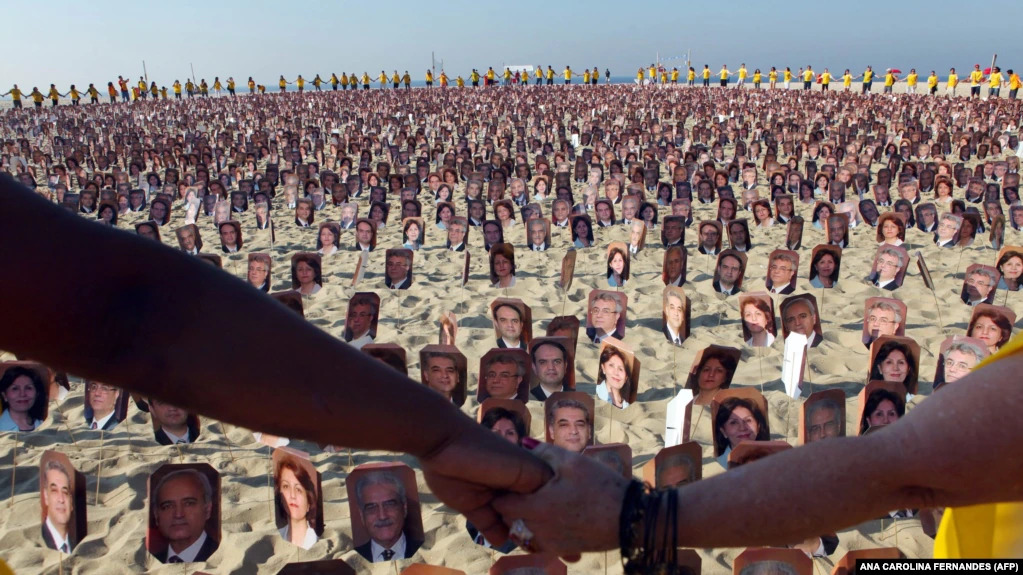 August 30 is the International Day of the Victims of Enforced Disappearances. Coercive and political disappearances is a continuing issue in Iran.
The Assembly that was Disappeared, 1980
Among the most well-known of forced disappearances in Iran is of nine members of the National Spiritual Assembly of the Baha'is of Iran (NSA), along with two counselors in charge of the Baha'i community.  The arrests were made by armed forces on Naft Street in Tehran on 21 August 1980.  This was the first NSA formed following the revolution, and the first arrested by the new regime in Iran. To date there is no knowledge of their fate, as authorities of the Islamic Republic have never complied with request for information.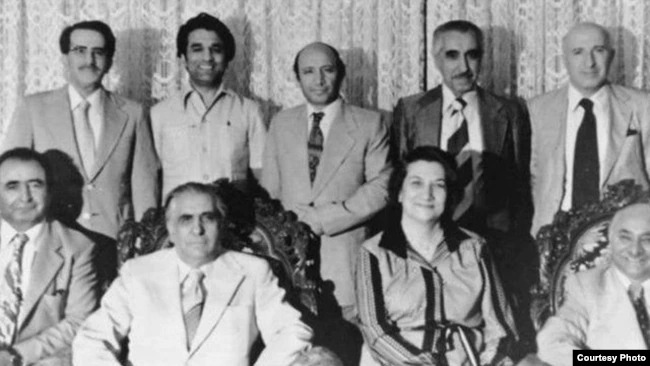 "I always wondered what happened to him. What were his thoughts during his last moment? How were his last moments and how much had he suffered? The pain of being shot by a firing squad may be less or easier to bear than being hanged or stabbed with a knife. That is why I wish he had been shot."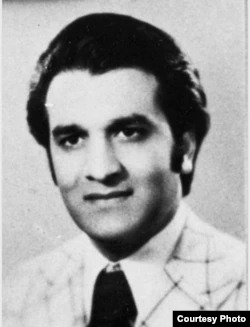 Shahin Sadeghzadeh Milani shares his feeling about the disappearance of his father, Kambiz Sadeghzadeh Milani. Shahin was not yet born when his father was abducted. The elder Mr. Milani was a member of the NSA of the Baha'is of Iran.  Along with other members of the assembly, 21 August 1980, Mr. Milani was taken by forces of the Islamic Government.
"Our family met with Mr. Rafsanjani, who was the speaker of parliament at the time," Shahin Sadeghzadeh Milani told Radio Farda, "He promised to follow up. After a week or two, he said that according to his investigation, members of this group had secretly gone to Israel from an abandoned airport and fled to Israel."
After 41 years, there is still no information about the fate of those eleven men, Kambiz Sadeghzadeh Milani, Abdolhossein Taslimi, Houshang Mahmoudi, Ebrahim Rahmani, Hossein Naji, Manouchehr Ghaem Maghami, Ataollah Maghrebi, Yousef Ghadimi, Bahieh Naderi, Yousef Abbasian and Heshmatollah Rouhani.
"Our family met with Beheshti (the then head of the judiciary) and Qudusi (the then prosecutor)," said Shahin Sadeghzadeh Milani. "They went to Bani Sadr's office, but none of them gave any useful information or did not have anything to offer. To this day, sometimes someone comes and says I heard from someone that this or that happened, or they say there was someone in prison and … but none of it has been reliable news. It is something in the dark and we do not know what the situation was and what happened. So, it all continuous to be questions until we have an answer."
The Assembly Executed by Firing Squad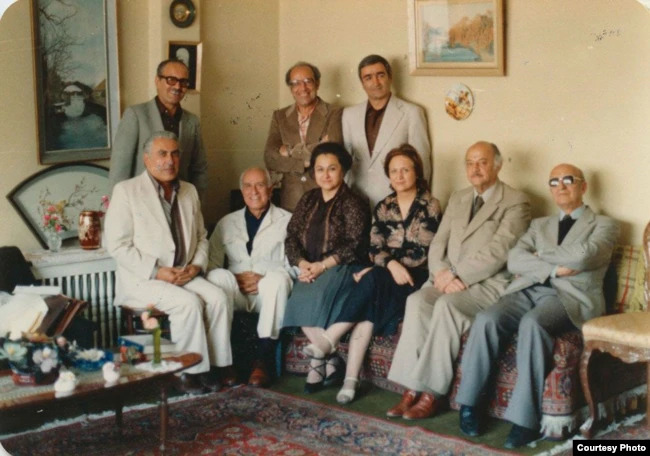 In 1981, one year and six months following the disappearance of the eleven individuals noted above, seven men are squeezed together on a small bench during their trial. Mahmoud Majzoob, Kamran Samimi, Jalal Azizi, Qodratollah Rouhani, Mehdi Amin, Sirus Roshani Oskooi, and Ezatollah Forouhi are seven members of the Second NSA. They were arrested by authorities on December 14, 1981.  A camera records them during their trial, but throughout the two-hour, six-minute video of the trial, there is no view of the judge, the representative of the prosecutor, or the court officials. Those who give the death verdict remain in the shadows. These seven men were convicted, sentenced to death and, along with one woman (Jinous Mahmoudi who was not tried alongside the men), executed by firing squad only hours later.  Video footage of the trial was found and released in 2015.
Najmieh Rouhani's husband, Qodratollah Rouhani, was one of the men executed that day.  She shared her feelings after viewing the trial footage, saying she and her children fell ill after watching the film.  She describes her pain, from which she says she has no relief.
"I was not myself for the next three weeks. We were feeling very ill. It burnt us. They did not let (the defendants) say anything at all. They keep saying let me speak, but they won't let them, three of these men were top lawyers of judiciary and they were completely knowledgeable and aware of laws, and their rights, two of them were specialist physicians. One was a university professor; another an engineer and they had not even brought Karafarin and Jinous to the court at all but executed them together with these men."
"After the kidnapping of the members of the first assembly, the members of the second assembly were very watchful, nine people never gathered together," a close Baha'i associate told Radio Farda. "There was a war and a famine." "They would pick up fuel cans, two or three of them at a time and would stand in line. They would consult and make decisions together until it was their turn."  There were, however, two issues serious enough to cause the members of the 2nd NSA to risk meeting once again.
In November of 1981 the Revolutionary Guards stormed the Baha'i Cemetery, called "Golestan Javid" on the Khorasan Road. The body washer, the gravedigger, the stonemason, and the gardener were all taken to prison. They confiscated the cemetery ambulance and looted the donations box and did not allow anyone to be buried there any longer. They announced to all hospitals and monasteries to add a religion question to the form and if anyone wrote Baha'i, they should refuse to accept the body. It had become a very big problem. Families were to leave the bodies in their homes and buy ice for preservation."
"Another problem was that there were three Baha'i tribes in the Boyer-Ahmad Mountains. In June of 1979, they stormed the area and uprooted and displaced the tribes. The displaced ended up camping in makeshift tents in the Mahyar desert for some time. By December 1981, they had returned to their winter huts, which were surrounded with snow and ice. These three thousand people, were again ransacked, taken out of their huts without pajamas, without clothes, etc. These two big problems caused the second Assembly to gather together in person, because their telephones were being controlled. They were all arrested on Sunday, December 13, 1981."
But what happened to the families from the time of their loved one's arrest until their execution?  "They had taken them to what used to be a youth hall, now called Shahid Motahari Hall, and imprisoned them in an abandoned basement toilet. It was announced that Damad Mohaghegh had been instructed by Montazeri to look into the affairs of political and ideological prisoners. If anyone has issues, they should call. A guard picked up the phone, I begged and begged, and said all I need is to know if they are alive. He said they are not here, they were taken to the prosecutor's office and we do not know anything."
"On December 14th, we decided to go and see where they took them, so to not lose them like we did with the First Assembly. We went to the Sanai police station, we told the chief of station we are looking for a few people who were arrested, do you know where they took them? He asked if there were women amongst the arrested. I said yes. He said they also had alcohol and opium? I answered  do not think about unclean thoughts. I said we are a religious minority, he said, "The Baha'i Assembly?" I said yes. He said if the two women with them were two prostitutes, and if they had a carton of alcohol and a kilo of opium and heroin, I, the police chief, could have done something for them, but since not, don't even think about them anymore."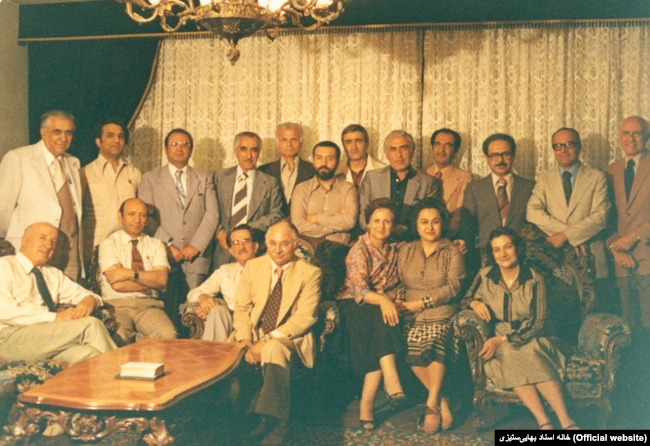 Abdul Karim Mousavi Ardebili, the then head of the judiciary, announced after the shooting of eight members of the Baha'i community that they had been executed for "spying for foreign powers."
"They are called Zionist spies," said one of Ghodratollah Rouhani's relatives. "No matter how much they tried to explain that they have nothing to do with Israel, and that 80 years before the formation of the state of Israel, our Prophet was exiled there, and their tomb is there, they did not pay attention and shot them on charges of Zionist spying. They did not allow them to write a will. Afterwards, they dumped their remains out."
"Mr. Rouhani had a very large Muslim family," he explains. "One of his relatives Kashan, traveled to Tehran on a mission in the name of Ayatollah Maghisi to became Lajevardi's deputy. On December 27, he called one of the carpet sellers in Kashan Bazaar and told him that the son of Arbab Fazlullah had been shot, go and celebrate and turn on the lights in the bazaar. This is how we found out, otherwise their plan was to eliminate them without any notice or news, like they did the First Assembly."
The members of the Second Assembly were the first Baha'is to be buried in Khavaran: "They were the first group who were taken to Khavaran. A week later, the members of the Tehran Assembly, who were taken on second of November, 1981, were shot. The community care takers went to the government and talked to the municipality. They said now that you have buried our loved ones here, sell this land to us. The land was very large. They took a lot of money and named the land Kafarabad (means the land of infidels) and wrote on a sign the graveyard of the conspirators of the East and the West."
The Hostages of The Third Assembly
In July, August, and September 1984, members of the 3rd NSA were arrested. Jahangir Hedayati, Shapour Markazi, Farhad Asdaghi, Farid Behmardi, Ahmad Bashiri, Ardeshir Akhtari and Amir Hossein Naderi, seven members of this Assembly, were all executed. Hassan Mahboubi, another member of this NSA, was killed in a suspicious accident on July 21, 1991.
Arash Akhtari, the son of Ardeshir Akhtari, was 11 years old when his father was arrested. He tells Radio Farda about the last picture he had of his father and his arrest, and of the days he and his mother and brother had been held hostage by security forces:
"I was eleven years old. After the arrest of the Second Assembly, weekly or monthly meetings of the members of the Third Assembly were held in our house. We returned from a trip to the north and the last memory I have of my father is that he got into a red Peugeot and said goodbye to us and left. A few hours later, as it was getting dark, several bearded men entered the house. My brother is seven years older than me. From their conversation, I found that my father had been arrested upon arriving at his appointment and now they had come to our house."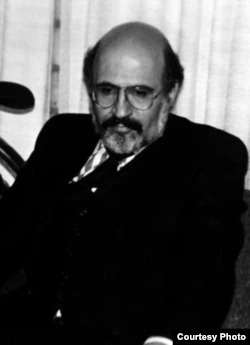 The officers stayed at Mr. Akhtari's house for three days and nights, waiting. "They changed guards at our house and told us if anyone calls for my father to say that he is in the shower and ask them to come to the house to see him. They were just waiting for someone to come into our house, so they could arrest them. They were hoping to pick up the people that they were after, through the phone calls that were made to our house. But we had just moved into that house and no one knew our house, so it was not possible for anyone to call or come to our house."
"Before they left the house, however, they tore up all our belongings, mattresses, pillows, cupboards, and everything, and took with them everything they wanted, such as pictures, books, and jewelry. I do not know exactly what they took. My brother was severely beaten and then my mother was warned to introduce herself to the IRGC or their committee in three days. They left us with an unbelievable, dilapidated house."
The hostage's takers, according to Arash Akhtari, "were about three guards at a time. That is, there was one for each of us. We were not allowed to leave the house. They would shop for us themselves. It was a small house, but whatever we did, one of them was with us. For example, if I went into a room, one of them would come with me. They were looking for Mr. Khanjani. They waited for him to call us, but he never called because we had just moved to that house and he did not have our number. "Mr. Khanjani also knew that the Assembly members had been arrested."
Arash Akhtari's mother, however, does not report to the committee after three days and decides to leave Iran with her two children, on the advice of her husband: I, my brother, my mother, my uncle and his wife and my niece who were five or six years old got caught on the border of Turkey on the intersection of Khoy which as recently as a couple of weeks, had installed a check point. We were all released after ten days, but my mother was interrogated in Tehran and transferred to Evin Prison. My mother was imprisoned for two years. She was released in 1986, and a year later, in 1987, my father was executed."
Ardeshir Akhtari was also buried in Khavaran, but his son says: "They did not give us my father's body. My brother went to Behesht Zahra, public cemetery in Tehran and gave the name of my father and Mr. Amir Hossein Naderi who were executed. They said they were not there but were taken to Khavaran. We went to Khavaran and saw that there were two fresh graves, and we guessed that those were my father and Mr. Naderi. Then, later the government bulldozed the graves and they cemetery no longer existed. They also handed over a bag of my father's belongings with a set of clothes in it and a copy of a will with the top cut off. We do not know what was in the will and where the original copy is."
Assemblies that No Longer Exist
After the fate of the members of the three Baha'i NSAs, no such assembly was again formed in Iran. This had been an important institution that has traditionally been responsible for the administrative and financial affairs of the Baha'is of Iran, as well as communications regarding the educational affairs and publications of the Baha'i community of Iran with international institutions and the like.
Farhad Sabetan, a spokesman for the Baha'i International Community, told Radio Farda that more than 200 Baha'is had been executed since the Islamic Republic came to power, most of them in some form of administrative function in the Baha'i community. They were either members of the assembly or had other responsibilities for teaching Baha'is as teachers or counselors.
Mr. Sabetan explains: "In the Baha'i faith, there is no such thing as a clerical leader, and it has been abolished. Instead of what the clergy used to do, civic electoral institutions have been created, which we call assemblies. These assemblies consist of nine individuals who hold elections in any city or place where there are more than nine Baha'is, and nine individuals are secretly elected from among themselves without any campaign or propaganda. The duty of these nine is to take care of the affairs of that particular city or community; such as marriage, divorce, education of children, taking care of non-profit and social programs, etc."
According to him, "In each country, there is a nine-member assembly at the national level that looks after the affairs of the Baha'i community in that country. And at the international level, there are nine members, at the highest governing body of the Baha'i community, called the Universal House of Justice, which oversees the affairs of all Baha'is around the world. In fact, we have three classes whose members are local assemblies, national assemblies and the Universal House of Justice."
In Iran, however, local and national Baha'i assemblies are closed: "Iran was the only country where all local and national administration were closed, but several people volunteered or were appointed to take care of the affairs of the Baha'i community. Nowhere in the world is there such a thing, because in other countries the assemblies are elected. These individuals also dealt with the affairs of the Baha'i community as Friends of Iran, but they were also arrested and imprisoned. "Even that informal and temporary group no longer exists."
Mahvash Sabet, Jamaloddin Khanjani, Fariba Kamalabadi, Afif Naimi, Saeed Rezaei, Behrouz Tavakoli and Vahid Tizufahm are members of the group of friends mentioned by Farhad Sabetan.   Known as the Yaran, seven of them were arrested on May 14, 2008, and transferred to Evin Prison. Mahvash Sabet was arrested on March 5, 2008, in Mashhad. All were sentenced to 20 years in prison, which was later commuted to ten years.
What does the Government Say?
On August 29, 1983, Hassan Mousavi Tabrizi, the then Prosecutor General of the Revolution, said in an interview: "Baha'is are spying for others and inciting and disrupting certain activities. I declare today that because of these sabotages and atrocities committed in the Baha'i administration, this administration is considered a warlord and conspirator by the Revolutionary Prosecutor's Office in the Islamic Republic, and activities in any way for their benefit are prohibited."
The released video of the trial of the members of the second assembly also explicitly addresses these issues, and the seven men on whom the camera is fixed are asked to condemn Israel. In the verdict, they were found guilty of "espionage against the Islamic Republic and conspiracy against the people of Iran, corruptors of the land and adultery against the government of the Islamic Republic of Iran," and sentenced to death and confiscation of property.
Cyrus Roshani: Aren't thousands of Baha'is fired from their jobs in Iran an atrocity?
Judge: If they are like you, no.
Cyrus Roshani: A society of two to three hundred thousand people has no vital right; Isn't this cruelty? Dozens were executed without guilt; Isn't this cruelty?
Judge: No guilt? Where is it proven for you?
Cyrus Roshani: They were executed on the same charges as you are uttering now. The connection with the Universal House of Justice, which is the world center of the Baha'i Faith, is considered a connection with Israel, this is not reasonable at all. They had the same charges, all the Baha'i property confiscated, both in community and individually, isn't its oppression?
Judge: Very well. It's done. Stop the slogans. It became clear. It means that you accept that it is oppression, meaning the government of Iran is oppressive, and you are confirming it.