Source: www.hra-news.org
Translation by Iran Press Watch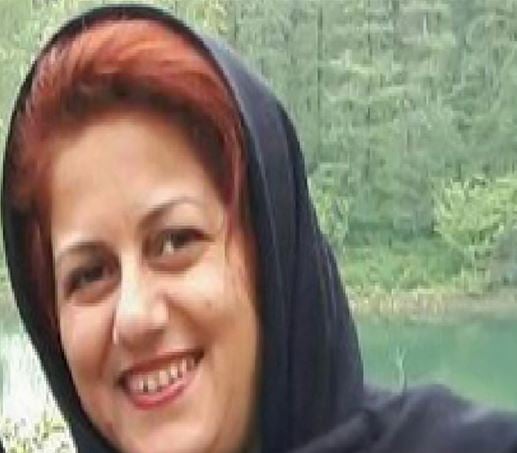 HRANA News Agency – Manijeh Azamian, 52-year-old Baha'i living in Babol, was arrested and transferred to Babol Prison to begin her sentence. Ms. Azamian was sentenced to one year in prison by the First Branch of the Revolutionary Court of Babol. This sentence was upheld by the Mazandaran Court of Appeals.
According to the HRANA, the news arm of the Human Rights Activists News Agency in Iran, Manijeh Azamian, a Baha'i citizen, was arrested and transferred to Babol Prison to serve her sentence.
Ms. Azamian had previously been sentenced to one year in prison by the First Branch of the Revolutionary Court of Babol, which was upheld by Branch 2 of the Mazandaran Court of Appeals.
Manijeh Azamian was arrested on April 13 of this year by the agents of the Intelligence Ministry of the town and was released from Babol prison on 50 million Tomans bail a day later. A few days prior to her arrest, on April 10, security forces searched Ms. Azamian (Iqani)'s home and confiscated some of her personal belongings, including cell phones, computer hard drives, flash drives, as well as pictures, books, and works related to the Bahai Faith.
Following the search of her home, Ms. Azamian's was told by officers to report to the Babol Intelligence Office for questioning that same afternoon. Ms. Azamian was interrogated multiple times, each time for several hours by the Intelligence Agents following the search of her home all the way up to the day of her arrest. A source close to Ms. Azamian's family told HRANA: "After confiscating Ms. Azamian's cell phone, intelligence agents called a number of the contacts on her cell phone, including at least three non-Baha'i families who were her friends and neighbors and summoned them for interrogation about their relationship with this Baha'i citizen."
Skylar Thompson, head of foreign relations for the Association of Human Rights Activists in Iran said: "This organization strongly condemns acts of discrimination against religious minorities in Iran. We urge Iran to take concrete steps to ensure that Iranians, especially Baha'i citizens, can enjoy religious freedoms, including the freedom to practice their religion.
Baha'i citizens in Iran are deprived of liberties of practicing their religious beliefs. This systematic deprivation of liberty occurs while Article 18 of the Universal Declaration of Human Rights and Article 18 of the International Covenant on Civil and Political Rights entitle any individual to freedom of religion and belief and also freedom to express it individually or collectively and in public or in private.
According to unofficial sources, there are more than 300,000 Baha'is in Iran, but Iran's constitution only recognizes Islam, Christianity, Judaism, and Zoroastrianism and does not recognize the Baha'i faith. For this reason, the rights of Baha'is in Iran have been systematically violated over past years.