Source: iranwire.com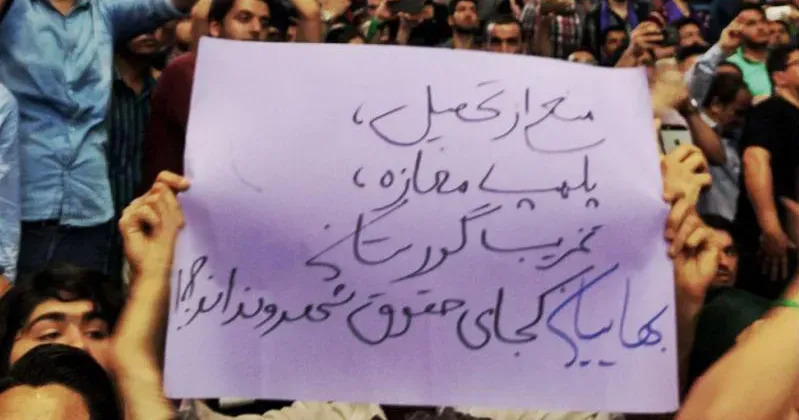 On the evening of Wednesday, August 3, preliminary results of Iran's nationwide university entrance exam were announced and Baha'i citizens were once again denied entry to higher education.
According to a report published by the Human Rights Organization in Iran, at least three Baha'i citizens named Hiva Badiei, Hana Movafaghi and Behzad Barati received results claiming that their applications were "defective".
Baha'is for years have been told that their university application files were defective or incomplete – despite this not being the case.
A 1991 secret policy memorandum signed by the Supreme Leader, Ayatollah Ali Khamenei, called for the progress and development of Baha'is to be "blocked" because of their beliefs, including by barring access to higher education. Baha'is – who are the country's largest non-Muslim religious minority – have been systematically persecuted since the 1979 Islamic Revolution.
There are no statistics on the actual number of Baha'i citizens who have been banned from attending university this year, but human rights sources estimate their number to be more than three.
Last year, at least 14 Baha'is and in 2019, at least 21 Baha'is, announced that they were prevented from studying in the country's universities.
The exclusion of Baha'is from this year's university intake occurred even as a new and escalating crackdown on Baha'is has broken out across Iran. On 31 July, security agents raided the homes of dozens of Baha'i citizens in different cities of Iran and arrested at least 13 people. Mahvash Sabet, Fariba Kamalabadi and Afif Naemi, former members of the Iranian Baha'i community's informal leadership before they were jailed for a decade in 2008, were among those jailed.
Confirming the news of the arrest of these citizens, Iran's Ministry of Intelligence in an extraordinary litany of conspiracy theories accused them of "espionage" protesting against the mandatory Islamic hijab veil.
The arrested persons were also accused of "infiltrating educational environments at various levels, especially kindergartens across the country".
Two days later, on 1 August, up to 200 security agents raided the village of Roshankouh, in Mazadaran province, where they destroyed six houses and confiscated 20 hectares of property.
The Chief Justice of Mazandaran confirmed the news and said the destruction of Baha'i homes in Roshankoh village "has nothing to do with sects or tendencies". But he did not provide any reasons for the home destructions.
Iran is a signatory to the Universal Declaration of Human Rights and the International Covenant on Civil and Political Rights which guarantees every person the freedom of freedom of religion or belief, the freedom to change beliefs and religion, and to express and manifest their beliefs in private and in society. But the constitution of the Islamic Republic only recognizes Islam, Christianity, Judaism and Zoroastrianism and does not recognize the Baha'i religion. The lack of recognition is used as a pretext to spread hate propaganda, calling the Baha'is foreign spies, and to violate their fundamental rights.
The international community has repeatedly called on the Iranian government to respect the rights of the Baha'is.