Source: iranwire.com
Kian Sabeti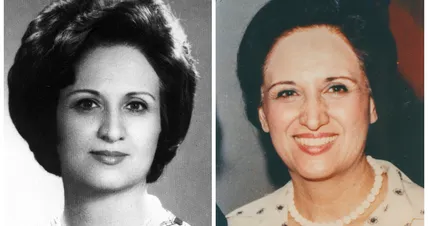 On December 27, 1981, eight Iranian Baha'is, seven men and one woman, who had been sentenced to death by the Revolutionary Court, were executed. They were charged with being members of the National Spiritual Assembly of the Baha'is of Iran.
The eight had been tried behind closed doors and without access to any lawyer, even a public defender, before their executions. Their bodies were buried at Tehran's Khavaran Cemetery without observing Baha'i burial practices and without their families. Relatives of the eight only learned of the fate of their loved ones by chance.
Thirty-four years later, a video of the trial of these Baha'is was taken out of Iran by someone who had worked for the Revolutionary Court and published online.
In the video, an individual, who was both prosecutor and judge, and whose face is not shown, repeatedly addresses the "Iranian people". This supports the assumption that the new Islamic Republic government wanted to broadcast the trial to tar the Baha'is as criminals. But the hearing did not go as the authorities had expected and the answers given by the defendants forced the Islamic Republic to shelve the film.
The video shows only the seven male defendants. There is no sign of Zhinoos Nemat Mahmoudi, the eighth defendant, and the only woman in the group. The indictment also named only the seven male defendants and made no mention of Zhinoos Mahmoudi.
According to date recorded on the tape, the trial was held on December 27 and the judge issued the verdict in the same session. The seven men and Zhinoos Mahmoudi were executed a few hours later. They were given no chance to appeal and no higher court confirmed the verdict. The defendants were not even allowed to see their families for a final time.
Was Zhinoos Mahmoudi tried and convicted by another court or was she executed without a trial?
Who was Zhinoos Mahmoudi?
Zhinoos Mahmoudi, born in Tehran in 1929, was among Iran's first female mathematics and physics graduates, from Tehran University, and the country's first female meteorologist. Her father, Abbas Nemat, was a pioneer of Iran's printmaking industry, and her mother, Kamalieh Ajzachi, was a teacher.
Zhinoos married Houshang Mahmoudi, a young law student and a fellow Baha'I, when she was 19 years old. Houshang Mahmoudi was kidnapped in 1980 by unknown armed assailants and no trace of him was ever found.
Zhinoos was also a women's rights activist. She was a member of Zunta Club, an unofficial branch of Rotary International, and chair of the Deyhim Peace Society as well as the Ministry of Roads and Meteorology's Association of Women. Zhinoos also created Iran's climatological map.
The Arrest of the Members of the National Spiritual Assembly
On December 13, 1981, eight members of the National Spiritual Assembly of the Baha'is of Iran met at the home of Zoghollah Momen, a Baha'i in Tehran, to discuss two issues; the destruction of the Baha'i cemetery in Tehran, and the hundreds of Baha'i villagers in the province of Kohgiluyeh and Boyer-Ahmad who had been driven out of their homes. The meeting lasted until 11 at night and then Zhinoos Mahmoudi and another member of the assembly left.
A few minutes later, armed Revolutionary Guards, who had already arrested Zhinoos Mahmoudi and the other member, entered the premises and arrested those present. The Guards used threats and force but did not present a warrant. Two of the detainees were women: Zhinoos Mahmoudi and Farideh Samini, the wife of Kamran Samimi, a member of the assembly.
According to Farideh Samimi, they blindfolded the detainees and loaded them into a car. When the car stopped, she was able to see where they were from under her blindfold; itwas the former Youth Palace, a cultural, educational and arts center for young people in Tehran. The Guards then took her and Zhinoos to a cell. They had divided the greenhouse of the Youth Palace into small prison cells.
"Ms. Samimi said that she was not feeling very well, but my mother always comforted her and mom's morale was high and strong," Zhinoos's daughter Ramona Mahmoudi wrote in a letter to her sister Ariana. "It appears that they interrogated mom. They asked her 18 questions in writing and, of course, she answered them in writing as well. What the questions were, I have no idea!"
Farideh Samimi was released after a few days and Zhinoos Mahmoudi was transferred to Evin Prison.
Zhinoos Mahmoudi in Prison
Zhinoos Mahmoudi was executed just 14 days after she was arrested. Her family was not allowed to speak to her on the phone or to visit her in prison. Prison officials and the Revolutionary Court never gave her family any information about her case, her situation in prison or her health. Only a handful of documents are therefore available regarding this period.
The first document dates to the few days that Zhinoos was held at the detention center of the Youth Palace. In a letter dated December 21, 1981, Ramona Mahmoudi mentions that she had received a receipt in her mother's handwriting for the clothing and money they had sent her in detention.
In her book "Simple Truth: Memoirs from Women's Prisons in the Islamic Republic", Monireh Baradaran, a prisoner in the 1980s, writes: "One day they brought to our cell a woman named Zhinoos who was around 40 years old. [Ed: Zhinoos was 52 years old at the time.] She was wearing a fashionable jacket and was well-groomed. Her charming and gracious demeanor and speech quickly impressed us. She was a physics teacher with a specific regard for her students. She called them her daughters and told them: 'Your place is in the school, not here. But even here you must not miss your opportunity. I shall teach you. There can be no doubt that you are among the most talented students.' Very soon, we felt affection and respect for her. But she was our guest for only a few days. One afternoon they called her, she went and never returned. As she was leaving, she left her beautiful jacket as a memento for us."
In a footnote, Baradaran writes that Zhinoos Mahmoudi was executed in the winter of 1981 for being a Baha'i.
Another document is a letter that a Baha'i by the name of Sorour Sana wrote to a daughter of Zhinoos. In this letter, Sorour writes that she was friends with a Muslim family whose leftist daughter was arrested and sentenced to six years in prison. Eleven years later, Sorour met this daughter again. She wrote to Sorour about a Baha'i woman by the name of Zhinoos Mahmoudi who was her cellmate for a week: "I had been in prison for six months. One day they brought to my cell (Cell 209, Ward 204, Hall 6, the special section for the leftists) a very respectable lady who was wearing a two-piece outfit in blue and yellow and a small headscarf. She had a ring on her finger and a small watch. I got to know her for a week. She seemed an educated, kind and lovely woman. After some time, she asked me: 'My daughter! Why have they put you in here? You are too young.' I said: 'For a small matter and they made a mistake. I have never engaged in activities that deserves prison.' Then I asked her why she was there. 'They say I am a leader of the Baha'i community and that is why they have put me in prison.' I asked her why prison and she said she had no idea.
"During that week I became fond of her and it was reciprocal. She told me 'You are like my daughter and I love you as much as I love my daughters.' We slept in the same cell and talked about everything. When the guards brought her food and served it into her dish, they did not show any disrespect, but they were careful not to touch her hand. During this time in prison, she taught me algebra, trigonometry and geometry. Sometimes girls around my age came to our cell and said to her 'Will you teach us?' And she would say: "With pleasure. God willing, I will work with you as well.' But that one week was over too soon. One evening they came to take her away. She came to me and gave me her watch. 'Keep this to remember me because you are like my daughter.' I asked her where they were taking her. She said that she didn't know. She kissed us and left. The next day at dawn they announced that she had been executed."
Sorour writes that the next they interrogated her and wanted to know what Zhinoos had told her. They pressured her so intensely that she handed over the watch.
The last available document also relates to Zhinoos Mahmoudi's time in jail before she was executed. Members of Tehran's Local Spiritual Assembly were also under arrest at the time, including two women, but there is no indication that they were cellmates with Zhinoos Mahmoudi.
The Trial and the Execution of Zhinoos Mahmoudi and Seven Other Baha'is
Although the video of the court hearing shows only the seven male members of the National Spiritual Assembly, and there is no mention of Zhinoos Mahmoudi in the indictment read in the video, nor does she appear in it, the indictment that was published later shows that the number of defendants had increased from seven to eight and that Zhinoos Mahmoudi was one of them.
The new indictment cites the length of the trial as two and half hours whereas the video is two hours and three minutes long and ends abruptly. It is unlikely that the court changed the indictment in the remaining 27 minutes and added the name of Zhinoos Mahmoudi at that time.
The other possibility is that Zhinoos Mahmoudi was executed without a trial and that her name was added to the indictment on the next day. It is also possible that Zhinoos had been initially present at the trial but had been taken back to her cell.
In his memoirs "Prejudice and Discrimination", Enayat Khoda Sefidoush, a Baha'i who was a prisoner at the time, writes that they had planned to execute members of both the National Spiritual Assembly and Tehran's Local Assembly, to confront international human rights bodies with a fait accompli and to shock the Iranian Baha'i community by the sudden death of its leadership.
On the day of the trial, the authorities took members of Tehran's Local Assembly, together with Zhinoos and other members of the National Assembly, to the Revolutionary Court. They were blindfolded and did not know of each other's presence. But at some point, Zhinoos and two female members of the Tehran Local Assembly exchanged greetings. Before the trial started, the prosecutor learned that two members of the Local Assembly were at Qasr Prison, not at Evin, and as a result the plan to coordinate the executions collapsed and the authorities returned the male members of the Local Assembly to Evin's Ward 6 and the women to the women's ward. Zhinoos Mahmoudi may have been returned to prison along with those women.
Zhinoos' daughter, however, believes that her mother was not physically present at the court because of the misogyny of the rulers of the Islamic Republic who could not accept a woman may have been one of the community's leaders.
Zhinoos Mahmoudi was 52 years old when she was executed by order of the Revolutionary Court. Her properties and assets were confiscated. The video does not show the judge, nor the prosecutor, and their signatures or names do not appear on the indictment. But later statements by Islamic Republic officials show that the following individuals were involved in the process that ended with the execution of Zhinoos Mahmoudi and others:  Abdolkarim Mousavi Ardebili, chief justice of Iran, Hossein Mousavi Tabrizi, chief revolutionary prosecutor, Mohammad Mohammadi Gilani, Sharia judge of Tehran's Revolutionary Court, and Asadollah Lajevardi, Tehran Revolutionary Court prosecutor.