Source: ir.voanews.com
Translation by Iran Press Watch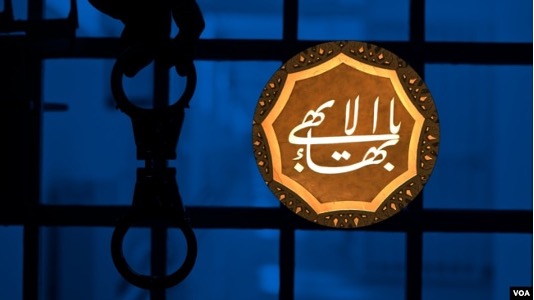 Concurrent with the widespread arrest of citizens in connection with nationwide protests in Iran, the pressure on Baha'i citizens and their arrests has intensified.  In the latest incident, a Baha'i musician in the Isfahan National Orchestra was arrested.
According to the reports published on Tuesday, 17th of January 2023,Elmira Rahmani was arrested on Monday, 16th of January. Agents seized her personal belongings, including her cello.
Elmira Rahmani was born in October of 1994 in Isfahan and is a graduate of the Music Academy of this city and an expert in the field of music. She is a member of Isfahan National Orchestra. She had previously banned from playing for Isfahan National Orchestra.
Several arrests of Baha'is citizens have occurred in recent days. Reports indicate that Nabil Movafaghi, a 24-year-old Baha'i resident of Sari, was arrested on Thursday, January 12, 2023, by government officials in "Gonbade Qavus" and taken to an unknown location.
According to reports, the security forces arrested Mr. Movafaghi at the home of one of his relatives. Agents presented a "warrant of arrest" and while searching the house>  They seized personal items and electronic devices.
Matin Gorji, a Baha'is living in Qaemshahr, was arrested at his home on Sunday, January 8, 2023.
It has been reported that during the arrest, security forces confiscated electronic devices and religious books belonging to Mr. Gorji and his family.  The investigator told Mr. Gorji's relatives that he should get a lawyer.
Armaghan Zabihi is another Baha'i citizen who, after 110 days since her arrest, is still in Qarchak Varamin prison and in limbo.  On January 7th, 2023, she told her family in the course of a short phone call that she was taken to the court, where an appointed lawyer was agreed upon and the hearing postponed according to the lawyer's request to review the case.
Arash Zamani Farahani, Armaghan Zabihi's spouse, is also under arrest. Judicial authorities did not  allow them to make phone calls until December 12, 2022, after 110 days.
Another Baha'i, Sirous Zabihi Moghadam has also been arrested and is being kept in the Mashhad Intelligence Offices.
HRANA, the news organ of the Human Rights Activists in Iran, reported that Faraz Haghighatjou, a Baha'i citizen living in Shiraz, has been held since his arrest 37 days ago, is still being held in "one of the IRGC intelligence detention centers".
According to an informed source, the family of Faraz Haghighatjou was unaware of his whereabouts "for 35 days" and "only once a week he had a short one-minute call in presence of the security officers."
According to this report, during his detention, Mr. Haghighatjou has been suffering medical issues such as "leg tremors, nerve and muscle weakness, and digestive problems" and in his phone calls, he had "requested warm clothes", but the office "the family referred to deliver warm clothes, they said he is not here, and refused to take the clothes."
Pouya Saraf, another Baha'i citizen, arrested in Karaj on 2nd of November 2022 has also been transferred to Shiraz in recent days. He has spent 70 days in "solitary" confinement and denied the right to visitation.  It reported that the investigator said that "the prisoner is not cooperating."
The office of the "Bahá'í International Community" in the United Nations has already announced in a statement that Mahvash Sabet and Fariba Kamalabadi, two members of the Baha'i community of Iran, have been sentenced to a decade in prison for the second time.
Islamic Republic sentenced two Baha'i women to ten years imprisonment for the second time.
Recently, Molavi Abdol Hamid, the Sunni Imam of Zahedan, supported the citizenship rights of Baha'is in Iran and said: "I am not saying that they are Muslims, but they have the rights of citizenship."
Baha'i citizens in Iran are deprived of liberties of practicing their religious beliefs. This systematic deprivation of liberty occurs while Article 18 of the Universal Declaration of Human Rights and Article 18 of the International Covenant on Civil and Political Rights entitle any individual to freedom of religion and belief and also freedom to express it individually or collectively and in public or in private.