Source: iranwire.com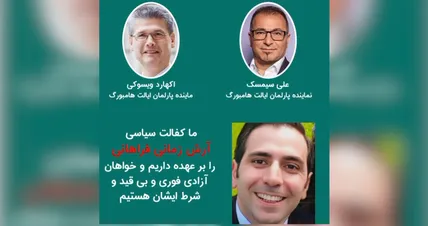 Two German lawmakers have joined together to politically sponsor a member of Iran's persecuted Baha'i religious minority who has been imprisoned for nearly four months.
"We have accepted political sponsorship for Arash Zamani, and call on the Iranian government to release him immediately and without any pre-condition," said Hamburg parliament members Ali Simsek and Ekkehard Wysocki.
Zamani is among dozens of Baha'is who have been arrested across Iran in recent weeks amid an intensified crackdown on the faith.
He and his wife, Armaghan Zabihi Moghadam, were taken into custody on September 24 after security forces stormed their home in Tehran.
Both are being kept in pre-trial detention.
They are accused of spreading "propaganda against the system" and "community and collusion."
Since the Islamic Republic was established in 1979, Baha'is in Iran have faced systematic discrimination and harassment, including deportation, restrictions to education, property confiscations, imprisonment, torture, and executions.
Shia Islam is the state religion in Iran. The constitution recognizes a number of minority faiths, including Christianity, Judaism, and Zoroastrianism, but not the Baha'i faith.
Political patronage or sponsorship is a way for parliamentarians in Europe to raise awareness about specific prisoners held in Iran and use their political weight to campaign for their freedom.
Earlier this month, Iranian Foreign Ministry Spokesman Nasser Kanaani criticized the practice, saying, "Unfortunately, we are witnessing the undesirable and excessive use of all respected principles and norms in international relations by the European authorities."