Source: iranwire.com
Kian Sabeti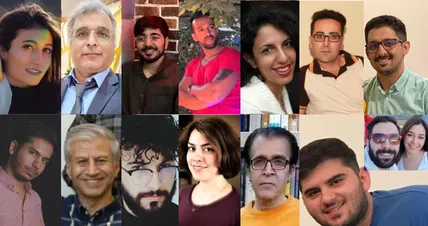 Iranian intelligence and Islamic Revolutionary Guard Corps (IRGC) forces have arrested dozens of Baha'i citizens over the past four months.
The real number of detainees is not available as security forces have threatened families to not publicize the arrest.
The arrested Baha'is are facing charges such as spreading "propaganda against the system," "gathering and collusion with the intention of committing a crime" and "acting against the security of the country". Baha'i citizens also sometimes face the charge of "membership in an illegal group" which refers to their faith.
Five members of the religious minority were arrested in January.
Nakisa Hajipour was arrested on January 1 in Mashhad. She was arrested at the airport by plainclothes IRGC officers with an arrest warrant while leaving the city.
Yashar Rasti, another Baha'i citizen, was arrested on January 4.
Security forces went to Rasti's home in the southern city of Shiraz at around 2pm on January 4, according to sources with knowledge of the matter.
Since Rasti was not there, the agents climbed the wall of the apartment building, entered his home and searched it.
Rasti was arrested at his workplace by another group of agents. They took him to his home, which was again searched.
Armed forces also violently arrested Matin Gorji at his house in Qaemshahr on the morning of January 8 and transferred him to an unknown location.
The Baha'i was severely beaten by security forces, who confiscated his electronic devices and religious books.
The agents told Gorji's mother that he was facing a prison sentence of at least two years. The charges against him remain unknown.
Nabil Mofeghi, a Baha'i resident of the northern city of Sari, who had gone to meet his friends in Gonbad Kavos city, was arrested by agents of the Intelligence Ministry on January 12.
Forces also raided Elmira Rahmani's house in the central city of Isfahan on January 17 and took her to an unknown location. Her personal electronic devices and musical instruments were confiscated.
There was no information available about Rahmani's whereabouts and the charges against her.
Rahmani, a musician, has performed in the Isfahan National Music Orchestra and the city's Philharmonic Orchestra.
As of January, 17 Baha'i citizens who were arrested in the previous months were still in detention centers. Of these, seven people were temporarily released on bail.
The first Baha'i is Badi Khazei who was released from Fashafuye Prison on December 21.
The Tehran Revolutionary Court handed Badie Khazei five years for acting "against national security" and another year for "spreading propaganda against the system," according to family members.
If the verdict is confirmed on appeal, the 31-year-old Khazei would have to serve the longest possible term for the alleged crimes.
According to the information received by IranWire, Khazei was stopped by intelligence agents in Tehran on October 17 while he was at a dinner with friends.
After learning about Khadei's faith, officials in Fashafuye Prison separated him from other inmates before transferring him to Evin Prison.
Homayun Khanlori was released on December 24 after 26 days in prison.
Aida Rasti was temporarily released on bail after three months of detention in Evin and Qarchak prisons.
Rasti was released while her husband, Bardia Basiri, was arrested on January 13.
He was probably arrested for posting a story in sympathy with the families of those killed in the protests.
This Baha'i citizen suffered a nervous breakdown in prison as a result of mental pressure during detention and his legs became temporarily paralyzed from the knees down.
Bashirullah Verdi was released from Evin after 40 days of detention on January 4, and Saman Khadim was released on bail and temporarily from Adel Abad prison, Shiraz, after 83 days of detention on the same day.
Farbod Alavi was released on January 11 and Mona Ghodrat was released on January 16.
According to the information provided by the families, apart from the five Baha'is who were arrested in January, 10 other citizens who were arrested in the previous months were still detained by the first month of the year.
Sepehr Ziyai, Payam Vali, Arash Zamani, and Armaghan Zabihi are four Baha'i citizens, four months have passed since their arrest at the end of January.
Pouya Sarraf, has not contacted his family for the past month, raising concerns about his health.
The family has received no news about this prisoner of conscience since his last phone call on December 20. Relatives say Sarraf has been under pressure to confess to crimes he did not commit.
Other for Pouya Sarraf, three other Baha'i citizens have been detained in Shiraz since last month.
The names of the Baha'is under arrest are Masoud Mumtaz, Pouya Nowrozi and Faraz Haghighatjoo.
According to the latest information, Masoud Mumtaz is detained in the Intelligence Department, Pouya Nowrozi in Adel Abad prison, Shiraz, and Faraz Haghighatjoo in the IRGC Intelligence Detention Center.
There is no information about the charges against these citizens.
Hami Bahadori was arrested on October 22 at his home in Tehran. After spending more than 80 days in Evin Prison, he was transferred to Fashafuye.
Bahadori has been deprived of retaining a lawyer of his choice.
Baha'is in Iran have faced systematic discrimination and harassment since the 1979 Islamic Revolution, including deportation, restrictions to education, property confiscations, imprisonment and torture, and official hate speech against the community. More than 200 Baha'is were executed after the Revolution.
Baha'is number some 300,000 in Iran and are the country's largest non-Muslim religious minority. Shia Islam is the state religion in Iran. The country's constitution recognizes a number of minority faiths, including Christianity, Judaism, and Zoroastrianism, but not the Baha'i faith.