Source: iranwire.com
Kian Sabeti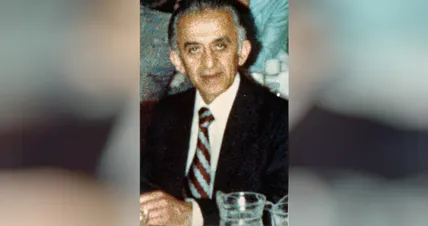 On January 14, the Islamic Republic executed Alireza Akbari, a former deputy defense minister and an Iranian-British dual national. But Akbari was not the first dual national sent to the gallows by the Iranian judiciary. In 2011, Zahra Bahrami, a UK resident with dual Iranian-Dutch citizenship, was sentenced to death by the infamous "hanging judge" Abolghasem Salavati.
But about 30 years before the execution of Zahra Bahrami, a 66-year-old Baha'i who lived in England went to Tehran to visit and care for his elderly mother. A few days later he was arrested by the Revolutionary Guards at his mother's home. He was sentenced to death by the Tehran Revolutionary Court and was executed in 1981. The British government has remained silent about his execution to this day.
Habibollah Azizi was born in 1915 to a Baha'i family in Tehran. He received his primary schooling at the Tarbiat School, a Baha'i-run non-religious school, and Darolfonoon in Tehran. He completed his higher education at Tehran University where he studied Persian Literature. After his military service as an officer, he went into business with his father.
Azizi married his cousin in 1947 – which was conventional at the time – and they had four children. In 1969, he and his family moved to Bournemouth in England for their children's education.
Every year, Azizi travelled to Tehran to visit his elderly mother and other members of his family. He arrived in Tehran for one of these annual visits on June 15, 1980 and was arrested three days later. when the Revolutionary Guards raided their home. He was first held at the Revolutionary Committee No. 9 in Ferdowsi Avenue and was later was transferred to Evin prison.
After 14 months in prison, the Tehran Revolutionary Court sentenced Habibollah Azizi to death. Little is known about the charges against him, the judge who issued the verdict or the date of the trial. His trial took place behind closed doors and he was not defended by a lawyer. All we know is that, at the time, Mohammad Mehdi Gilani was the head of Tehran Revolutionary Court and Asadollah Lajevardi was Tehran's Revolutionary Prosecutor.
During his incarceration, Azizi was pressured to renounce his faith and he was promised that he would regain his freedom if he did so.
Habibollah Azizi was executed by firing squad without a last visit from his family and without them being informed. His body was buried in a separate corner of a Muslim cemetery, without a Baha'i religious ceremony, and without the presence of his family who read about his execution in the newspapers two days later.
Azizi's wife and children were in England and, while in prison, he communicated with them through letters. His only close relatives in Iran, his mother and two sisters, visited him in prison whenever they were allowed. After 24 hours and extensive efforts, Azizi's family managed to retrieve the remains and to bury Azizi in a Baha'i cemetery with a Baha'i religious ceremony.
Shortly after the execution, Azizi's 86-year-old mother, his two sisters and their husbands were arrested on unknown charges and were interrogated at Evin Prison.
All Habibi's properties and assets, and those of his immediate family in Iran, were confiscated by the Revolutionary Court. A person close to Azizi family has said that his mother was released a few days before her daughters and she, unaware that their properties had been confiscated, went to her home only to find the door sealed. She had nowhere else to go, and was very tired, so she just sat down and leaned against the wall of the house that had been confiscated. Her former neighbors found her relatives who came and took her with them.
On August 31, 1981, the newspaper Ettela'at published an official statement reporting that the Revolutionary Court had found 15 members of "terrorist groups" guilty of "corruption on earth", conspiracy and armed uprising against the Islamic Revolution, and that they had been executed two nights earlier.
The fourth person on the list was the 66-year-old Habibollah Azizi. Since he was executed along with the members of the "terrorist groups," the authorities applied the same charges to him as well, although he had been executed for his faith as a Baha'i.
The statement listed the charges against "Habibollah Azizi, son of Morteza" as "extensive relations with" the Organization of Iranian People's Fedaian, a Marxist group, and the People's Mojahedin Organization, the "distribution of their publications," "providing financial help to Baha'i propaganda organizations in Zionist countries," "international activities" in support of the Baha'is and the "creation of Baha'i centers".
On October 12, 1996, 15 years after Azizi's execution, the newspaper Salam published a report about the ongoing disputes within the Islamic Republci regime over the ownership of the confiscated property of an executed Baha'i, i.e., Habibollah Azizi. The writer of the article apparently had access to court records and disclosed some details about the case that had been unknown.
The revelations also showed that Branch 2 of the Tehran Revolutionary Court had processed Azizi's case and the death penalty had been issued by the presiding judge of the same branch. Branch 3 of the Supreme Revolutionary Court, meanwhile, was found to have upheld the verdict on March 27, 1982, meaning that Azizi had been executed seven months before the verdict against him was upheld. The last item in the report was that the defendant had denied all charges against himself but that he was executed without a chance to appeal the verdict.