Source: www.iranwire.com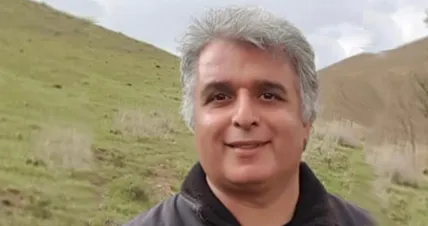 A member of Iran's persecuted Baha'i religious minority has refused to sign a false confession in exchange for his release, IranWire understands.
Payam Vali, a Baha'i citizen who has been held in jail for 145 days, has reportedly rejected demands by officials that he sign a false confession against himself to secure his release from prison.
Vali was arrested on September 24 after police raided his home and workplace in the city of Karaj, near Tehran. He was severely beaten by officers after protesting his arrest.
During the raid and arrest, agents also beat Vali's teenage son, Adib, who refused to hand over his laptop. The agents then confiscated both the laptop and a mobile phone.
Vali, in a voice note released in recent days, explains that a deputy judge in Karaj told him he would have to sign a commitment in exchange for his release, which included a mandatory confession of alleged crimes and accusations, adding that he was innocent of all the charges against him and that he refused the judge's conditions.
The Baha'i citizen is accused of spreading propaganda against the Islamic Republic, cooperating with foreign media organizations and inciting protests via social media.
The commitment apparently also demanded that Vali promise not to repeat "any such behaviour in the future."
The recording further reveals the pressure and coercive tactics used by the Islamic Republic's security agencies to force detainees into making false confessions.
Baha'i citizens in Iran have faced persecution and discrimination since the 1979 Islamic Revolution because of their religious beliefs.
The Iranian government has inflicted decades of arbitrary detentions and arrests on the Baha'i community, as well as confiscation of properties, denial of livelihoods and access to higher education, and constant official hate speech, attracting widespread criticism by the international community.
A crackdown on Iranian Baha'is appears to have begun in July last year with the new arrest of Mahvash Sabet, Fariba Kamalabadi and Afif Naimi, three former members of a leadership group of the Baha'is, followed by dozens of other arrests and trials. Several Baha'i-owned properties were also destroyed at that time.
Detained Baha'is often face charges such as "propaganda against the system," "gathering and collusion with the intention of committing a crime," "acting against the security of the country" and "membership in an illegal group," as well as the capital crime of "spreading corruption on earth."