Source: ir.voanews.com
Translation by Iran Press Watch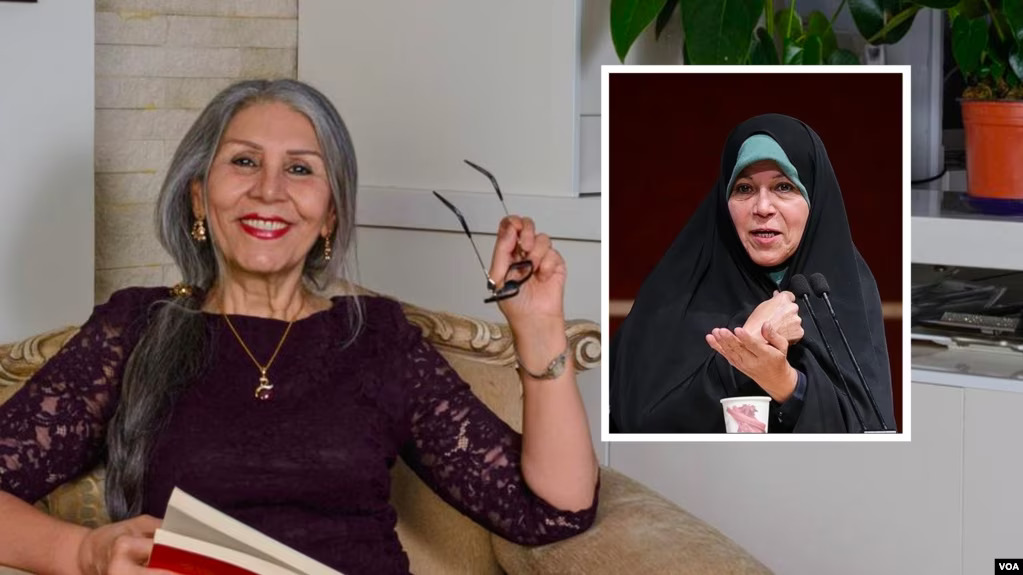 Faezeh Hashemi, daughter of former President Rafsanjani, is the highest-ranking figure close to the authorities of the Islamic Republic of Iran who is critical "oppression against Baha'is". She has spoken of the torture suffered by Mahvash Sabet (main photo) during her incarceration.
Faezeh Hashemi, the daughter of Akbar Hashemi Rafsanjani (former president of Iran), revealed details of the torture of imprisoned Baha'i citizen Mahvash Sabet in an audio file. Ms. Hashemi served time in Evin prison at the same time as Ms. Sabet.
Ms. Hashemi was sentenced in January to another five-year sentence. She was briefly released from prison for "time off" on March 27, 2023, and returned to prison on April 3, 2023 (per Iranwire). Prior to her return to prison, Ms. Hashemi audio-taped her account of the torture Ms. Sabet was subjected to by prison authorities while in Evin Prison.
In this audio file, published by "Iran Wire", Faezeh Hashemi shares from her conversations with Ms. Sabet that during the interrogation, Ms. Sabet was seated a chair facing the wall. The interrogator would repeatedly hit against the chair, forcing Ms. Sabet's knees to repeatedly bang into the wall. X-rays taken in the prison revealed that this repeated trauma had broken her knees.
In this audio file Ms. Hashemi asks, "How can this oppression of Baha'is and believers in other religions as well as those who do not believe in any religion come to an end? What type of government would guarantee freedom of ideology in society? What is the duty of individuals in the society regarding the suffering and torture and discrimination imposed on the likes of Mahvash?"
Mahvash Sabet, a 70-year-old Baha'i poet, former teacher and school principal, is one of the former leaders of the Iranian Baha'i community known as the Yaran. The seven members of the Yaran, including Ms. Sabet were arrested and sentenced to prison for their Baha'i Faith. Ms. Sabet served ten years and was released from prison at the end of her sentence on September 18, 2017. She was re-arrested on July 31, 2022, along with two other women of the former Yaran. The Revolutionary Court sentenced her to another 10 years in prison. Prior to this, Mahvash Sabet's poetry was published as "Keep me in mind". She is the winner of the "Courageous Writer" award of the International Pen Association.
Faezeh Hashemi is the highest figure close to the authorities of the Islamic Republic of Iran, who criticizes "oppression against Baha'is". In 2018, Mehdi Hajati, who was a member of the Shiraz city council, defended two Baha'i citizens, but he was arrested for a while and then sentenced to prison. Eventually, he lost his seat on the council.
The Islamic Republic of Iran does not recognize the Baha'i Faith and antagonizes the followers of this religion. Since the revolution, some active Baha'is have been executed and many have been arrested and imprisoned.
Ayatollah Ali Khamenei has repeatedly referred to Baha'is as "impure and enemies of religion and faith". This is while some Islamic Jurists, including Ayatollah Hossein Ali Montazeri, say that Baha'is are not considered as religious minorities, however since "they are from this country, they have rights to this land, and they are privy to civil rights, in addition they should benefit from the Islamic tradition of compassion as noted in Qur'an and accepted by the religious scholars."
Human rights organizations consider widespread arrests and heavy sentences against Baha'i citizens by the government of the Islamic Republic as a "systematic violation of human rights".