Source: iranwire.com
Kian Sabeti
Translation by Iran Press Watch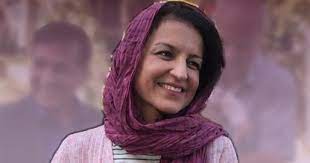 "They have always talked about many lost rights of the Baha'i community, such as the right to education and the right to work, but they have not talked about the right to serve Iran, which is the right of every Iranian and the dream of the Baha'is of Iran. I wish to raise this subject specifically. I have left the prison after 10 years, which may seem like a drain on one's strength and endurance, with the wish that I and other Baha'is can serve the holy country of Iran; As a compatriot, we can do our duty to the holy land of Iran and benefit from the right to serve Iran."
The above paragraph is from Fariba Kamalabadi's (Taefi) words in November 2017, after spending 10 years in prison for practicing her Baha'i Faith. Five years after her release, Fariba was arrested again on July 31, 2022 by agents of the Ministry of Intelligence at her private home in Tehran.
After three and a half months of solitary confinement, Ms. Kamalabadi case was tried and, for the second time, this 60-year-old Bahai citizen was sentenced to 10 more years in prison. She is currently incarcerated in Evin prison, awaiting a decision on her appeal. She will not be allowed to be present while the appeals court considers her case.
***
What do we know about Fariba Kamalabadi?
Fariba was born on 13 September 1962 in Tehran, to a Baha'i family. Her father, Dr. "Vali Kamalabadi", was a keeper of the shoes of the pilgrims at the "Imam Reza" shrine in Mashhad when he was young, and after meeting a Baha'i shoemaker, he became acquainted with this religion and became a Baha'i. After becoming a Bahá'í, Kamalabadi decided to continue his studies and he obtained his medical degree.
Following the Islamic revolution, Kamalabadi was expelled from the health care profession and later arrested in the early 1980's because of his religious beliefs.
During his imprisonment, Kamalabadi was severely tortured for converting from Islam to Baha'i religion. After graduating, he moved to Ashtian with his family to practice medicine. The Kamalabadi family later moved to Mazandaran.
Fariba spent her childhood in the cities of Zirab, Shahi (now Qaem Shahr) and Babolsar. Fariba received her high school diploma in 1980, but even though she was an excellent student, she also was barred from continuing her education as Baha'i youth are denied access higher education in the universities in the Islamic Republic.
Despite this setback, Fariba continued her studies through the Baha'i Institute of Higher Education (BIHE), which was established by the Baha'i community of Iran to provide higher education to Baha'i youth banned from university education. This institution was established by correspondence, and with the knowledge of the Ministry of Intelligence, for young people deprived of university education. Fariba, who had a love for study and research, and a mother of two young children, continued her education through the BIHE.
In 1992 Fariba received her bachelor's degree in Baha'i studies and started teaching Persian literature, philosophy and Arabic to the Baha'i youth.
Three years later, with the establishment of the post-graduate course in educational psychology, Fariba continued her studies in this field and in 1998 she succeeded in obtaining a master's degree from this scientific institution. After 10 years of education, she taught the courses of "Developmental Psychology", "Principles of Education", "Learning Psychology", and "Educational Planning", to be able transfer her learnings to young Baha'is who, like her, were deprived of studying in Iranian universities. She also implemented the courses "Educational Management" and "Education of Logical Thinking" at the BIHE.
10 Years in Prison because of Her Faith
Fariba Kamalabadi (Taefi) along with her husband and children moved from Mazandaran to Tehran in 2001. She devoted most of her time in educational activities for Baha'i children and teenagers. It was because of these activities that she was arrested twice in 2005, spending 3 months in incarceration.
In 2006, Fariba was selected as a member of Iran's Baha'i Leadership group "Yaran" in 2006. "Yaran of Iran" group was a group consisting of selected Bahá'ís from all over Iran who, with the full knowledge of the government, managed the affairs of the Bahá'í community in the country, such as burials, marriages, and raising children.
During the presidency of "Mahmoud Ahmadinejad", mistreatment of the Baha'i community intensified, and subsequently, members of the Iran Yaran group, including Fariba Kamalabadi, were arrested in their private homes on May 14, 2008. This sudden arrest occurred while all the activities of Yaran of Iran Group were carried out with the knowledge of the Ministry of Intelligence.
In August 2010, after 114 days of solitary confinement and 27 months of detention, Fariba Kamalabadi was tried in an inconclusive manner along with six other members of the Yaran of Iran group at Branch 28 of the Tehran Revolutionary Court on the charges of "espionage and cooperation with hostile countries", "gathering and collusion against national security", "illegal establishment and administration", "propaganda against the regime", "spread of corruption on earth" and was sentenced to 20 years in prison. In September of the same year, the court of appeals reduced the initial sentence to 10 years imprisonment by removing the espionage charge, but the country's attorney general found the decision of the court of appeals to be against Islamic Sharia and the sentence was again increased to 20 years. In December of 2015, the sentence of seven members of the Yaran of Iran group was reduced to 10 years by applying Article 134 of the Islamic Penal Code.
Fariba Kamalabadi was released from Evin prison on October 31, 2017, after completing her 10-year sentence. The day she went to jail, her young daughter, "Taraneh", was 13 years old, and the day her mother was released, Taraneh herself was a 23-year-old mother.
After her release from those 10 years in prison, Fariba shared: "Prison is very hard. Prison conditions are difficult. Even the best prisons are difficult for anyone. It is hard to be away from loved ones. However, our vision… despite all the hardships we endured, is fixed on love for the holy country of Iran; Love to serve Iran. This is so that what happened to us does not happen again in this land and is not repeated again for our children, or for any of our compatriots."
The Re-Arrest of Fariba Kamalabadi
In a widespread and synchronized act, on Sunday, July 31, 2022, agents of the Ministry of Intelligence raided the homes of dozens of Baha'i citizens and arrested a number of them. Fariba Kamalabadi (Taefi) was one of the detainees who was arrested in her private home in Tehran and transferred to the solitary cell of Ward 209 of Evin Prison.
"Iraj Kamalabadi", Fariba's brother, describes the suffering and abuse that his 60-year-old sister suffered during her detention in Ward 209: "The interrogations were accompanied by verbal insults and mental and physical pressures. Fariba was in solitary confinement for the first month or two, but with the beginning of the nationwide uprising and the arrest of women, four or five prisoners were placed in each solitary cell. Before the addition of detainees, Fariba was given two thin military blankets without pillows to use one to throw on the cold cement floor of the cell and the other to throw on herself, but after the increase of detainees in each solitary cell, the prisoners had no place to sleep anymore. They had to either lean against the wall to take a nap or sleep with their feet on the cell wall. Fariba was also deprived of visiting her family until the day of her court session.
Despite all the hardships, Fariba was in high spirits. After more than 110 days, when she met her daughter for the first time in the waiting room of the court, she hugged her and whispered in her ear: "I'm sorry, dear! I could not be a mother for you, but in the cell I am in, there are girls who are in need of a mother, and I'm being a mother to them instead of you."
Fariba Kamalabadi's court and the announcement of her sentence
The trial of Fariba Kamalabadi and Mahvash Shahriari was held on November 21, 2022, in branch 26 of Tehran Revolutionary Court, presided over by judge Iman Afshari. The charges these two Baha'i women was the administration of the Baha'i community of Iran, which was named in the indictment under the title of "deviated sect", with the aim of disrupting national security. A bogus accusation that was attributed to these two women based on a false and undocumented claim. Because Iran Yaran group (care takers of the Baha'i community) has been dismantled since 2007 and Fariba Kamalabadi and Mahvash Shahriari had no responsibility within the Baha'i community of Iran at the time of their arrests. And like any other Baha'i citizen, they were just one of the followers of this religion.
The court session was held in private with the presence of the defendants' lawyers. Most of the one-hour court session was spent by the judge in insulting and humiliating the accused.
Iraj Kamalabadi says: "During the hearing, the judge did not pay any attention to the charges in the indictment, so Fariba asked the judge on what crime they had arrested her." The chief justice of the court responded by saying that a message from the Universal House of Justice [Supreme Managing body of the Baha'i World Community] was found in your house.
Fariba replied: "Yes, the message of Universal House of Justice is in our house; Not only in our home, but the message of Universal House of Justice is found in the homes of all Bahá'ís around the world. It is even in the homes of non-Bahá'ís, because many like to read these messages free of any prejudice. The messages of Universal House of Justice are not secret messages. All messages are available on the Universal House of Justice website and are accessible to everyone. Mr. Hajji If you want, you can enter the site right now and download any of them. So, then you would also have one of these messages, would that make you a criminal?
Three weeks later, a preliminary verdict was issued and Fariba Kamalabadi and Mahvash Shahriari were each sentenced to 10 years in prison. About 9 months have passed since the arrest of these two women. They currently remain in custody at the women's ward of Evin Prison, awaiting the verdict of the Court of Appeals.
Iraj Kamalabadi says: "Like the previous ruling, this time as well, we have no hope for the outcome of the appeal. Will there ever be justice for the Baha'is one day?"