Source: www.radiozamaneh.com
By Zhinoos Forootan
Translation by Iran Press Watch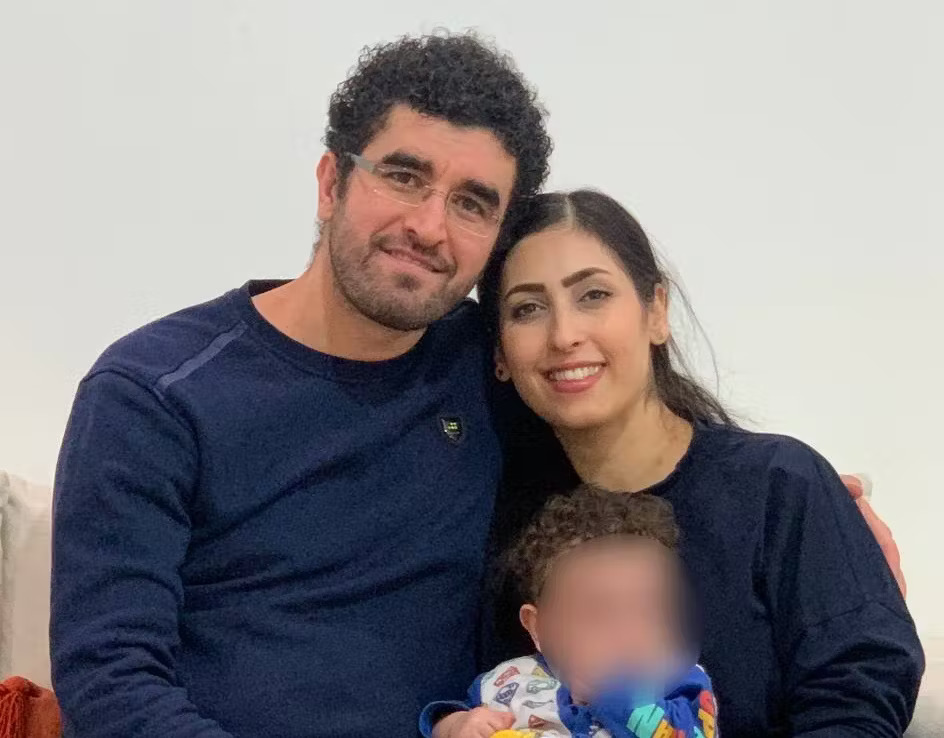 From prison to prison is the story of the abuses endured by Ardeshir Fanaian, a Baha'i citizen who was born in prison, is currently in prison, and while in prison his father died, and his only child was born.
Ardeshir Fanaian, a 35-year-old Baha'i citizen, is a husband and a young father whose life is tied to words such as "prison" and "imprisonment". Ardeshir was born in Semnan prison in 1988, and 31 years later, in May 2019, he was arrested and imprisoned in the same city. Despite being granted amnesty, he is still incarcerated behind bars, away from his family, due to the obstruction of the city's Intelligence Department.
Following his May 2019 arrest, Mr. Fanaian was first sentenced to 11 years in prison by Semnan Islamic Revolution Court (later reduced to six years in prison). He was also sentenced to one year exile from Semnan and one year of exile to Khash city located in Sistan and Baluchistan province.
In an interview with Zamaneh, an informed source mentioned that the judge of the case declared that he was included in the amnesty and said:
"The judge of the case initially announced to Ardeshir that he was included in the amnesty, but after the family went to the prosecutor's office, they were told that according to the inquiry, the amnesty did not include his case. The follow-up of the family and their trip to Tehran and referral to the judiciary have not been successful until now, because it was finally determined by the judge of the case that Ardeshir was not released according to the decision of the intelligence department."
Currently, Ardeshir's family is trying to follow up on this issue by traveling to Tehran and referring to various organizations.
Accusations
Ardeshir Fanaian's charges in the case in which he was initially sentenced to 11 years of imprisonment were "participating in the formation and management of an illegal group inside the country with the aim of disrupting the country's security" and "participating in actions against the Islamic Republic of Iran for the benefit of groups opposed to the regime."
Accusations which this Baha'i citizen has denied since the first day. The court's citation for such charges were holding consultation meetings, studying religious books and participating in classrooms, educational and artistic classes.
Ardeshir's Birth in Prison
Ardeshir Fanaian was born on December 9, 1988, in Semnan prison. Both his parents had been arrested in the 1980s because of their belief in the Baha'i religion and were imprisoned for a total of 9 years. Ardeshir spent the first weeks of his life in Semnan prison with his mother until he was three months old.
Semnan prison is the same prison where he is imprisoned today for a "crime" similar to his parents' crimes three decades ago, being a Baha'i.
Father's Death While in Prison
After Ardeshir Fanaian's arrest in May 2019, he spent two and a half months in solitary confinement and was denied the right to visit his family and access to a lawyer. During the time Mr. Fanaian was kept in solitary confinement, his father died due to an illness. Six months prior, his mother had also passed away. Despite it being not unusual for an inmate to be given leave for a parent's funeral, Ardeshir's request for a short-term leave to attend his own father's funeral was denied and he was deprived of the opportunity to say goodbye to his father's body.
Marriage During Leave from Prison
After repeated requests for leave, Ardeshir was finally granted leave for five days on August 14, 2019, during which time he married Golrokh Firouzian, another Baha'i citizen. At the end of these five short days, Ardeshir was returned to Semnan prison less than 24 hours after the wedding ceremony due to a lack of agreement to extend his leave.
History of Arrest, Hardships and Imprisonment
Ardeshir, like other young Baha'is, was barred from entering the university because of his religious beliefs. However, despite all the obstacles ahead, he was able to study at the Baha'i Online University (BIHE) and graduated with a degree in civil engineering.
Ardeshir had previously been arrested at the end of 2011, when he was 23 years old, which resulted in conviction and a sentence of eight months in prison. He was released from prison after serving six months of his sentence in 2013. It should be noted that Golrokh Firouzian, Ardeshir Fanaian's wife, was also sentenced to six months in prison in 2011 on charges of being a member of the Baha'i community and was finally released from prison in 2013 after completing her sentence.
Birth of a Child During Imprisonment
Ardeshir and his wife Golrokh today have a son who was born in August 2022. Ardeshir was with him only seven days after the birth of his son, and after finishing his one-week leave, he returned to prison again. Currently, he has the opportunity to meet his wife and son in prison twice a month for 30 minutes each time. According to Zamane's well-informed source, despite this distance, Ardeshir's eight-month-old son knows his father well because Ardeshir calls him every day from prison, talks to him over the phone and prays for him to sleep.