Source: iranwire.com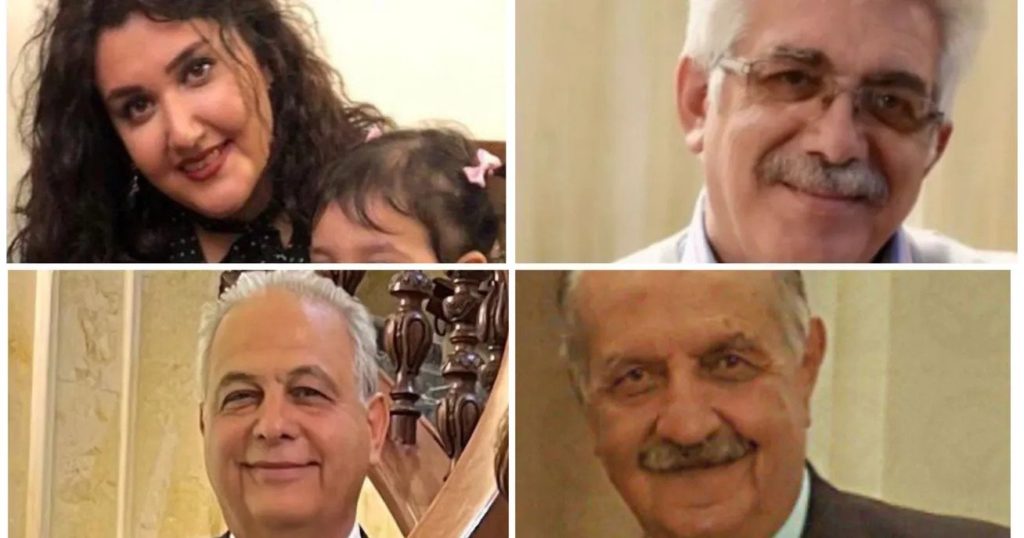 The cases of four Baha'i citizens, Shadi Shahidzadeh, Valiullah Ghadamian, Mansour Amini and Ataullah Zafar, have been transferred to Tehran Revolutionary Court after two weeks of detention in the notorious Ward 209 of Evin Prison, IranWire understands.
The four Baha'i citizens were arrested on Monday, May 1, by Ministry of Intelligence agents, in connection with the Baha'i cemetery in Tehran and subsequently taken to Ward 209. IranWire previously reported on some of these arrests.
Since the beginning of the new year, a Ministry of Intelligence agent named Masoud Momeni, who according to the Baha'i International Community has appropriated control of the Baha'i cemetery, has obstructed the release of the remains of deceased Baha'is from the mortuary to their families.
He has made the release of these remains contingent upon the payment of a significant sum.
Momeni had previously threatened families that failure to comply with the requested payment will result in the burial of Baha'i bodies in mass graves at Khavaran cemetery. As a result of the Baha'i community's rejection of these demands, Momeni has already buried six deceased Baha'is in Khavaran cemetery without informing their families or conducting religious ceremonies.
"Tehran's Baha'i cemetery is located adjacent to the Khavaran [mass] cemetery. The Baha'i community has possessed this land for many years, using it as a burial ground for their deceased," a source told IranWire.
"Messers Ghadamian, Amini, and Zafar were voluntarily assisting the families of deceased Baha'is in burial arrangements for several years," the source added. "These three individuals have no connection to recent events, and the reason for their arrest remains unknown. Shadi Shahidzadeh is the granddaughter of one of the deceased Baha'is and was just seeking information about her grandmother's situation through legal channels. She has a five-year-old child who now deeply misses his mother."
The source further revealed that the prosecutor of the third branch of Evin prosecutor's office, one Mr Mohammadi, has given no clear answers regarding the case of these four Baha'is to their families.
However, it has become apparent to the families that their charges, like those of other Baha'is arrested in recent years, are due to being Baha'is and engaging in actions deemed contrary to national security.
Baha'i citizens in Iran have faced persecution and discrimination since the 1979 Islamic Revolution because of their religious beliefs.
The Iranian government has inflicted decades of arbitrary detentions and arrests on the Baha'i community, as well as confiscation of properties, denial of livelihoods and access to higher education, and constant official hate speech, attracting widespread criticism by the international community.
The authorities have not even spared the dead. Baha'i cemeteries in Iranian cities and villages have been confiscated and destroyed, and new buildings have been constructed on the burial grounds to leave no traces of remains.
A crackdown on Iranian Baha'is appears to have begun in July last year with the new arrest of Mahvash Sabet, Fariba Kamalabadi and Afif Naimi, three former members of a leadership group of the Baha'is, followed by dozens of other arrests and trials. Several Baha'i-owned properties were also destroyed at that time.
Detained Baha'is often face charges such as "propaganda against the system," "gathering and collusion with the intention of committing a crime," "acting against the security of the country" and "membership in an illegal group," as well as the capital crime of "spreading corruption on earth."