Source: www.hra-news.org
Translation by Iran Press Watch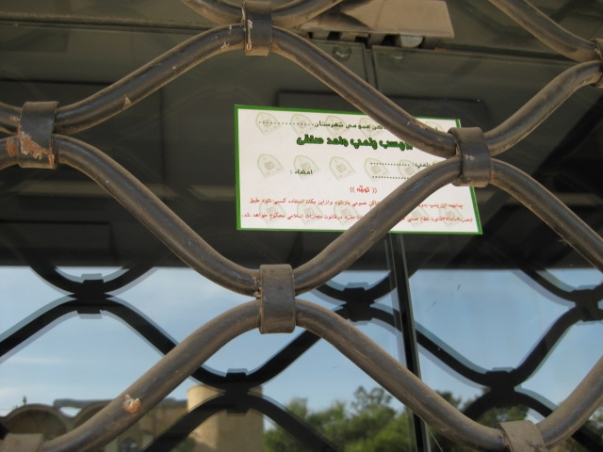 HRANA News Agency – On Saturday, April 19, 12 Businesses belonging to Baha'i citizens in Sari and Shahr-e-kord cities were shut down and sealed by the agents of the Office of Properties. The sealing of these places of business was ordered in response to the owners' closure in observance of Eid-e-Rezwan (Festival of Ridvan), a Baha'i Holy day.
According to HRANA news agency, the news organ of the Human Rights Activists in Iran, on Saturday, April 19, 2023, 12 businesses belonging to eighteen Baha'i citizens were shut and sealed in the cities of Sari and Shahr-e-kord.
The Baha'i citizens impacted by these closures 9as reported by HRANA) include: Kourosh Moradi and Mansour Rouhani (carpentry business in city of Sari); Parham Movaghan, Peyman Movaghan, Zia Movaghan, Milad Movaghan, and Miaad Movaghan (distribution and repair business of radiators, exhausts, mechanical repair and battery manufacturing in Shahr-e-kord); as well as Masih Movaghan, Mehrdad Movaghan, Amin Movaghan, Meisam Movaghan, Ramin Movaghan, Shayan Ahmadi, Nabiollah Movaghan, Tahmoures Ahmadi, Pouya Ahmadi, Shakib Alipour, Farzad Movaghan.,
An informed source, shared with HRANA that a total of 18 Baha'i citizens were engaged in daily activities in these 12 businesses and explained, "The sealing of the businesses of these Baha'i citizens was carried out by the orders of the commander of Law Enforcement Forces and the agents of the Office of Properties due to closing their businesses on the Eid-e-Rezwan (Festival of Ridvan) holy day."
This informed source added: "Some of these citizens in Shahr-e-kord went to the Office of properties of this city to follow up on the sealing of their businesses. They were referred to the intelligence Offices. While inquiring there, these Baha'i citizens were asked to sign a written commitment to coordinate and ask for permission of the relevant guild and trade union, for every time they intend to temporarily close their business, and to not cooperate with the enemies and to not follow the authority of the Baha'i Faith. But none of them signed this letter of commitment and they continue to follow up with judiciary authorities, inquiring about reopening of their business."
Based on their religious belief, Baha'i citizens close their businesses on nine days scattered across each year for religious observances. According to Article 28, Clause B of the Trade Union Law, the owners of the trade units are permitted to close their trade unit up to 15 days a year without informing the Trade Union. However, despite the specific legal and citizenship rights of individuals to practice their religion and manage their private businesses, sealing of Baha'i-owned businesses by law enforcement and security agencies has been ongoing for many years.