Source: www.hra-news.org
Translation by Iran Press Watch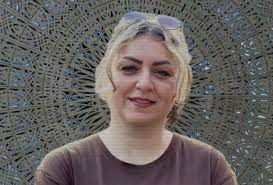 HRANA news agency – Today, Sunday, 6th of August, Sabin Yazdani, a Baha'i citizen, went to Kechoui prison in Karaj to serve her three-year prison term.
According to HRANA news agency, the news organ of the Human Rights Activists in Iran, Today, 6th of August, Sabin Yazdani, a Baha'i citizen, was transferred to Kechoui prison in Karaj.
Sabin Yazdani went to this prison to serve her three-year sentence.
In June of this year, the conviction of this Baha'i citizen along with twelve others was confirmed exactly as it was by the 12th Branch of the Alborz Province Court of Appeal.
Sabin Yazdani was previously sentenced by Karaj Revolutionary Court to 3 years imprisonment, 5 years deprivation of social rights, 2 years ban on residency in Alborz province, 2 years ban on leaving the country and 2 years ban on any educational and cultural activities.
It should be noted that, yesterday, 9 other Baha'i citizens who are accused in the same case were sent to jail to serve their sentences.
Baha'i citizens in Iran are deprived of the freedoms related to religious beliefs, this systematic deprivation while according to Article 18 of the Universal Declaration of Human Rights and Article 18 of the International Covenant on Civil and Political Rights, every person has the right to freedom of religion and change of religion with conviction, as well as The freedom to express it individually or collectively and publicly or secretly.
According to unofficial sources, there are more than three hundred thousand Baha'is in Iran, but the Iranian constitution only recognizes Islam, Christianity, Judaism and Zoroastrianism and does not recognize the Baha'i religion. For this reason, the rights of Baha'is have been systematically violated in Iran over the past years.