Translated by Ahang Rabbani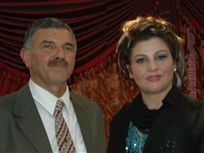 Recently security agents of the Islamic Republic arrested two Baha'is from Sari — their names are Sonya Tebyanian and Tarazallah Allah-Vardi Gurji. Some days ago, ranking authorities of the Islamic Republic's judiciary agreed to release them on the condition that they provided a surety, but security officers of Sari have so far refused to comply, stating that their investigation is not yet complete.
In an interview with Radio Farda, Sholeh Allah-Vardi spoke about her parents, Sonya and Tarazu'llah:
Q: How did you learn that your parents had been arrested by security officers?
A: We had no news of them for two or three days. Our family contacted my sister and me to check and see if we had any news of them. I thought perhaps they had gone somewhere and had turned off their mobile phone, or that they had a problem with the phone. At any rate, after a few days, we became concerned about their situation.

I contacted my paternal uncle and asked him to go to their house to see if there was any news of them. My uncle called the police emergency number and they informed him, "Do not worry. Our colleagues in the security [and intelligence] agency have taken the two individuals into custody in Sari." We went to Sari and investigated the matter. They [i.e. police] said that my parents were not there. Eventually, after much search, we learned that they were under arrest in the Intelligence Office in Sari. When we went to my parents' residence, we saw that the entire house was in complete disarray. For what reason, I do not know. A number of books, documents and other papers were missing as well. No one contacted us to say that they had taken our parents.
Q: Have you succeeded in meeting them in person?
A: As we were trying to locate their whereabouts, we learned that it was likely that the agents would bring them to Behshahr courthouse to be formally charged. One day my husband and I went there, and other family members were there as well, and we all saw my parents.
Q: How was their emotional and physical state?
A: Their condition seemed fine. They didn't seem to have any problems, and it was clear that they were not being held under harsh conditions. However, from the emotional point of view, I sensed that both were very agitated and were under considerable pressure. While it is true that many of our questions remained unanswered and we were unsuccessful in raising other queries, the security agents acted properly and they said to us, "We are treating your parents well."
Q: Did the security officers give a reason for your parents' arrest?
A: Not in writing, but the day that we were in Behshehr's court, they told us verbally that "the sacredness [of Islam] had been offended" and that my parents were promoting such behavior and that they should not have done so. When the news media unceasingly publish lies about us, how can we not inform our fellow countrymen of the truth? We never insult Islam. In our religion, Islam is regarded as the "blessed religion" and His Holiness Muhammad as the "Glorious Prophet" and the "Lord of creation", and Imam Husayn is spoken of as the "Prince of Martyrs". How can we have insulted the sacred beliefs of Muslims when to such a degree we respect their Founders, we love their Holy Figures and accept them as our own Sacred Figures?
Q: Mrs. Allah-Vardi, have you taken any steps to secure their release?
A: We have tried to hire a lawyer, but have not succeeded as yet. And that's because among the lawyers – if I may be perfectly blunt – no one has the courage to accept their case, since if they were to do so, they would fall under suspicion themselves. We have now contact Lawyers Without Boundaries, but we are not sure if we can succeed in getting them either. However, the court has allowed my parents to have a lawyer, even though they have said that their investigation is incomplete and that full charges will only be stated when this work has concluded. I think we should wait until full charges are stated, and then share that information with our lawyers. We are still following up. God willing, it will bear fruit.
[On 15 November 2008, Radio Farda's reporter, Muhammad Zarqami, posted this story at: http://www.radiofarda.com/Article/2008/11/15/o2_bahai_sari.html, which appears above in translation. Contacts in Iran inform Iran Press Watch that the two arrested Baha'is were among the prominent believers charged with coordinating Baha'i activities in Behshehr, near Sari.]