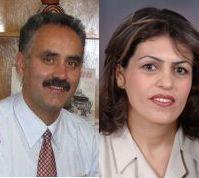 On Monday, April 27, 2009, Iran Press Watch reported that earlier in the day, Mr. Siyamak Iqani and Mrs. Susan Tebyanian-Jabbari were arrested in Semnan, a hotbed of anti-Baha'i activities.  Further details have been reported by two sites in Persian, which appear below in translation.
Yesterday [April 27] at 10 AM, agents of the Ministry of Intelligence went to the shop of Siyamak Iqani and Mrs. Susan Tebyanian-Jabbari, showed a warrant and arrested them.
Previously, on December 15, the homes of these two individuals were among the Baha'i homes that were searched and investigated by forces of the Intelligence Ministry.
This afternoon, Mrs. Tebyanian contacted her family and asked her husband to bring their one and a half year old daughter with him to prison at 9 pm at night, and to come again in the morning at 7 am and take her home.  They have a 7 year old son also, but he has not been allowed to stay with his mother in prison.
Mr. Iqani also contacted his wife on two occasions and asked for some personal items.

No other details are available about these imprisoned Baha'is or the charges against them.
On related news, Mr. Pooya Tebyanian, who was arrested on March 8, 2009 in Semnan, was sentenced to two and a half years of incarceration.  The charges against him:  propaganda against the regime, activities against national security, and teaching the Baha'i religion.
In the case of Mrs. Sahba Rezvani-Fanaian, who was arrested in Semnan on December 15, 2008, the appeals process confirmed the earlier sentence of 3 years and 8 months imprisonment.  The authorities stated that in accordance with the court ruling, she will be transferred to Tehran to serve out her sentence.
Taher Eskandarian, Adel Fanaian and Abbas Noorani, who have spent the last year in prison, were granted another family leave for 72 hours on Monday, April 27.
[Source:  http://www.bab.blogfa.com/ and http://negahedigar1.blogfa.com/post-197.aspx.  Translation by Iran Press Watch.]