[The following report was filed on Friday, 3 October 2008, with online service, Iran-Emrooz:  http://www.iran-emrooz.net/index.php?/news1/16743/ and is offered below in translation.]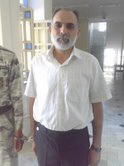 Summary
Harassment and unbridled aggravation against Baha'i citizens continues in the central towns of Iran.
In Yazd, a Baha'i citizen (Mehran Bandi, pictured above), who had gained relative success by building his own business, was sentenced to a prison term, with a period of exile to follow.  All his possessions were confiscated as part of this verdict.
In Shiraz, a Baha'i girl was charged during the morning prayer session in school and her case was referred to criminal court.  When her father complained about the harshness of this treatment, he too was seized and tried.

Imprisonment, Exile, Seizure of Businesses and Barring from Work
Baha'i citizens in Iran are barred from enrolling in institutions of higher education and they continue to be denied access to universities.  In order to survive and earn a livelihood, Baha'i citizens have no alternative but to try free enterprise and entrepreneurship.  However, it appears that when any Baha'is gain a measure of success, they face new obstacles.
Mehran Bandi, 45, lives in Yazd and has had no trouble with law enforcement officers before.  Because he is a Baha'i, he was prevented from entering college, and therefore he opened a small computer shop, known as Misaq-Kamand. On 29 May 2008, Intelligence Ministry agents raided and searched his computer company.  They seized computers and CDs and locked and sealed the company premises.  Mr. Bandi was arrested and taken to an unknown place of detention. His home and workplace had previously been subjected to raids several times.
On 28 August 2008, according to verdict no. 87/286, the Islamic Revolutionary Court of Yazd charged Mr. Bandi with "congregation and collusion against internal and external security of the nation", "statements against the Islamic Republic regime and in support of anti-revolutionary groups" and "inventory of satellite TV accessories".  The court ruled that in accordance with clauses 500 and 610 of Islamic code, Mr. Bandi was sentenced to 3.5 years in prison and then 3 years exile away from the city of Yazd to Babak in Kerman.  In addition, the court ruled that the business license of Misaq-Kamand was suspended indefinitely and that Mr. Bandi was further sentenced to 5 years of prohibition from participating in public affairs or attempting commerce of any kind.
The place of business and inventory of Mr. Bandi, including all his work equipment and back accounts, as well as computer parts belonging to his clients, were seized by the Intelligence Ministry.
This sentence was announced 3 months after he was arrested, during which time he spent 40 days in solitary confinement at the Intelligence Ministry.  During this period, due to his heart and lung ailments, several times Mr. Bandi was taken to the prison's infirmary and placed in the critical care unit for examination and medication.  While in the infirmary and suffering from severe ailments, the court rejected pleas for temporary release so he could seek appropriate medical attention in regular hospitals.
Mr. Mehran Bandi is presently completing his 3.5 year sentence in the central prison of Yazd.

Trial for Smiling
Nasim Haqiqat was a student at the Hazrat Ma'sumih High School in Shiraz.  She and six other Baha'i girls were expelled permanently one morning for smiling during the school's morning prayer.  Nasim was then charged with "insulting the sacred", and her file was sent to Court No. 113 of the Criminal Judiciary of Shiraz.
Her father, Enanyatu'llah Haqiqat, complained about the expulsion of his daughter. He too was arrested on charged with "statements against the Islamic Republic regime and in support of anti-revolutionary groups".  His case was sent to the First Islamic Revolutionary Court in Shiraz and subsequently referred to Appeals Court No. 15, where his sentence was reduced to a one year suspended sentence and one year probation.