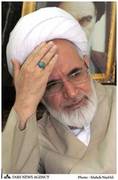 Editor's Note:  Though the mission of Iran Press Watch is primarily to document atrocities inflicted against the Baha'i community of Iran, it is recognized that the human rights of all Iranians – indeed all the peoples of the world – are connected and intertwined.  As such, as our resources permit, we continue to publish information about civil and human rights abuses of all Iranians in hope that the conscience of the world will be awakened to their plight.  The following report was filed by Roozonline.
By Roozonline
In a letter to the head of Iran's Assembly of Experts on Leadership (which supervises the performance of the Supreme Leader of the Islamic republic), Mehdi Karroubi, the former Speaker of Iran's Majlis (Parliament) and one of the presidential candidates protesting the official results of the June 12 election, has asked that the reports of rapes of men and of women who have been detained following the protests over the June 12 presidential elections be investigated.
In his letter, Karroubi states that this information was provided to him by individuals in 'sensitive posts' in the Iranian government and by other prominent personalities, including Iran-Iraq war veterans.
The letter is important, because this is the first time that an official at this level has officially spoken about the rape of prisoners and has asked for a clarification of the issue. This issue has been raised many times in the past, but only by non-officials.
The text of the letter has been published by Saham News, the official newspaper of the Etemad Melli party, founded by Karroubi. "Even if there is one single rape case, it is a disaster for the Islamic Republic, exonerating many dictatorial regimes, including the former Shah's," the letter states.
Read full article here