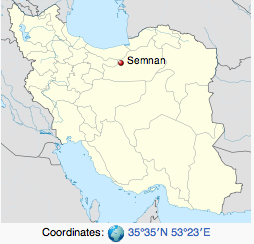 [Edior: Semnan seems to be a testing ground of systematic anti-Baha'i activities in form of persecution, arrests, refusal to education, and refusal of all community life including burial. Iran Press Watch has carried many stories covering these actions against the Baha'is in Semnan.
You may wish to ask Mr Khosravi, the Mayor of Semnan, if he is aware of this systematic persecution of the Baha'is in his city. you can use his website: click here. or email him at [email protected]]
The Life of Mr Hedayati, a Baha'i Resident of Semnan
RAHANA – Semnan, known for its carpets and textile industry, is a small city at the southern foot of the Alborz Mountains in Northern Iran. The small city is also a fertile breeding ground for anti-Baha'i activities, and the anonymity prevalent in larger cities is non-existent. Members of the city's Baha'i community are regularly harassed, their houses and businesses set on fire, and their cemetery desecrated by unidentified gangs – gangs that walk away unpunished and unprosecuted by the authorities. For their part, city and government authorities have not stopped bullying the Baha'i community, with tactics ranging from flat-out arrests and day long interrogations to refusal to issue burial permits for the deceased members of the community.
No one knows the scope of the difficulties of life as a Baha'i in Semnan better than Yahya Hedayati, who has spent over 4 years of the past decade in prison in Semnan and Tehran. His family members have not been immune to the persecution, either; the authorities after him held his father, and Hedayati's wedding had to be delayed until after his release. These are a just a few chapters of his life.
As recently as two weeks ago, his house, along with the store of another Baha'i resident, Akbar Pour Hosseini, was set on fire in the middle of the night by arsonists. The fires caused damage to the properties, and the two men plan to pursue the matter with the authorities.
Between April 9 and May 24, 2009, Mr. Hedayati's house was attacked in the middle of the night on 8 separate occasions by unknown assailants riding on motorcycles. The incidents terrorized Mr. Hedayati's family members and often involved rocks being thrown at his windows. His car's windshield was shattered on April 22, and the note left by the culprits cited his Baha'i faith as the reason for the attack. Mr. Hedayati has written to many officials, including the Prosecutor General, Dori Najaf Abadi, to complain about his treatment.
As for Mr. Pour-Hosseini, he has had his fair share of unpleasant past incidents. Prior to the recent arson and during the Ashura and Tasoa ceremonies – two of the most important mourning days for Shiites – his store windows were broken and his store sign was vandalized. Last summer, arsonists set fire to his shop and watched as the fire immolated and nearly destroyed Mr. Pour-Hosseini's workplace.
In other news, city officials refuse to issue a burial permit for Ms. Nabili, a Baha'i resident who died two weeks ago.
Source: http://www.rhairan.org/en/?p=1245
Also see: Sen'a Daily: http://sensday.wordpress.com/
Map from Vikkipedia, and read more about Semnan: http://en.wikipedia.org/wiki/Semnan_(city)
Semnan's Municipality Website: http://www.semnan.ir/Homepage.aspx?site=DouranPortal&lang=fa-IR&tabid=0
Leave a note for Mr Khisravi, the Mayor of Semnan, at his website: click here. or email him: [email protected]