Sari Baha'i Pezhman Roshankouhi Arrested
(RAHANA, 29 , May , 2010) — On May 26, intelligence agents in the northern city of Sari arrested Pezhman Roshankouhi, one of the city's Baha'i residents.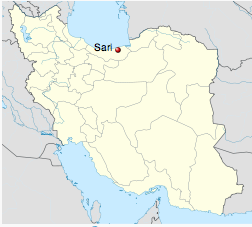 RAHANA – Roshankouhi was arrested at his home by agents from the Intelligence Ministry in Sari, who presented an arrest warrant.
According to a RAHANA reporter, Roshankouhi has not called since he was taken into custody, and his wife and his elderly parents remain in the dark about his fate and his current whereabouts.
Sari intelligence authorities have said that Roshankouhi's temporary detention order is valid for 17 days, and may be renewed upon expiry.
Roshankouhi, had in the past been interrogated by the Intelligence Ministry in Sari.
In recent weeks, the authorities have significantly stepped up the persecution of Baha'is in Mazandaran province and its capital Sari.
Source: RAHANA, http://www.rhairan.biz/en/?p=3925
Sari, Iran: see Wikipida