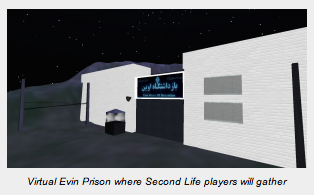 Second Life is an online virtual reality game played widely across the internet, where people create characters and can interact in very realistic, virtual communities. A Second Life netizen notified us of a "Next Generation 22 Khordad Protest," where players' characters will meet en masse at an agreed upon virtual location.
As the organizer explains about the game, "You can chat in real time by either text or voice, and trade links, notes, pictures, or custom in-world creations limited only by the imagination. From within the world, individuals can view and interact with websites, send and receive tweets, and communicate through in-world chats. Groups can watch movies and slideshows together, listen to and comment on an audio stream in real time, and experience a powerful sense of connectedness with others from all around the world."
Interactive video center where activists can watch video, discuss, and share with their social media networks
The Second Life activist adopted prisoner of conscience and human rights activist, Shiva Nazarahari, and created a virtual "Action Station" that leads players to send (real life) postcards and send e-letters to various IRI embassies, consulates, and interest sections. For the event, players even have the choice of dressing their characters in shirts with Shiva's picture.
About this "New Generation" of activism the organizer writes:
I have been deeply focused on helping put together a new way to show support for the Green Movement and prisoners of conscience in Iran, and all others worldwide who are struggling for their human and civil rights.
Players can dress their characters in masks and t-shirts of Shiva Nazarahari
I invite everyone to visit a new 3D immersive social networking environment for human rights activism: Entre Nous Island in Second Life.
Entre Nous Island is the brainchild of #IranElection tweeter Sephir0t, who was inspired to take the concept of virtual protest to the next level of interactive virtual reality… Excited by these possibilities, Sephir0t and I began investigating the potentials of Second Life in March 2010. We discovered a thriving community of activists for many causes who provide a very positive and welcoming network for anyone committed to human rights…
Entre Nous Island is a virtual space for raising awareness of human rights, and everyone committed to the cause is invited to participate in the ongoing creation of the space, working together to build an evolving symbol of support for all who fight for their human rights. "
From the Second Life activist on the "Virtual Evin Action Center"
The virtual action stations leads players to take real action by sending e-letters and mailing printable postcards
At our Virtual Evin Action Center, we stand in symbolic solidarity with the families of political prisoners in Iran who gather before the real-life prison in Tehran every day, hoping for the release of their family members imprisoned for protesting, blogging, and other expressions of free speech.
Inside the action center, you can browse the latest news on Iran, read the real time Twitter feed, learn how to help spread awareness, or watch full-length documentaries and YouTube videos.
Entre Nous Island will be holding an all-day event at the Virtual Evin Action Center on June 12, 2010 / 22 Khordad, 1389 in solidarity with activists in more than 80 cities worldwide participating in the Global Day of Action coordinated by United4Iran.
Players can download a toolkit with masks, t-shirts, and memorial candles to mark 12 June
During the all-day June 12/22 Khordad solidarity event, visitors will be welcome to light virtual candles, share their experiences and hopes with the group, listen to live calls from Tehran on the radio, view documentaries and music videos, and more. Experienced Second Life users will be on hand to assist new users with any difficulties in a safe and caring environment, so don't be afraid to take the plunge into 3D and join us at Entre Nous.
Thanks to all those in the virtual word for making the effort to highlight the case of Shiva Nazarahari by using this medium to take real action.
If you can't make one of 85 "real" protests on 12 June, then make sure to join this virtual one! Learn more about participating here: http://revmagdalen.blogspot.com/2010/06/next-generation-virtual-protest-22.html
Source: 12june.org, http://12june.org/?p=835