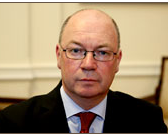 Alistair Burt meets with members of the Bahá'í faith
10 June 2010
Foreign Office minister met with representatives to share their concerns regarding the treatment of Bahá'ís in Iran and to show the UK's commitment to seeing an improvement in their situation.
Alistair Burt met with Dr Kishan Manocha, Secretary of the National Spiritual Assembly of the Bahá'ís of the UK, and Daniel Wheatley, their Government Relations Officer.
Following his meeting Alistair Burt said:
"I am extremely concerned by the impending trial of the seven spiritual leaders of the Bahá'í faith. This trial comes at a time when we are remembering the human rights abuses surrounding the elections in Iran a year ago.
I call on the Iranian Government to ensure, without delay, that the rights of these individuals are fully protected; that they are given due legal process, including being released on bail and given a fair and transparent trial, in accordance with international standards.
I also urge the Iranian government to cease the harassment of, and to also respect the rights, of many members of minority groups who continue to face arrest and lengthy prison sentences, often on vaguely worded charges of acting against national security."
Source: http://www.fco.gov.uk/en/news/latest-news/?view=News&id=22359639