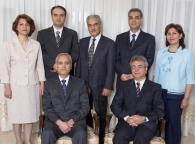 GENEVA — The imprisonment of seven Baha'i leaders in Iran has been extended for a further two months, the Baha'i International Community has learned.
The trial of the seven concluded on 14 June. No verdict has yet been given.
"These innocent Baha'is have now been held for more than two years under a series of successive orders for their 'temporary' detention, which by law must not exceed two months," said Diane Ala'i, representative of the Baha'i International Community to the United Nations in Geneva.
On 24 July, two days after the most recent two-month prison term concluded, the defense attorneys for the seven once again issued a formal request that the prisoners be released on bail, as permitted under Iranian law.
Since then, the judge presiding over the case has told the prisoners that their detention had once again been extended for two months.
The attorneys have now submitted a written objection to the extension, said Ms. Alai.
"There is no legal basis whatsoever to refuse the request that the defendants be released on bail," she said.
The seven prisoners are Fariba Kamalabadi, Jamaloddin Khanjani, Afif Naeimi, Saeid Rezaie, Mahvash Sabet, Behrouz Tavakkoli, and Vahid Tizfahm. They categorically deny charges of espionage, propaganda activities against the Islamic order, and "corruption on earth," among other allegations.
Before their incarceration, the seven attended to the spiritual and social needs of Iran's Baha'i community, which numbers more than 300,000. They have been held in Tehran's notorious Evin prison since they were arrested in 2008 – six of them on 14 May and one of them two months earlier.
Their trial consisted of six brief court appearances which began on 12 January after they had been imprisoned without charge for 20 months, during which time they were allowed barely one hour's access to their legal counsel.
"That these people – held purely for their religious beliefs – have now entered the third year of their so-called 'temporary' incarceration under such inhumane conditions constitutes a deplorable violation of their human rights," said Ms. Ala'i.
"The Iranian government must know that its actions are under close international scrutiny and that it is held wholly responsible for this terrible injustice," she said. "Once again, we call upon the authorities in Iran to take immediate action to release them."
Source: http://news.bahai.org/story/784